It's a strange world out there, and it's getting stranger by the second. There are endless things to distract ourselves with in quarantine— streaming shows, puzzles, board games—but if you're the type who enjoys slipping into an even deeper endless nightmare, serialized fiction podcasts are the way to go. There's something almost serene about getting lost in a horror fable; it's a weird way of compartmentalizing all of the real-world terror we can't control.
With that in mind, we rounded up 10 of our favorite serialized horror fiction podcasts. These strange tales get into topics like government conspiracy, extraterrestrial life, hauntings, monsters, and more. Let reality and surreality blur as you immerse yourself in hours of horror fantasy for free. To make it even easier, we ranked the series by episode count, from shortest to longest.
(Every podcast mentioned on this list is available on Apple, Google, Spotify, and Stitcher.)
Skylark Media
Blackwood
This series follows three friends—Molly Weaver, Bryan Anderson, and Nathan Howell—who started a podcast five years ago to investigate a local legend known as The Blackwood Bugman. What started as a fun project grew beyond their imaginations, as they quickly discovered the legend was true and that others who got involved wound up dead. And as their deep-dive into the conspiracy unfurls, they realize they're being watched by some unseen force desperate to silence their findings.
Blackwood, a Skylark Media production, is totally immersive and super spooky. And it's also a breeze to get through, with only six episodes ranging from 18 to 28 minutes in length. Additionally, the Blackwood website offers a multimedia experience, with newspaper clippings, drawings, and more bonus content for each episode.
Episode count: 6
Cryptids Podcast
Cryptids
Cryptids began as a Kickstarter project that resulted in one of the coolest, creepiest podcasts out there. It centers on two characters: Trevor Barnes, the host of a conspiracy radio show and a member of the cryptozoology community, and Eve Fallon, a pediatric nurse and fan of Trevor's show. The pair link up to investigate a pattern in deaths of famous people around the world, which they believe are planned across time and space.
The first seven-episode season is available in its entirety, and tells one compact story, although Cryptids was developed as an anthology that will focus on new monsters each season. There's currently no information about season two, but we can't wait to see what this talented crew comes up with, especially after binging this first excellent batch of episodes.
Episode count: 7 (ongoing)
Two-Up Productions
Limetown
Limetown is one of the most popular serialized horror podcasts out there; the 11-episode series has spawned a TV show adaptation starring Jessica Biel and a tie-in prequel novel. The story is a lot like NPR's famous true-crime podcast Serial, only this time it's a fictionalized account of Lia Haddock, an investigative reporter for APR (clever) who's looking into the strange events that occurred in a Tennessee community called Limetown. Ten years before the events of the podcast, the entire population of Limetown—326 men, women, and children—disappeared without a trace. What happened to these people and why is Lia so obsessed with uncovering the truth?
The answers (sort of) rest within Limetown, which patches together interviews and phone calls that trace Lia's reporting. The podcast is a true masterclass in audio storytelling, using sound effects and a minimalistic score to tremendous, chilling effect. The story gets a little convoluted in the second season, but the first is truly a masterpiece of the horror podcast genre.
Episode count: 11 (plus bonus mini episodes)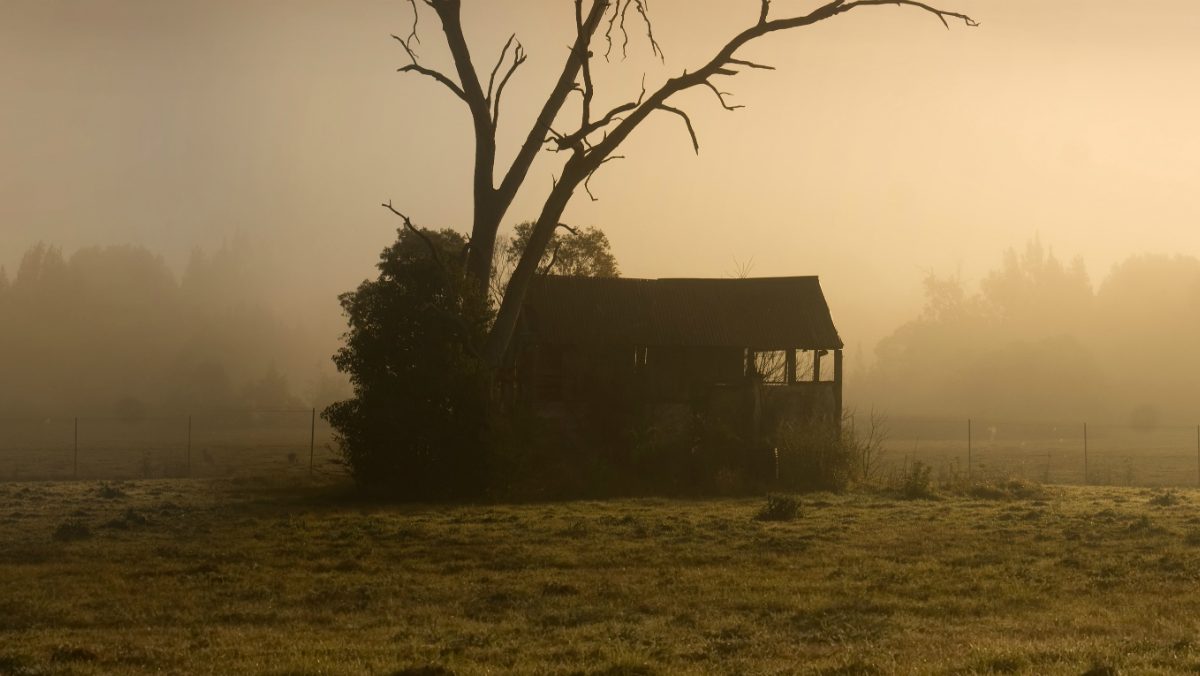 HartLife NFP
Unwell
Unwell is described as a " Midwestern gothic mystery" and that alone should get you excited for this strange, cerebral, and beautifully produced tale. Set in Mount Absalom, Ohio—a mysterious town full of quirky locals that is very reminiscent of Twin Peaks—the story follows Lily Harper as she returns to her hometown to care for her mother, Dot, who lives in a strange old boarding house. But Mount Absalom is different than Lily remembers, and the odd way the townspeople behave has her on edge.
The history and mystery of Mount Absalom is the perfect hook for this great podcast produced by HartLife. The quality is fantastic, the acting superb, and the story engrossing. It's hard to hit the pause button on this one.
Episode count: 18 (ongoing)

Midnight Disease
Lake Clarity
This found-footage audio drama has a familiar format: Five teenage friends head to Lake Clarity to celebrate their final summer together, and record their experience with audio tapes. Only soon after their arrival at the deserted camp, they stumble on a mystery in the caves that surround the site. What follows is something like Cabin the Woods meets Lovecraft, with a little dash of Stranger Things.
The best thing about Lake Clarity is how funny it is and how authentic it feels. You really believe the friendship between these characters, and the acting goes a long way to establish those bonds—which make the more heartbreaking turns more of a gut-punch. The first two seasons are currently available, with a third on the way.
Episode count: 19 (ongoing)
Zoom Doom Stories
SPINES
SPINES tells the story of a girl named Wren, who wakes up in an attic covered in blood, suffering from memory loss, and surrounded by what looks like the remnants of a cult ritual. Totally removed from her past, the podcast chronicles her attempt to fill in the blanks of what happened to her and who else was in that attic with her—and why.
Wren is a classic unreliable narrator and SPINES is told in line with her erratic memories and revelations, making it at times a little confusing, but ultimately rewarding. If you're into cults and conspiracies, you'll love unlocking secrets as Wren does, awakening past traumas at every turn.
Episode count: 24
Rob Wilson
Alice Isn't Dead
From the creators of Welcome to Night Vale, this serialized audio drama centers on an unnamed woman who takes a job as a truck driver to track the whereabouts of her presumed dead wife Alice. Told through first-person narration and letters, we travel through the lonely wastelands of America, to towns stuck in time, to strange and seedy rest stops, and to supernatural avenues that hold the true story of what happened to Alice.
The quality of this podcast is superb, as is the voice acting, led by Jasika Nicole (Fringe). There's something lonely and desolate about the whole thing, with haunting music and sound design that immerse us in our narrator's plight. The story is told in three ten-chapter installments, all of which have been released. There's also a tie-in novel of the same name that tells the same story in a different medium.
Episode count: 30, plus six mini bonus episodes
Becky Frass
Archive 81
Another found-footage podcast, Archive 81 is a fascinating story about a archivist named Dan. Dan is instructed to record his findings as he listens to a series of tapes linked to a strange apartment building in New York City. The tapes are made up of interviews recorded by a woman named Melody in the 1990s, as she tries to investigate the strange goings on in the complex, including a string of disappearances. Eventually, we learn that Dan has gone missing, and that his recordings of Melody's recordings may be the clue to finding his whereabouts.
It may sound confusing, but the podcast is told in such a way that you always have a firm grip on which layer of the story you're involved in at any given time. As Dan descends into a mad obsession with Melody's tapes, we too are put under their spell; the effect is something hard to shake, and something that gets even better as it goes along.
Episode count: 35 (ongoing)
The Graphics Fairy
Mabel
This lovely and underrated horror podcast is one of the most original offers out there, and one of the spookiest. It follows a young live-in caregiver named Anna who is tending to an elderly woman named Sally who suffers from dementia. Sally's house is full of secrets, and Anna is soon sucked into a web of paranoia that delves into elements of ghost stories and folklore. The series is told through a series of voice mails from Anna to Sally's granddaughter Mabel.
Mabel isn't a podcast for everyone. The format can be a little jarring and Anna's increasing paranoia is occasionally frustrating. But if you're attuned to its frequency, you're in for a treat, as the story gets mythical, labyrinthine, and downright haunting. It's a slow burn, but a rewarding one.
Episode count: 40 (ongoing)
Public Radio Alliance
Tanis
If you're into audio dramas, you've probably heard of Tanis. It's from the same folks that brought us The Black Tapes, another wildly popular horror fiction podcast, but this one is even richer—and stranger—with a story that delves in Weird Fiction and recalls Lovecraftian horror like Call of Cthulhu. It follows a radio producer named Nic Silver who investigates some… thing…. know as "tanis," a word he spots in a few different sources, the origins of which he can't seem to determine. He eventually links up with a hacker who leads him down a mysterious path of cults, ancient beings, and forces unknown.
This sprawling series was last updated in 2018, although a fifth season is on the way. A television adaptation is also allegedly in the works. If you're hungry for something long-form and immersive, Tanis is a great listen.
Episode count: 60
Featured Image: Two-Up Productions