Have you had any apostrophes lately? Well then let us help with the next Nerdist watchalong: Hook! That's right. So far for #NerdistFromHome, we've viewed Clue and The Matrix. We've loved practicing social and physical distancing with all of you. We're connecting however we can. And this week we're continue with the Steven Spielberg-directed 1991 movie Hook. It's quotable and lovable. Plus, the cast is positively incredible.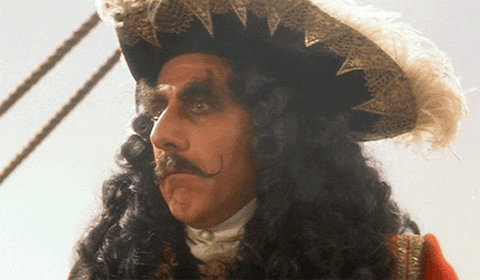 Amblin/Sony
That stellar line-up includes Robin Williams as Peter Banning, Dustin Hoffman as Captain Hook, Julia Roberts as Tinkerbell, and Bob Hoskins as Smee. Let's not forget Dante Basco (a.k.a. Prince Zuko from Avatar: The Last Airbender and General Iroh from The Legend of Korra) as Rufio. I could keep going, but you're going to see all these talented folks in the movie when you join us on Friday. And hey, Dante Basco will join us for the watchalong!
Amblin/Sony
If you're not familiar with this Peter Pan adaptation, it features Peter Banning as a lawyer who doesn't prioritize his family. Ah, that old chestnut. Dads neglecting their families always need to learn some valuable lessons. Peter certainly gets an unconventional schooling on the subject. When Peter travels to London with the family, he learns he's none other than Peter Pan. Of course he is. Hilarity ensues. Lost Boys, Tinkerbell, Captain Hook, and all the familiar faces you'd expect show up in this film. It's so very silly and so very wonderful.
You can buy or rent the movie on digital now! Visit https://www.sonypictures.com/movies/hook, to find your favorite digital retailer, to watch along with Nerdist. The film is also currently streaming on Netflix.
Join us on Twitter, @Nerdist and @DanteBasco, and watch and tweet with us on Friday, 4/10, at 5:00pm PT! Be sure to use the #NerdistFromHome hashtag to join the conversation.
Featured Image: Amblin/Sony
Amy Ratcliffe is the Managing Editor for Nerdist and the author of Star Wars: Women of the Galaxy. Follow her on Twitter.