If you're lucky enough to have a tabletop gamer to buy for this holiday season, we've found the perfect presents for them—including the most popular new games, incredible gifts for Dungeon Masters and Dungeon & Dragons players, and even a game designed to get you outside to literally touch grass.
And if you're the tabletop gamer? Give someone one of these picks from our Holiday Gift Guide and you'll immediately have someone to play with! Win-win.
The Deck of Many Things
The Deck of Many Things is a D&D magic item so legendary that most Dungeon Masters shudder when they hear its name. (Or they cackle, which is much worse.) Just in time for the holiday season, The Deck of Many Things is now available as a gorgeous gift set with updated rules, a 66-card deck (which includes the 22 classic cards), its own supplement guide for incorporating the reimagined deck into your game, and more.
Dungeon Masters will love its ability to create adventures on the fly complete with traps and puzzles; D&D players will find new character backgrounds, spells, and star-signs inside. ($99.99, available digitally on November 14 with the physical copy release date TBD)
Disney Lorcana
Lorcana is a Disney-themed trading card game that's taking the tabletop by storm! While the first starter sets quickly sold out, more are on the way to stores everywhere. Rise of the Floodborn, the second chapter of the game, is due out in December.
In Lorcana, players take the role of Illumineers and use character and item cards to collect 20 lore and win the game. This trading card game is easier to learn than most, but still encourages thought-out strategy and card collecting. And have you seen some of the art? Pick this up for the Disney or TCG fan in your life, and be sure to grab a starter pack for yourself while you're at it. (2 players, Ages 8+, $5.99-$49.99)
Linkee
Part trivia, part lateral thinking, and part party game, Linkee is the perfect gift for the social butterfly in your life. (It also has two-player rules if your gift recipient prefers to cocoon at home.) Each Linkee card features four short trivia questions. Players remember the trivia answers as they're revealed, and once they see the connection between them, they shout, "Linkee!" The first team to successfully find the common link for the answers wins the card.
Work together as a team to find the connection and earn bragging rights for eternity. Well, maybe until the next game night. (2+ players, Ages 12+, $8.45)
Magic: The Gathering – Doctor Who
All we really have to say is " Doctor Who Magic cards" and you'll know immediately who to give this to for the holidays. But, if you need a little more info, we have you covered. The new official "Universes Beyond" set features gorgeous art of 13 Doctors and their companions. These cards with Doctor Who-themed mechanics are now available to join the Magic lineup.
Choose your gift recipient's favorite Doctor to find the perfect 100 card Magic: The Gathering – Doctor Who Commander Deck, and allons-y! (2 players, Ages 13+, $59.99)
Nine Arches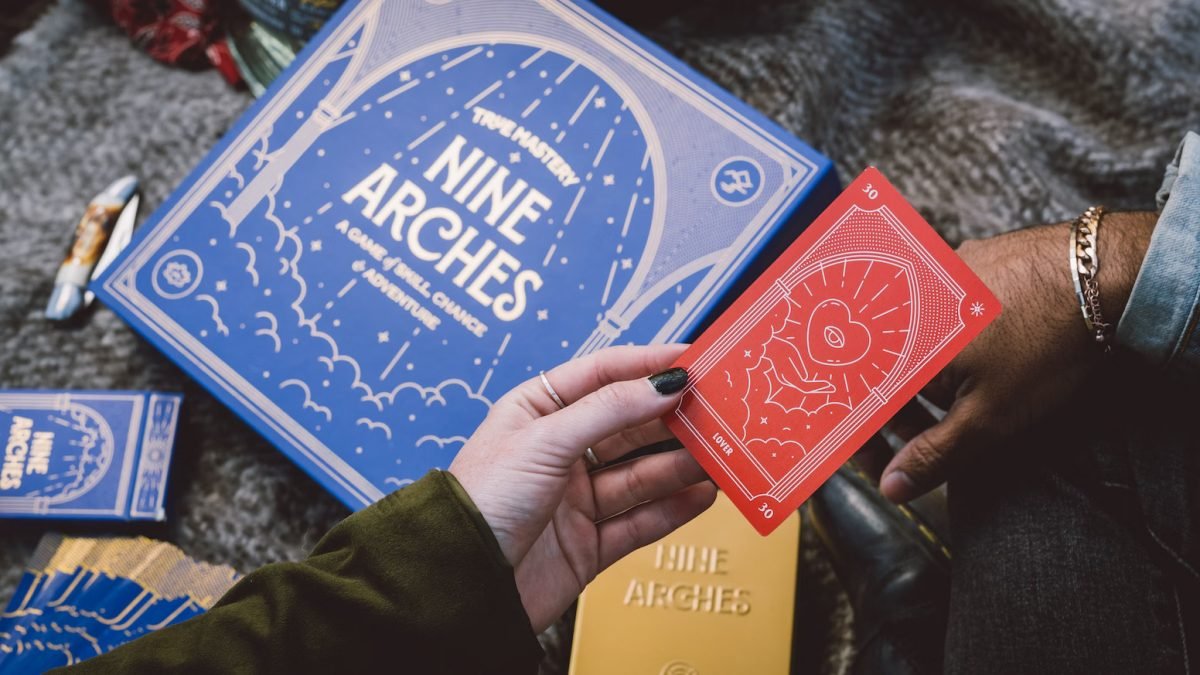 Nine Arches might be designed like a tabletop card game, but it's intended to take you and your friends and family away from the table. The game includes a 54-card deck similar to tarot cards that are used to choose your next adventure. Cards feature activities like "dance party," "caravan," and "ghost." With the drawn cards and input from each player, the group adventure's is talked out. Will you do the activities all at once? One at a time? It's up to you and the group. Then you're all off on a real-life journey based on the prompts on the cards!
If your recipient is the type who appreciates experiences instead of plain gifts, you'll wow them with this one. (1-5 players, Ages 13+, $34.99)
Potion Pack – Cantrip Candles
Whether your lucky gift recipient is a fan of tabletop role-playing games or video game RPGs like Baldur's Gate 3, this three-candle set from Cantrip Candles will be met with delight when it's unwrapped. The Potion Pack comes as a lovely gift set of 10 ounce soy wax candles in decorated glass containers.
The Health Potion, Stamina Potion, and Magicka Potion candles are sure to heal and reenergize any weary adventurers (or office workers) who lights them. And how can you pass up the opportunity to give someone a container labeled "Dragon's Blood"? ($80.00)
The Practically Complete Guide to Dragons
Do you remember being a kid and re-reading your favorite book so many times you had every page memorized? This is your chance to give the youngest Dungeons & Dragons or fantasy fan in your life that same experience!
The Practically Complete Guide to Dragons is exactly what it says on the cover: an imaginative, in-depth look at the dragons that populate the D&D setting of Dragonlance. Written in-character by the kender Sindri Suncatcher, this guide to dragons is packed with personality—along with, you guessed it, lots of dragons. Dragon facts, dragon stories, dragon lair maps, it's all here. Your lucky gift recipient will spend hours staring at the gorgeous art alone. ($39.95)
Sea Salt & Paper
The stocking stuffer-sized card game Sea Salt & Paper is a delightful set collecting game with a dash of luck to keep things exciting. Collect and play pairs of cards to score points and use their effects to earn even more points. If the player thinks they have enough points in hand, they can call for the end of the round or give everyone one last chance to try to beat them for bonus points. Reach the necessary number of victory points to win the game!
Not only does each card feature charming and original origami art, Sea Salt & Paper includes bold icons so that colorblind players aren't excluded from the fun. (2-4 players, Ages 8+, $14.95)
Pop Culture Monopoly
Looking to ease someone on your shopping list into tabletop games with a tried-and-true title? Monopoly has been a favorite for ages, and these days you have a plethora of Monopoly versions to choose from. It seems like every pop culture franchise you can imagine has its own edition. Maybe Ted Lasso Monopoly (2-6 players, Ages 8+, $49.95) or Curbed Your Enthusiasm Monopoly (2-6 players, $49.95) is right for someone in your life.
Kelly Knox is a pop culture writer and the author of Star Wars Conversation Cards, Be More Obi-Wan, and the upcoming Star Wars Dad Jokes. You can still find her on Twitter at @kelly_knox.