Hellboy's about to step into new territory. In Hellboy: The Bones of Giants #1, Big Red and Abe Sapien travel to Sweden to investigate a startling discovery that runs them right into Norse mythology. A new four-part comic adapts the illustrated novel of the same name from Mike Mignola and Christopher Golden on the book's 20th anniversary. The duo return to write this comic version of the story with Matt Smith on art, Chris O'Halloran on colors, and Clem Robins lettering. We have an exclusive preview from the first issue, in which Hellboy discovers Thor's hammer.
Dark Horse Comics
As you can see below, Hellboy makes the questionable decision of picking up Thor's hammer. This despite the others warning him about lightning. Lighting that could weld the hammer to his Right Hand of Doom.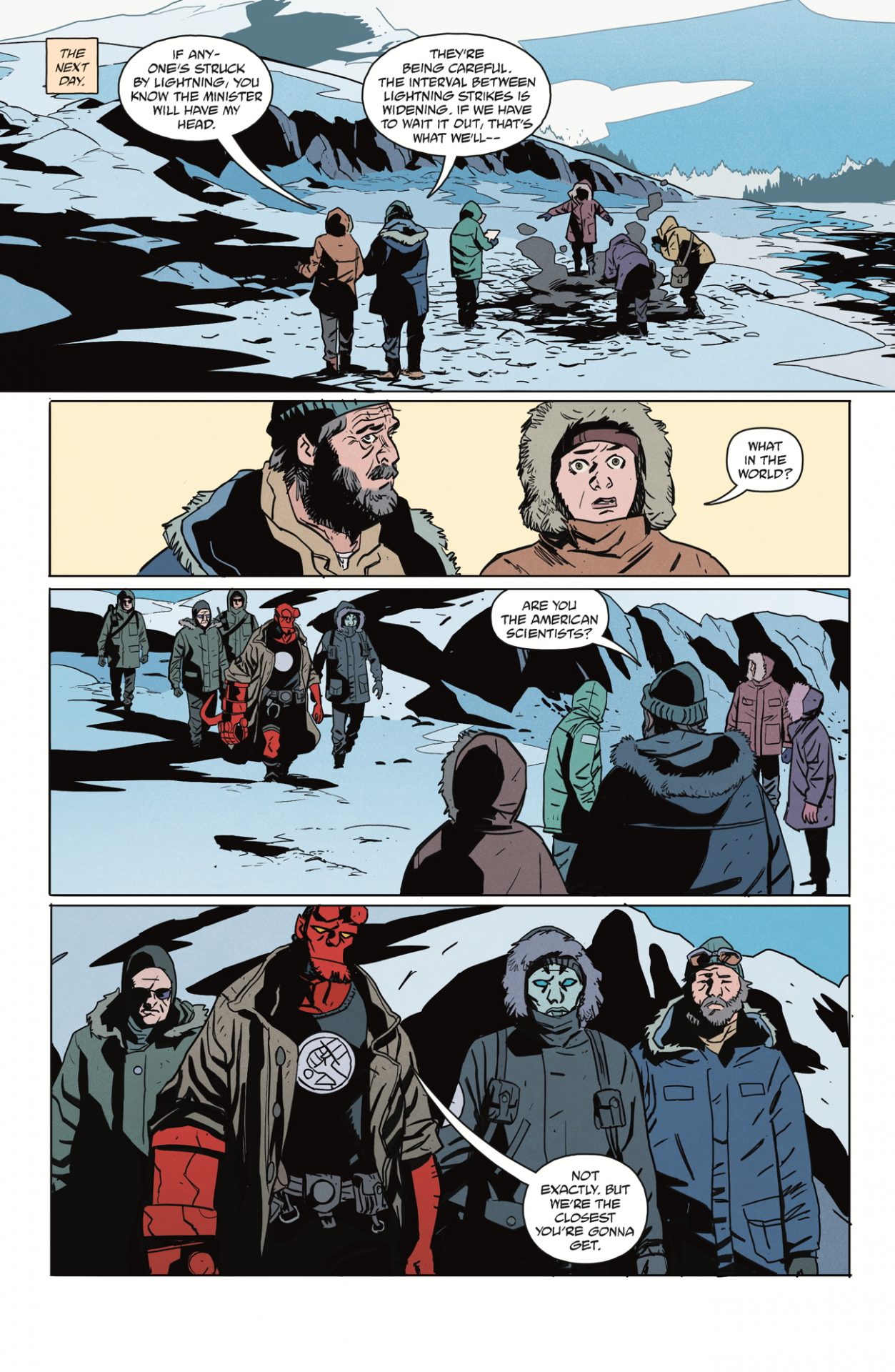 Dark Horse Comics
Mignola tells Nerdist about the comic adaptation, "I loved what Christopher Golden did way back when with the Hellboy: The Bones of Giants novel, and now I'm super happy to see it live again as a comic. Chris didn't miss a beat with the adaptation, and Matt Smith… I knew Matt was a perfect choice to draw Hellboy, and I was so right. This feels a bit like it was the comic he was born to draw. Everything about this one just works beautifully."
And Smith shares Mignola's excitement. "It's not often you get invited to draw one of your favorite characters. The same can be said for adapting a favorite novel," Smith says. "Both of these things happened with Hellboy: The Bones of Giants. The downside is that if you know your Norse myths, after such good fortune I'm due to be hit by a meteor while walking my dog."
Hellboy: The Bones of Giants #1 comes to your local comic shop on Wednesday, November 3. You don't need to worry about a meteor striking you when you pick up your copy.
Amy Ratcliffe is the Managing Editor for Nerdist and the author of A Kid's Guide to Fandom, available now. Follow her on Twitter and Instagram.