The first trailer for Greta Gerwig's Little Women has arrived, and the women of the internet have collectively fallen under its spell. It's no wonder: The film is based on the book by Louisa May Alcott, published as two parts in the late 1860s and adapted into numerous plays, films, and TV series in the years since. It's a seminal story for many young girls, about the pangs of growing up, being a woman, and adjusting to a male-dominated society.
Little Women follows the four March sisters–Meg, Jo, Beth, and Amy–who come from a once-noble Massachusetts family, who have been hit hard by the Civil War. While their father is away, they dream big in his absence, forging their own desired paths and personalities. It's a timeless story that continues to mean something to young women everywhere, which is part of what makes the film–which was written and directed by Gerwig, fresh off the success of her debut movie Lady Bird–so hotly anticipated.
Here's a deeper look at the new trailer for Little Women, and all of the major book moments and plots that made it to the screen, broken down by character. (Warning: There are spoilers for Louisa May Alcott's novel throughout this post.)
Jo March
Josephine March (Saoirse Ronan), who goes by Jo, is the protagonist of the book and Alcott's stand-in. Desperate to be a writer, she concocts plays for her sisters to perform in, which hone her skills in her youth and pave the way for her story-writing in adulthood. Jo is feisty, prone to anger, and rejects feminine ideals. She often dresses like a boy, is clumsy and stubborn, and has no desire to get married–a revolutionary stance to take in the mid-19th century. In the trailer, we see a few iconic Jo moments, like when she scorches her sister Meg's hair on a curling iron before a Christmas ball.
Later on, at the actual ball, Jo refuses to dance in the main hall because the back of her dress has a large burn (from her leaning too close to the fireplace). She meets her neighbor, Theodore "Laurie" Laurence (Timothée Chalamet), who immediately takes to Jo and comes up with a solution: they'll dance outside, where no one can see Jo's dress. We see a glimpse of this moment in the trailer.
In the book, Jo is a caregiver for her wealthy Aunt March (Meryl Streep), who is a stern and unpleasant woman, and who doesn't do much to help the family out, despite their war-torn poverty. Instead, the family lives off of the money she gives to Jo for tending to her, a task that Jo despises. Her wit rubs Aunt March the wrong way, and Jo is eventually replaced by her sister Amy, who wins Aunt March's affections.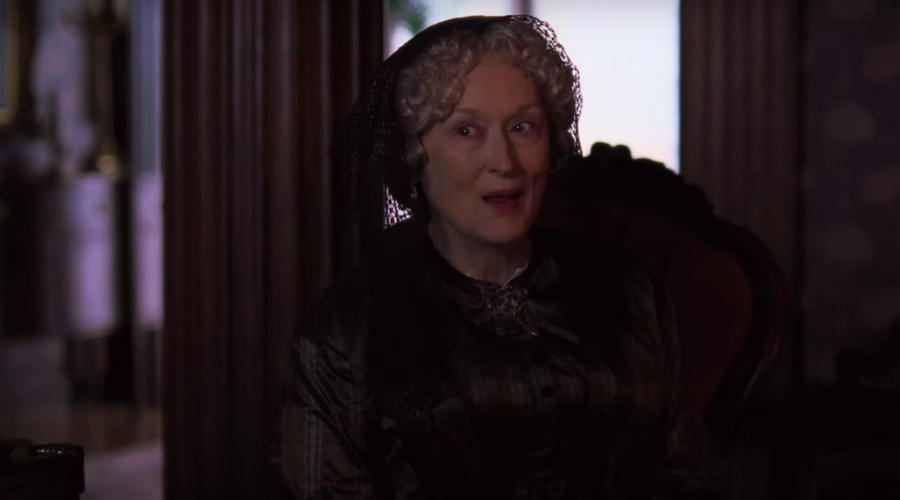 We also get a quick look at Jo holding a piece of paper that's burning. In the book, Amy–angry that her elder sisters go to the theatre without her–takes it out on Jo, burning the manuscript for her novel. It's hard to tell if that's what's going on here, but it would make sense. Jo pulled the pages from the fire in the book, and it looks like that's happening here.
We're also treated to a scene where Jo laments the idea of marriage and all of the expectations placed on young women. In the book, this happens shortly before Jo makes the decision to move to New York City and work as a governess while she attempts to get her writing career on track.
She eventually moves to the city, where she begins to get short stories published. We see her with a literary agent in the trailer, played by Tracy Letts–who played Ronan's father in Lady Bird, also directed by Greta Gerwig.
Meg March
The eldest sister in the family is Meg (Emma Watson), who remembers a time when her family was wealthy and respected in their hometown of Concord, Massachusetts. She still clings to her desire for nobility, and throughout the book is tested by the other young women in her life who see her as something broken. Still, because of her family's name, she is allowed to attend social events–like Belle Moffat's debutante party, where Meg dresses in fine clothes and dances with eligible bachelors. We see a brief moment of this in the trailer.
Unlike Jo, Meg doesn't have aspirations for greatness. She dreams of being married and starting a family, and aspires to be like their beloved mother Marmee (Laura Dern). She gets her wish, eventually marrying Laurie's tutor, John Brooke (James Norton). As she tells Jo in the trailer, "Just because my dreams are different than yours doesn't mean they're not important." Meg might be the most traditional March sister, but she's also got a valid place in the story and isn't less of a strong woman because of it.
Beth March
Beth (Eliza Scanlen) is the second youngest March sister, and the most shy and reserved. She suffers crippling anxiety that keeps her homebound. While her sisters go out into the world and dream of big things, Beth stays behind, content to do housework with the family maid Hannah and to assist Marmee. She doesn't have aspirations like any of her siblings, but is instead the vocal supporter of her sisters' dreams. She is especially close to Jo, and their relationship fuels Jo's burgeoning career. Sadly, Beth also has the most tragic storyline, dying of scarlet fever near the end. The trailer doesn't touch on this, but we do see a sickly Beth on the beach with Jo.
We also see the moment when Beth first breaks out of her shell and goes to the Laurence house next door. The elderly Mr. Laurence, Laurie's grandfather, invites her to use his piano–which belonged to his young granddaughter, who passed away–and though she first can't work up the nerve to leave the house, she eventually heads over and forms a bond with the man.
Amy March
Amy (Florence Pugh) is the youngest March sister and the one most fans tend to dislike–mostly due to previous adaptations, which don't focus as much on the girls as adults. From the trailer, it looks like Gerwig is set to rectify that, especially because the elder version of Amy is far more likable, even noble. As she professes in her youth in the trailer, she dreams of being a famous artist. "I want to be great or nothing," she says–like Jo, showing off her desire to make something of herself with her own talents.
Thought bratty and entitled in her youth, she starts to change around the time she begins working for Aunt March. The two travel to Europe, where Amy is wooed by Laurie, who was recently rejected by Jo. But much like her sister, Amy doesn't give in easily to love, instead making Laurie work for and earn her affection. He does, and the two are later married.
Theodore "Laurie" Laurence
Laurie gets a lot of screentime in this trailer, and for good reason. Second only to the sisters, he's the story's other main character. The rich orphan boy next door, he is drawn to Jo, with whom he becomes best friends. The two share a bond similar to the one Jo has with her sisters, which doesn't exactly mean well for Laurie, who is desperately in love with Jo–and Jo only sees him as a brother. In the trailer, we see the moment when Laurie confesses his love to Jo. "I have loved you ever since I have known you, Jo," she says. But she protests, saying they would make one another miserable.
Laurie's affection for the March family goes beyond just Jo. In the book, he also takes care of Meg after she's embarrassed at a party. He even performs in Jo's plays with the sisters, and always dreams of marrying into their loving family–likely craving a familial bond after the loss of his parents. "My girls have a way of getting into mischief," Marmee tells Laurie in the trailer. "So do I," he responds with a grin.
After Jo rejects him, Laurie retreats to Europe with his grandfather, where he runs into Amy and Aunt March. He begins a courtship with Amy that ends in marriage, a pairing that makes his bond with the March family permanent, and which pleases Jo–who finds love elsewhere in a man name Friedrich Bhaer (who doesn't appear in this trailer).
We can't wait to see how the rest of the movie comes together and fills in the blanks. Greta Gerwig's Little Women arrives in theaters on Christmas Day 2019.
Wilson Webb/Sony Pictures
Wilson Webb/Sony Pictures
Wilson Webb/Sony Pictures
Wilson Webb/Sony Pictures
Wilson Webb/Sony Pictures
Wilson Webb/Sony Pictures
Wilson Webb/Sony Pictures
Wilson Webb/Sony Pictures
Wilson Webb/Sony Pictures
Header Image: Wilson Webb/Sony Pictures