Detective Comics is one of the longest running comic books to have ever graced the shelves of our local comic shops. The first issue came out in 1937 and only two years later in issue #27 Detective would introduce one of the most famous heroes of all time: the Batman! Now 80 years later DC is celebrating that monumental anniversary with the release of Detective Comics #1000.
The oversized 96-page issue will be filled with stories from some of your favorite Batman creators, including a new eight page yarn from Scott Snyder, Greg Capullo, and FCO Plascencia that encapsulates all that's fun and exciting about the classic detective origins of the iconic character. Along with some exclusive pages we got to chat to Capullo and Snyder about their work on the landmark issue.
Nerdist: How did you two come to reunite on Detective #1000
Scott Snyder: [DC] approached me a few months ago and asked if I wanted to do something with Greg for Detective #1000. That title is such a seminal part of my whole tenure on Batman and means so much to me, that I knew that I wanted to do something and there was nobody else I wanted to do it with other than Greg.
Then they asked us to do the opener for the book. We've been doing so much with Batman for so long, and we still are with all the big cosmic stuff and all kinds of horror, that I wanted to do something that showed, no matter how many stories you do with this character, no matter how many cases you solve with him he's always ripe to be reinvented. There's always a sense of excitement and a kind of youth and a sense of beginning to him. No matter how long you've worked on him, there's always a thrill to open up a blank page and say 'we're writing a Batman story.'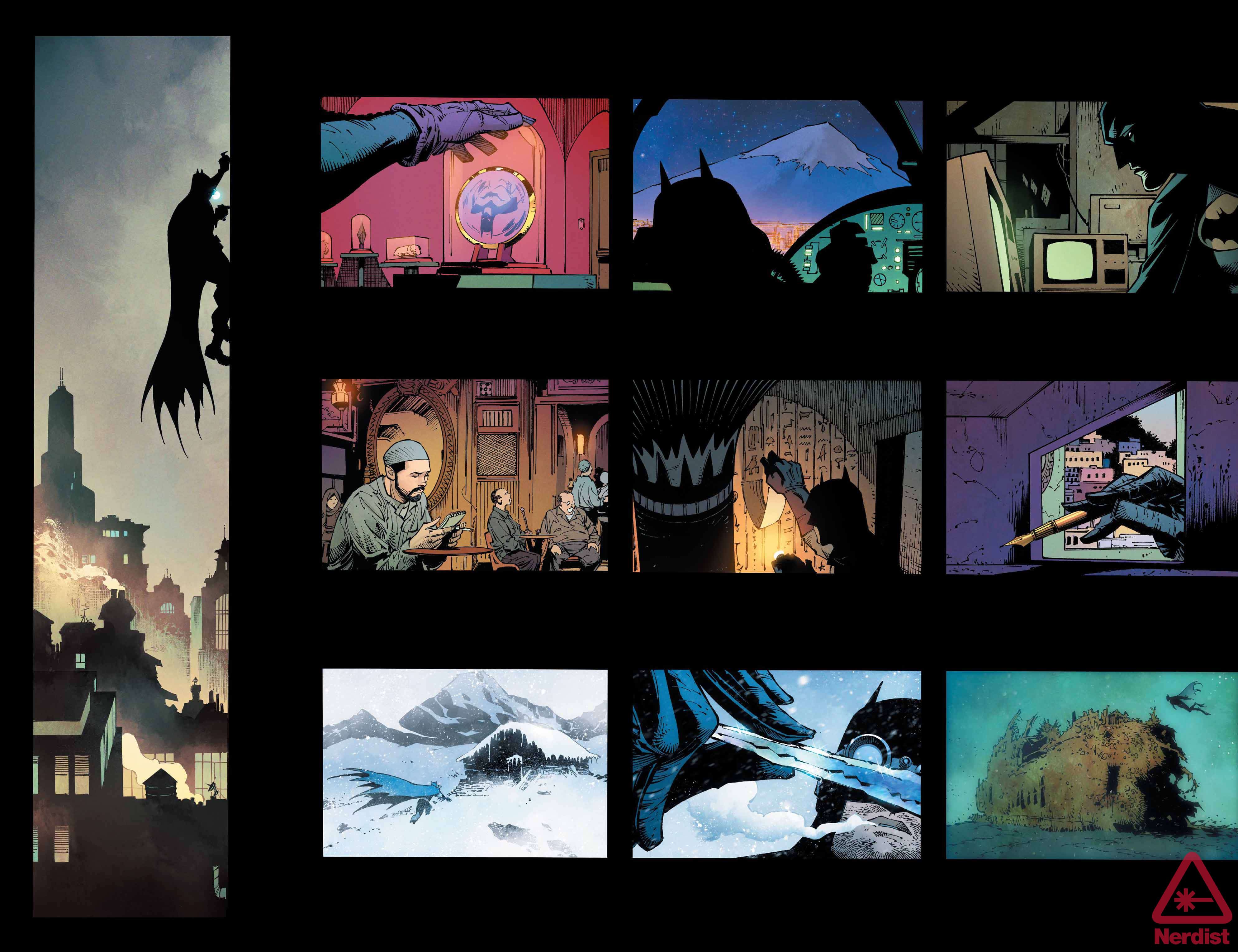 There are great easter eggs in the story, including Slam Bradley from the first ever issue of Detective Comics. How much fun was that?
Snyder: The funniest thing for us story-wise was that I had to ask them for files from the archives because of how hard those early issues of Detective Comics are so unavailable and dated and corny, but awesomely fun. I made a list of all the detectives who appeared in the early issues including Slam Bradley, and all the names were like Silver this, and Chess Rockwell that, and I really wanted to include them somewhere. It was a lot of fun to point at the grand tradition of detection, and how Batman is part of a larger history of solving mysteries.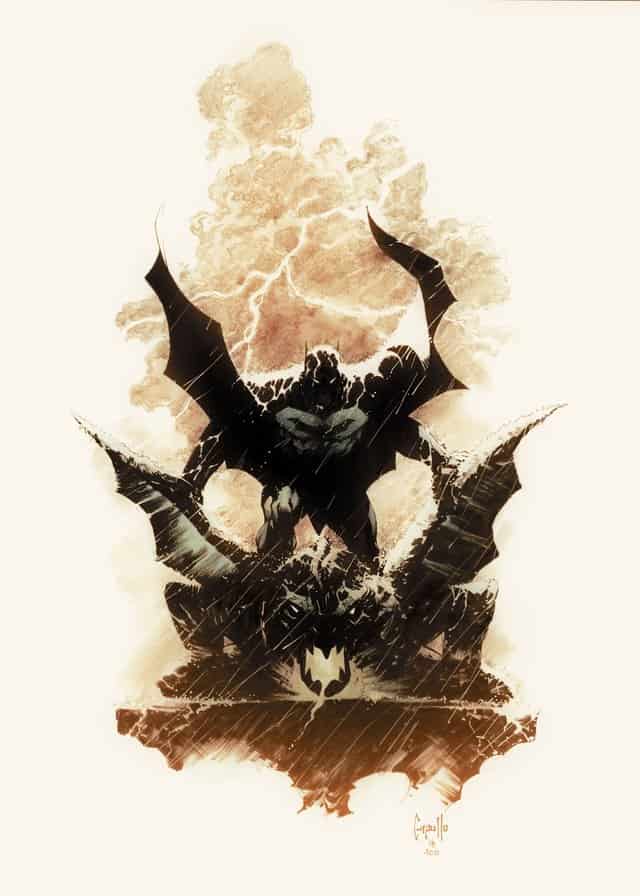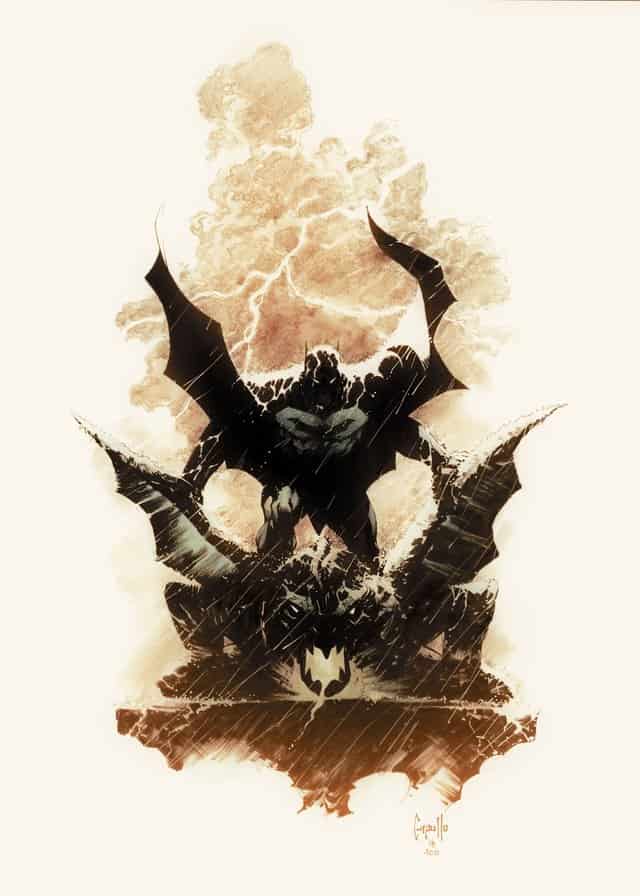 This story seems a little different from the more serious and creepy Batman stuff you've done together.
Greg Capullo: I got typecast with creepy stuff early on, after X-Force, and here I am! But a lot of the Batman stuff that I've done with Scott has been in the light, so this was a true dark detective story, where he's going around with a flashlight in a cave. We've done some dark stuff before but this really felt like the traditional Batman that we all know. All these magical moments felt like they were from the Batman you grew up with as a kid, and then you get to go in to the room and discover all these amazing characters, and also anytime there's Detective Chimp, I'm excited!
You introduce something entirely new here with the Detectives Guild, which seems to hint at a larger tradition outside of Batman. Could you tell us a bit more about coming up with them?
Snyder: I just felt as though one of the things that we associate with Batman is this vast library of stories; he's probably the character with the most esteemed shelf of literature written about him. I think because of that, sometimes there's this sense sometimes that he's old and maybe he's done, like we've seen him in so many iterations and yet the thing that makes him so adaptable is that aside from the gadgets, the car, the caves, the planes, all that cool stuff, he's the World's Greatest Detective. And to be a detective is to pursue mysteries that sometimes are much bigger than yourself, and that means that you'll always have new stories to be pursued. And so I wanted to do something here that creates a tradition of that. Ultimately the tradition of detection is the tradition of being curious, of being human.
Detective Comics #1000 hits shelves on March 27.
Images: DC Comics