In an attempt to contain the rapidly-spreading COVID-19 virus, people all over the world are practicing social-distancing to varying degrees of severity. Global travel is at a near standstill as countries temporarily close their borders to tourism. Cultural landmarks and museums have closed in an attempt to minimize community spread. And governments are advising people to stay home. There's a unique feeling of immense isolation in our globally-connected world. But while we do our part and hunker down—and finally watch that movie or pick up a new hobby—the Google Arts & Culture initiative is keeping us connected to the world around us.
Musée d'Orsay/Google Arts & Culture
Launched in 2011 by Google Cultural Institute, Google Arts & Culture is partnered with hundreds of museums and galleries all over the world, bringing their exhibits and collections to life digitally, using high resolution imaging and its famed Street View technology. From our couches, we can wander through Musée d'Orsay in Paris, take a closer look at Frieda Kahlo's diary at Museo Dolores Olmedo in Mexico City, take a peek at the Rosetta Stone at the British Museum in London, or explore Japanese antiquities at the Tokyo National Museum.
But Google Arts & Culture isn't just limited to the art world. Putting its Street View technology to the test, Google Arts & Culture offers a close-up look at landmarks all over the globe, including Pyramids of Giza, Sydney Opera House, Wuzhen Water Theatre, and the Colosseum. And for a truly out-of-this-world experience, it also offers a Street View virtual tour of the International Space Station.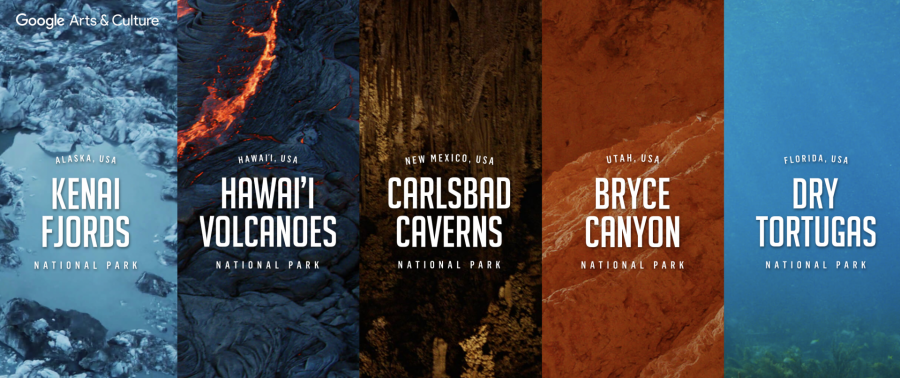 Google Arts & Culture
In its Hidden Worlds of the National Parks, viewers can explore five U.S. National Parks. Using Street View technology, park rangers guide users through the hidden depths of Kenai Fjords in Alaska; Bryce Canyon in Utah; Carlsbad Caverns in New Mexico; Dry Tortugas in Florida; and Hawai'i Volcanoes. Sure, it's not the same as going to the parks and physically experiencing nature, but the jaw-dropping display of technology allows for a surprisingly immersive experience. (Google Arts & Culture recommends using headphones for a fully immersive virtual tour.)
This is just the tip of the cultural iceberg Google has to offer as part of its Arts & Culture initiative, which also includes virtual 360° video tours and, if you remember, an app feature that paired a selfie with a famous work of art (which, despite its many issues, amused many).
Whether you're just looking to pass the time or are looking for inspiration for a future trip, this is definitely not a bad way to spend an afternoon (or seven).
Header Image: Google Arts & Culture/Château de Versailles