They sure don't make movie posters like they used to. Case in point, all the gorgeous posters created for the original Indiana Jones films. While the posters for Raiders of the Lost Ark and The Last Crusade are stunning, there's just something sexy about that first poster for Indiana Jones and the Temple of Doom, featuring a shirtless Harrison Ford, machete in hand, standing in front of a temple column. This teaser poster by artist Bruce Wolfe remains iconic, and is the basis for the latest premium statue from the folks at Gentle Giant. You can check out images of this amazing Indy statue, now up for pre-order, right here in our gallery.
Click To View Gallery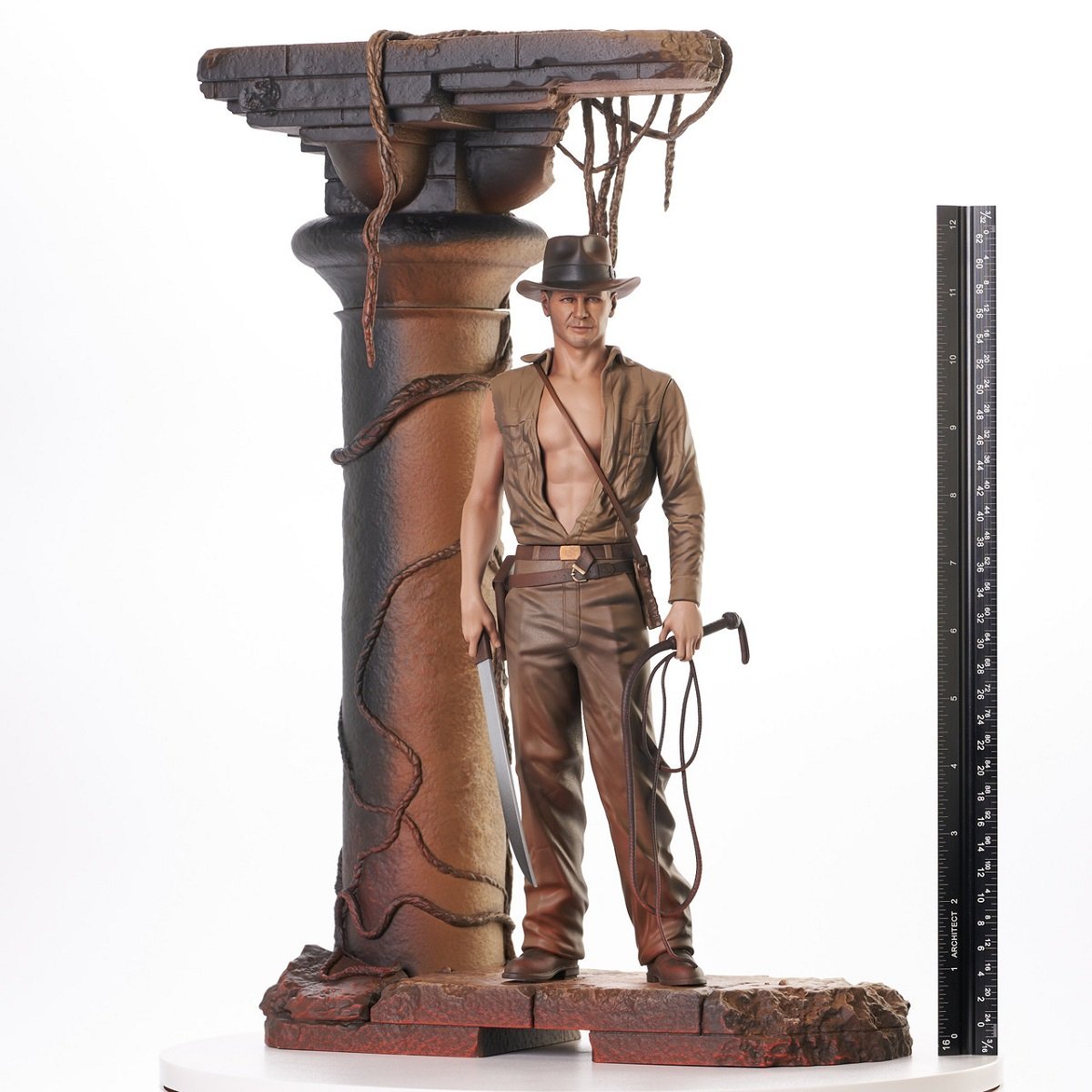 This deluxe Indiana Jones and the Temple of Doom statue stands approximately 15 inches tall. As we mentioned, it's inspired by the original 1984 theatrical one-sheet poster. This 1/7 scale statue depicts Indy in his torn shirt, holding a whip in front of the vine-draped pillar. Gentle Giant is limiting this Indy statue to only 1,000 pieces, and it comes packaged with a numbered certificate of authenticity in a full-color box. This statue comes at a price of $300.00, and the manufacturer will start shipping these in spring 2024. Right now, the target date for shipping is around April to June 2024.
Gentle Giant has produced some other fantastic Indiana Jones statues in the past, focusing on the original film and also Indiana Jones and the Last Crusade. They even have a bank based on the golden idol from the opening scene of Raiders of the Lost Ark. Many of these are still available from the official Gentle Giant site. Hopefully, we get some more based on Temple of Doom in the future. Who doesn't want to see Indy and Short Round's friendship immortalized forever in statue form? You can already sign us up for that pre-order.