We love tabletop games here at Geek & Sundry, and we love to showcase the best games out there. If you want to stay tuned into what's new and exciting in world of tabletop games, be sure to tune into Game the Game hosted by Becca Scott weekly here on Geek & Sundry.
Living in the golden age of board games means we have more options than ever before. Looking to be immersed in a world of zombies? Try Zombicide or Dead of Winter. Need a party game to break the ice at your next get-together? Play Codenames or Wits & Wagers.
It's not just a plethora of themes that publishers are offering, either. They're releasing games for various player counts and many titles now come with a set of solitaire rules for those times when you want to game alone.
With so many games suitable for low player counts you no longer have to coordinate with multiple schedules, find a central location, fight through traffic, or deal with any other logistical nightmares that threaten to end your game night before it's even started.
Just grab a partner (or don't!) and one of these five games that play well with one or two players.
Pandemic: The Cure
Like the cooperative classic Pandemic that it's based on, Pandemic: The Cure is a tense race to cure diseases as they threaten mankind. Unlike the original, Pandemic: The Cure is dice-based and much quicker to play. You and your partner fly around the world using your individual player action dice to cure diseases. The diseases are represented by six-sided dice that are rolled any time you try to cure; roll a 13 and you've cured it.
Easy, right? Not really. It's much easier to have epidemics and outbreaks than the original game. Fortunately, this action-packed, dice-chucking fest only takes 20-30 minutes so after the world has become infected you could easily go another round. To play alone, you'll manage two or more characters as you seek to exterminate all of those pesky germs. Be sure to check out Wil Wheaton and friends play the original Pandemic on Tabletop.
Viticulture Essential Edition
This worker-placement game about making wine is the perfect way to spend a relaxing night at home. The theme is perfectly integrated into the game play, as you and your opponent send your workers to perform tasks that will get your vineyard up and running, from planting vines to harvesting your grapes. Like actual winemaking, it takes a few seasons until you're able to harvest and produce those lovely reds, whites, blushes, and champagnes.
The solo game also offers the same rich and satisfying experience through its Automa deck, which simulates a live opponent. After you've become an expert winemaker you can play the campaign mode which offers unique challenges for each session.
Imperial Settlers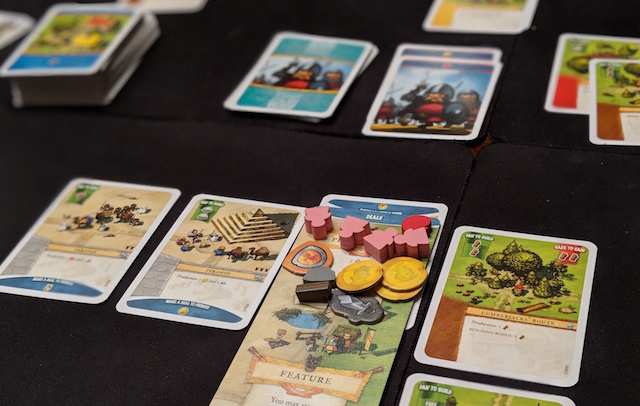 With its tiny and cute graphics, Imperial Settlers never looks like you're expanding your empire and conquering your foes. The card-driven, civilization-building game features take-that in the two-player mode as opponents destroy the other's buildings and other resources, but if you're looking for a more mellow game, you can play the Peaceful Variant, where players are not allowed to raze their opponent's lands.
It's an especially good solo game, with a separate attack deck acting as your opponent who's trying to raze and loot your empire. It's not difficult to beat the solo game, but it can be tough to post those high scores that the rulebook deems worthy.
Sagrada
Sagrada was one of Geek & Sundry's Games of the Year for 2017, combining gorgeous components with a puzzle-like quest to build your stained glass window. For two players, this is a game that can be a bit cutthroat as well: since you don't see as many dice as a full four-player game, you can easily snag the dice your opponent needs for their window. Of course, those less-than-optimal dice might affect you, too.
The solo game will challenge even the most accomplished Sagrada player; it's not easy trying to win and score high using the randomly selected parameters before each solitaire session. You'll need to conjure up the master artisan skills you've honed during multiplayer games and try to manipulate those dice in your favor.
Magic Maze
This real-time escape-the-dungeon game is a similar to Escape: The Curse of the Temple, but with a few unique twists. First, your band of adventurers is placed in a shopping mall of all places and there are escalators and portals to deal with. Second, each player has movement cards to move any of the adventurers. Since you're not assigned a particular adventurer it's up to you and your partner to use your movement cards correctly to get the entire group out of the mall. Finally, there's no talking allowed. That's right, it's a totally silent game so you'll have to pay extra attention to your partner's movements and try to figure out where they're going.
The solo game is a brutal test: you begin with a stack of movement tiles, but can only use the top one for any or all of the adventurers. Once you use it, you cycle through the stack using only one hand. Of course, in this version you can talk and you'll be grumbling to yourself about its difficulty as you get set to try it again.
Do you play solo boardgames? Tell us about the best ones in the comments! Don't forget to tune in for new episodes of Game the Game every Thursday here on GeekandSundry.com.

Want more boardgame goodness?
Image Credits: Ruel Gaviola
Ruel Gaviola is a writer based in Southern California. He loves board games, books, cooking, traveling, Star Wars, and date nights with his wife. He reviews games and reports news for iSlaytheDragon and his name rhymes with Superman's Kryptonian name. Follow him on Twitter and read his blog here.