One day after releasing a cryptic teaser, Gearbox Software has officially unveiled the first proper look at Borderlands 3 in all of its bonkers, irreverent, cel-shaded glory. Oh, and there are a lot of guns. How many you ask? "Over one billion," according to the new trailer.

Officially revealed during a live-streamed panel at PAX East in Boston, the Borderlands 3 trailer brings players back to Pandora for another looter-shooter adventure set against the backdrop of what appears to be an apocalyptic death cult. While Borderlands fans got to explore the early days of series antagonist Handsome Jack in Borderlands: The Pre-Sequel and ancillary adventures in Telltale's Tales from the Borderlands, Borderlands 3 is the first official sequel to the fan-favorite open-world space Western series since 2012's Borderlands 2.
The trailer is packed to the gills with all manner of colorful mayhem and gave us our first look at a quartet of playable characters, as well as the "Children of the Vault," a group of villains who we saw featured in Wednesday's "Mask of Mayhem" teaser trailer. Signs throughout the trailer beckon travelers to "meet Calypso" and "answer Calypso's call." Based on the game's reliance on mythological Greek nomenclature, something tells me that Calypso, the daughter of the titan Atlas in Greek myth, will be connected to Atlas, one of the game's massive weapons suppliers.
Of the new playable Vault Hunters, we don't know their names or their official classes, but they include a jacked female soldier with the markings of a Siren, who uses her mystical energy to give herself 6 ripped-as-hell arms made of pure energy; a hulking android who commands various pets to aid him in battle; a camouflage-clad female engineer with a drone and a presumably pilotable mech suit; and an older man with a cybernetic eye wielding an assault rifle, who is also capable of creating a hologram of himself to potentially distract enemies.
The trailer also features a number of classic characters from previous games. Near the beginning of the trailer, we see Borderlands 1's Lillith, who is in the clutches of the Children of the Vault…or, even worse, working alongside them. Then again, it looks like she no longer has her tattoos at one point in the trailer, so maybe she loses her Siren powers, which could tie in to that Morse code message hidden in the teaser.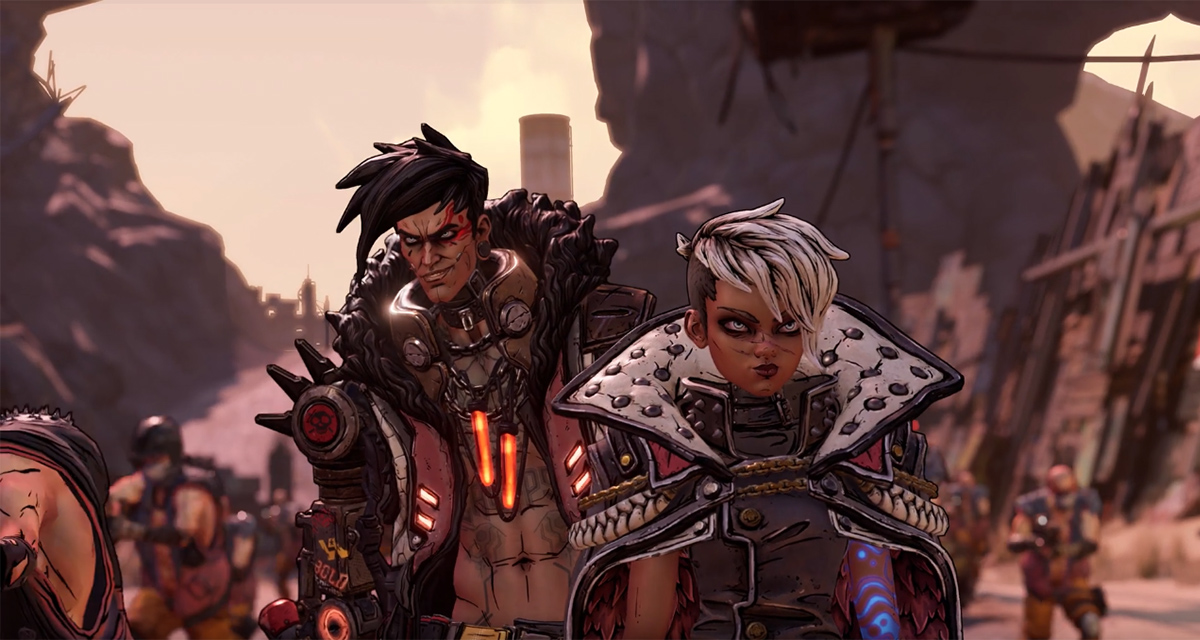 In addition, we see Tales from the Borderlands' Rhys, who is serving some Handsome Jack realness alongside Borderlands 2's deadly ninja assassin Zer0. Maya, Borderlands 2's resident Siren, also makes an appearance alongside an unknown blue-haired child that I'm hoping is at least as kooky as Tiny Tina. Speaking of Tiny Tina, she makes an appearance alongside O.G. Vault Hunters Brick and Mordecai. Also among the returning are Ellie the mechanic, Sir Hammerlock, Aurelia Hammerlock, everyone's favorite sassy robot Claptrap, and many more.
In classic Borderlands fashion, the game will feature an endless array of loot and weaponry with which players can equip themselves to tackle all manner of monsters, meanies, and anyone who so much as raises an untoward eyebrow in their general direction. Because breaking their own world record for "most guns in a video game" wasn't enough; this time around they'll even have guns with legs that can walk around. What a time to be alive.
Borderlands 3, so stay tuned for more updates and start deciding which of these new characters you're going to main in the wastes of Pandora.
Images: Gearbox Software