2018 has given us some truly unique eyeshadow palettes inspired by some of our favorite things — Mean Girls, Harry Potter, and classic Nickelodeon cartoons, just to name a few. But now, there may be a new collection that overshadows them all: the recently released Pizza Palette from indie brand Glamlite Cosmetics.
The palette includes eighteen shadows, all inspired by and named after various pizza toppings like pepperoni, red onions, extra cheese, and the ever-divisive pineapple. There are three shimmer shades with all of the rest being matte, and the colors range from neutral transition shades to bright orange, yellow, and purple. With so much tasty variation in the shadows, you could use this one palette to create any number of entirely of unique looks, whether you're in an order-in or dine-out mood.
The "pizza" itself is huge, about a foot in diameter, and also comes with a large mirror. According to reviews, the formula is also very pigmented and blends well with minimal fallout (in other words, it's pretty high quality). Of course, the palette wouldn't be complete without coming in a classic pizza box, and you can even get it in a limited edition PR box if you so choose.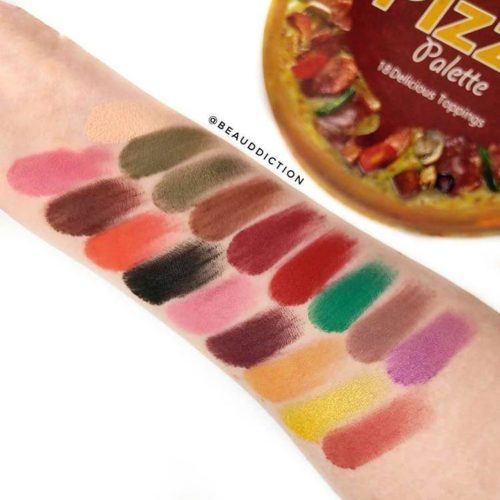 Just when we thought this product couldn't get any better, it's also entirely cruelty free, vegan, and allergy tested. It goes for $40.00 with $4.99 shipping within the U.S. and $13.99 worldwide, which is well priced for eighteen shadows. Between the price, packaging, quality, and theme, this is definitely a palette we're looking to toss into our collection very soon.
Image Source: Glamlite Cosmetics