The game will soon find its feet again. Millie Bobby Brown is returning to Netflix as our favorite young detective in Enola Holmes 2. But this time she won't be running from anyone. She's officially on the job, following in the footsteps of her famous older brother, Henry Cavill's Sherlock Holmes. How did she get to this point? What allies, if any, does she have at the outset of her new career as a private investigator? And how will she stay safe in one of the world's most dangerous cities? Here's everything you need to remember from the first Enola Holmes movie.
Who Is Enola Holmes?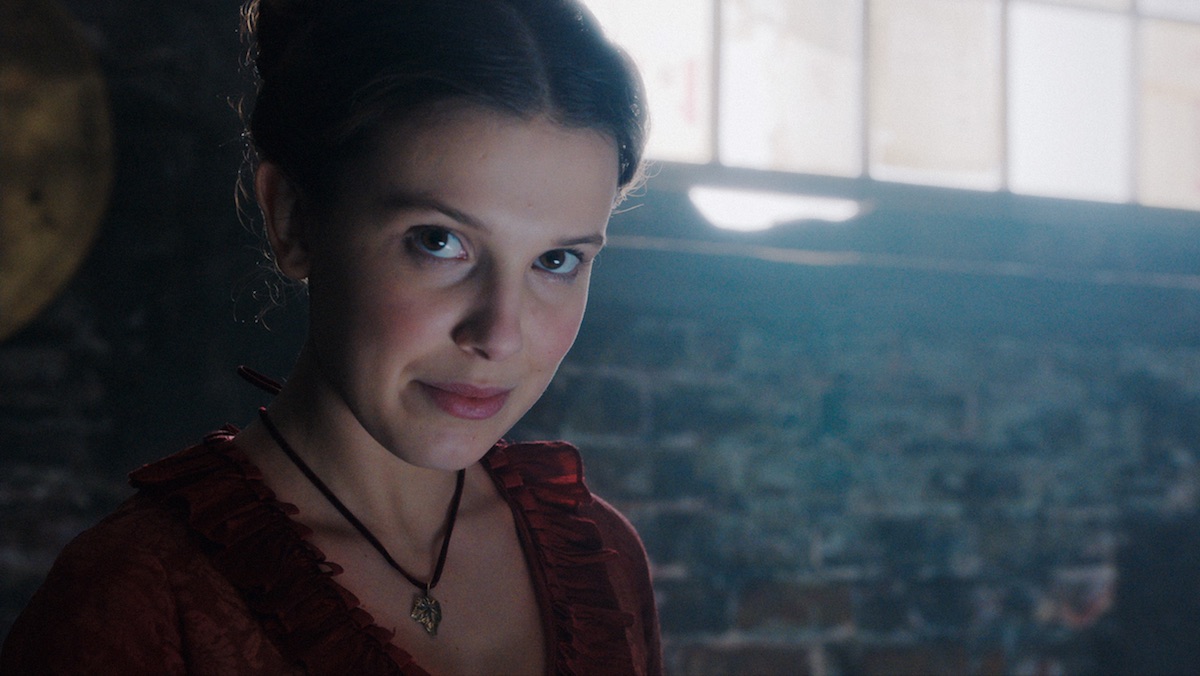 The fourth-wall breaking Enola ("alone" spell backwards) is the youngest of three children. Her father died when she was very young and she has few memories of her two older brothers before they moved out of the family home. Enola's mother Eudoria Holmes (Helena Bonham Carter) raised and homeschooled her daughter. She taught Enola—a fervent reader of both books and newspapers—history, science, and other studies. Enola is highly intelligent and perceptive, much like her famous brother Sherlock.
She's also physically fit and a trained martial artist, skills she also learned from her mother. Despite her seemingly small stature, Enola is quite the fighter.
Unlike her well-known sibling Sherlock Holmes, Enola is also kind-hearted and loving. She will put herself at risk to help those in danger. However, Enola was not prepared for the outside world. She is smart and knowledgeable on a wide range of matters, but she lived a sheltered life with her mother.
Enola is also excellent at deciphering anagrams, which Eudoria frequently uses to communicate with both others and her daughter. And she even has knowledge of explosives, which helped save her life in the first film.
Who Are the Members of Enola Holmes Family?
Some would call Enola's mother Eudoria Holmes eccentric, but only because she's an independent thinker who fights against the bonds and expectations placed on women in Victorian England. She's a radical in the cause of women's suffrage, and plotted with another group of like-minded women to use violence to push their goals. Eudoria also wants to create a better, fairer world for her daughter.
Enola's oldest brother is Mycroft, a government employee who legally owns of his family's home. Mycroft is a conservative, elitist snob who abhors any and all reforms to make England a more equitable society. He was Enola's legal guardian following their mother's disappearance. Despite Enola's pleads, Mycroft sent his sister to finishing school so she could be "broken" and built back up. He hoped to turn his troublesome ward into a respectable lady who would one day marry, even though Enola said she doesn't want a husband. While he does have a relationship with his brother, Mycroft seems to carry resentment he is not a genius like his two siblings.
Eudoria's second child is the legendary Sherlock Holmes. During the first Enola Holmes Sherlock had already made a name for himself as the preeminent private detective in London. Rich, high society clients try to hire Sherlock to work their most sensitive cases. But once Sherlock moved out of his family's home he rarely ever returned or even wrote. He had no relationship with his mother or sister, who kept every clipping she ever found of her brother. His lack of interest in people included a lack of interest in his own kin.
Over the course of the first movie, though, Sherlock expressed his admiration and concern for his younger sister. When he visited her at finishing school he not only gave her advice and praise, he showed real warmth for Enola. And at the end of the movie Sherlock told Mycroft he wished to become Enola's legal guardian and Mycroft relented. (A conversation Enola heard while sitting nearby in disguise.) Enola still has no love for her oldest brother, but she now does with Sherlock. And those feelings go both ways.
What Happened in the First Enola Holmes Movie?
Enola woke up on her 16th birthday to discover her mother had left their home, leaving behind only a small gift that included clues for Enola. When Enola's brothers returned home after their mother's disappearance, Sherlock did not put up any fight on their sister's behalf when Mycroft planned to send her to finishing school. But, using money her mother had hidden for her, Enola escaped.
On her train ride Enola met the young Viscount Tewkesbury. He was hiding from his mother, uncle, and grandmother. However, Enola rightly deduced there was a man in a bowler hat on the train looking for Tewkesbury. She stopped that man from killing Tewkesbury and the two jumped from the train. The two then split up when they reached London.
Enola immediately began investigating her mother's whereabouts. She discovered her mother was a radical planning to use violence to push major reforms for women. But while searching for Eudoria the man in the bowler hat found and attacked Enola. She managed to escape (barely) with her life and then decided to put her own investigation on hold so she could find Tewkesbury and keep him safe. That brought her to his family's estate, where she pretended to be Sherlock's assistant. Enola then found and hid Tewkesbury, but she was soon captured herself and sent to finishing school.
The young Viscount then returned the favor and helped her escape, but rather than hide in London she made him return home to face his uncle, who she suspected had killed Tewskebury's father and was trying to kill him. However, it was his grandmother trying to have him killed. She knew, like his father would have, that her grandson would be the deciding vote in the House of Lords for a major reform bill that would strip power from London's elite. Tewskebury, a gentle young man with a fondness for nature, ultimately proved the decisive vote as the reform bill passed.
What Is Enola's Relationship with Viscount Tewkesbury?
Enola's initial reaction that Tewkesbury was a "nincompoop" proved inaccurate. He was far more clever than she thought. Like her, he had managed to escape his family, leaving behind only a difficult set of clues to where he had gone. Over the course of the film the two grew quite fond of one another and their relationship turned romantic. During their final moment together he let her know he'd be happy for her to come and live with his family. And Enola was clearly enamored with him when Tewkesbury kissed her hand. But in the end he went off to serve in the House of Lords, and she went off to live on her own in London. (Using money his mother had paid Enola as a reward.)
Where Is Enola's Mother Eudoria Holmes?
Enola never actually found her mother, but at the end of the movie Eudoria showed up unexpectedly in her daughter's room. She then explained why she abandoned Enola. "I left for you, because I couldn't bare to have this world be your future. So I had to fight. You have to make some noise if you want to be heard."
The two then embraced, with Eudoria telling Enola she can always reach her with a coded message in the newspaper. Because despite their special bond, Eudoria's dangerous work is far from over and she's still in hiding. But Eudoria can rest easy knowing she raised a remarkable, resourceful, brilliant young woman.
What Will Happen in Enola Holmes 2?
For that answer we turn to Netflix. Here's the official synopsis for Enola Holmes 2:
Fresh off the triumph of solving her first case, Enola Holmes (Millie Bobby Brown) follows in the footsteps of her famous brother, Sherlock (Henry Cavill), and opens her own agency — only to find that life as a female detective-for-hire isn't as easy as it seems. Resigned to accepting the cold realities of adulthood, she is about to close shop when a penniless matchstick girl offers Enola her first official job: to find her missing sister. But this case proves to be far more puzzling than expected, as Enola is thrown into a dangerous new world — from London's sinister factories and colorful music halls, to the highest echelons of society and 221B Baker Street itself. As the sparks of a deadly conspiracy ignite, Enola must call upon the help of friends — and Sherlock himself — to unravel her mystery. The game, it seems, has found its feet again!
And the only other thing you need to know before Enola Holmes 2 is that it comes to Netflix on November 4.
Editor's Note: Nerdist is a subsidiary of Legendary Digital Networks.