The late, great John Alvin was one of the most accomplished movie poster artists of all time. He created the iconic posters for movies like Blade Runner, Gremlins, The Goonies, The Little Mermaid, Batman Returns, Beauty and the Beast, and The Lion King, just to name a few. But he also created the poster for one of the most successful movies of all time, Steven Spielberg's E.T. The Extra-Terrestrial. And a new version of this classic poster will soon become available to fans everywhere.
Poster print Justin Ishmael and the good folks ISH, Bottleneck Gallery and Vice Press have joined with Andrea Alvin and the John Alvin Estate for a new series of posters celebrating Alvin's legendary work. Each poster in the new John Alvin series will be sourced from original art and files from John's archive. It will be approved not only by the studio, but by John wife, Andrea Alvin, with a signed and embossed certificate. These are not only classic posters from John's career but also unreleased finished works for some of your favorite films that have rarely or never been seen before.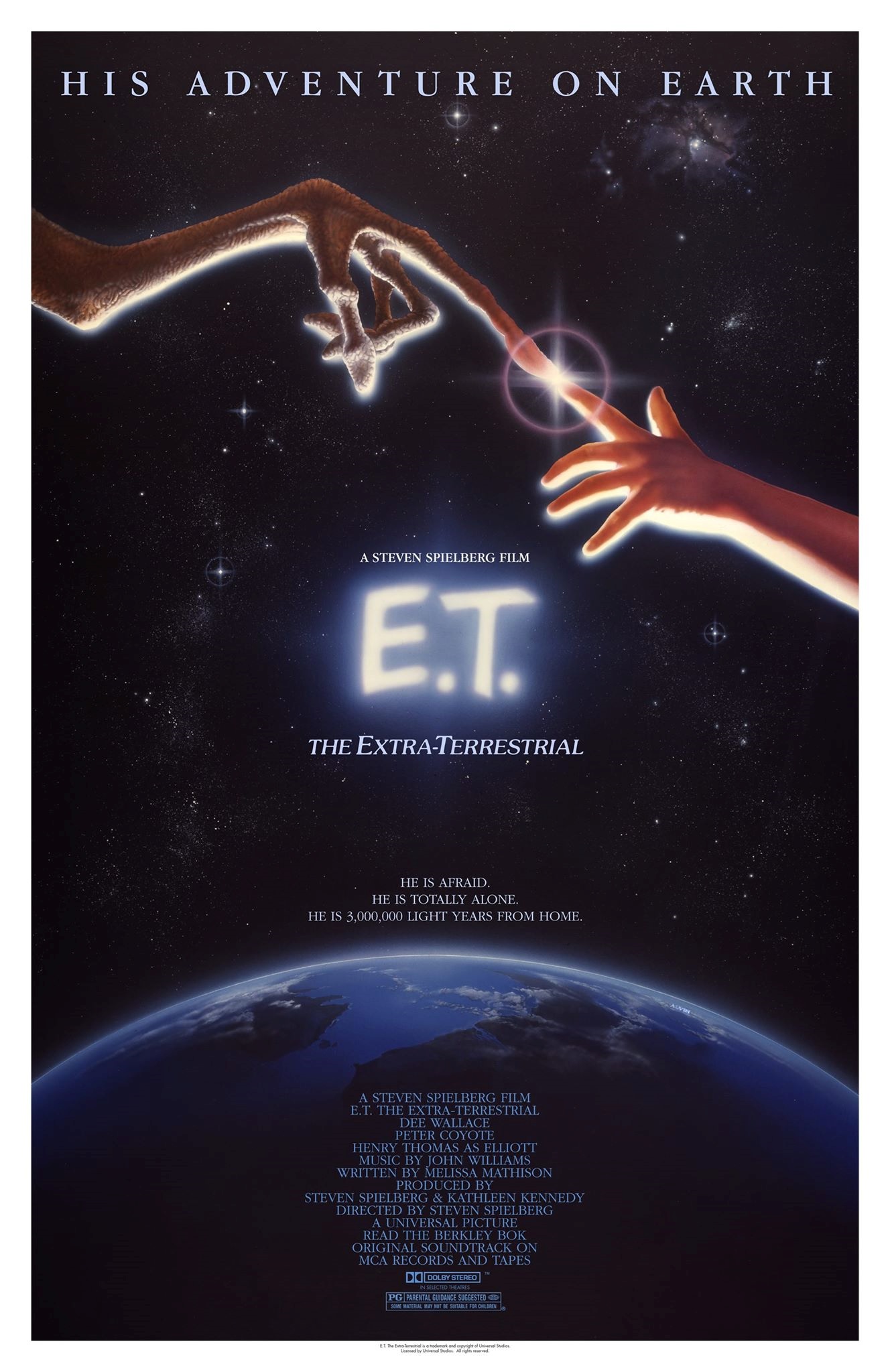 And the first poster available will be Alvin's most famous one. The classic original E.T theatrical poster image was painted by John using very little reference from the actual film as the studio wanted to keep E.T. hidden prior to the film's release. John was taken to the studio and shown a floppy hand that looked like a rubber chicken and then expected to create something to sell the film. He went to work and used his daughter for the human hand reference on the poster and actually created the E.T. logo we all know by hand cutting the "E.T." out of cardboard and painting it onto the actual art with an airbrush to achieve the glow.
Andrea Alvin said in a statement: "John was often asked, 'Of all the posters you created, which was your favorite?' He would usually answer E.T. because of the movie's great success. It was also 'the big one that didn't get away.' His work was on everything from keychains to bed sheets. IT WAS CRAZY!"
The regular print is a 24 x 36 inches, 9 color screen print, and will set you back $75. It comes with a numbered Certificate of Authenticity embossed by the Alvin Estate. The limited edition is also a 24 x 36 inches 9 color screen print on foil, and this numbered edition of 225 comes in at $100. It also comes with a numbered COA embossed by Andrea
The sale will start on Thursday, April 18 at 12pm eastern and last till Monday, April 22 at 12pm eastern. The edition will be determined once the sale ends. The print will be available at Bottleneck Gallery and Vice Press.
Images: Universal Studios / Bottleneck Gallery