It's been 55 years since Frank Herbert brought Dune to the world. The sci-fi novel introduced Paul Atreides and the desert planet of Arrakis. The book's complex world-building and political intrigue have inspired multiple on-screen adaptations—the newest of which is scheduled to release later in 2020 from Denis Villeneuve. Many fans hold Dune as a beloved title on their shelves and collect multiple editions (I'm totally speaking from experience here). And now, via io9, The Folio Society is releasing one of the most gorgeous limited edition versions of Dune I've ever seen.
Just look at this: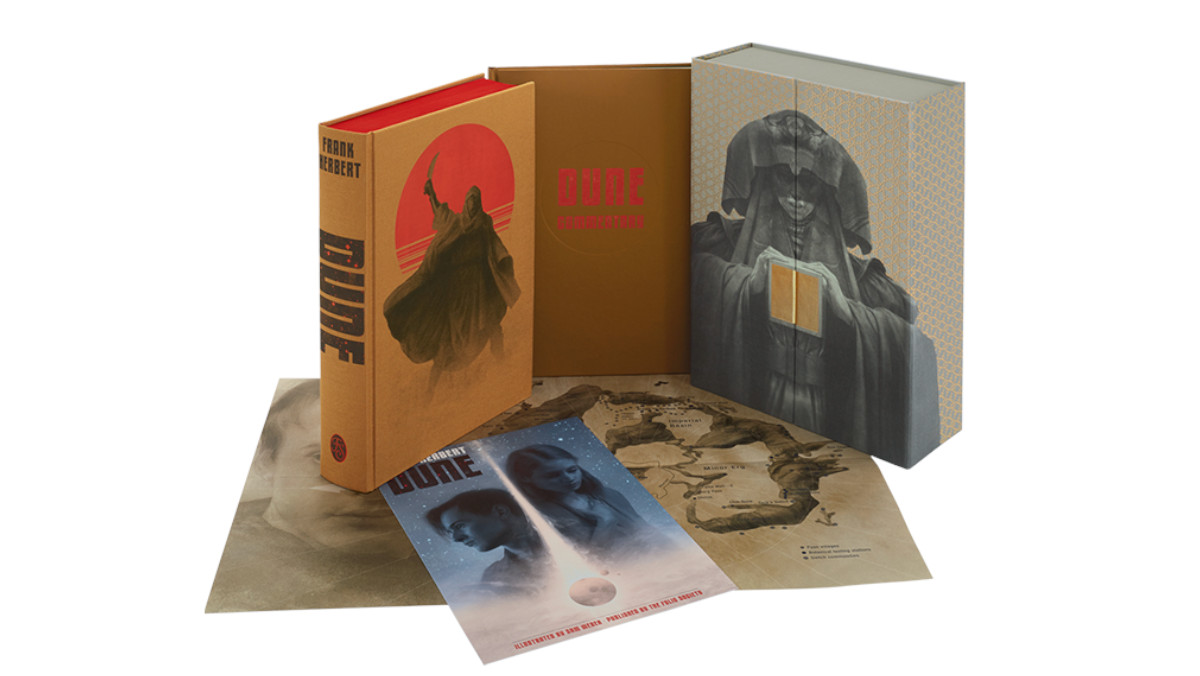 The Folio Society
This edition, limited to 500 hand-numbered copies, comes in a presentation box. Bound in cloth with endpapers featuring gold ink, the set, full of designs from Sam Weber, is a stunner. The book contains 13 color illustrations by Weber, an award-winning illustrator. You can take a video tour of the entire package below.
And you'll want to be fully versed in what you're getting if you're thinking about buying it. This version of Dune will set you back $695. That is a significant chunk of change to consider spending… unless you have the wealth of the Padishah Emperor. But I'm not saying this edition isn't worth it. In addition to the illustrations and a map, a beautifully bound Dune commentary comes with the set. That tome features the map I mentioned as well as essays from Michael Dirda and Brian Herbert.
If you're considering bringing this very fancy edition of Dune to your shelf, don't wait. At the time of writing only 208 of the 500 copies remain. Claim one for yourself at The Folio Society's website.
Featured Image: The Folio Society
Editor's Note: Nerdist is a subsidiary of Legendary Digital Networks.
Amy Ratcliffe is the Managing Editor for Nerdist and the author of The Jedi Mind, available for pre-order now. Follow her on Twitter and Instagram.