Looking to get your miniatures painted? Check out our show G&S Painters Guild, where host Will Friedle gets his paint on while learning from experts, exclusively on Alpha!
Crafting terrain for tabletop games is one of the most fun and accessible aspects of the hobby, and with the plethora of cool Star Wars miniatures available (like those from Star Wars: Imperial Assault and Star Wars: Legion) and the multitude of ways to play them with them, from the aforementioned miniature wargame to the Star Wars RPG, there's something fun about playing out the epic battles from the screen (and our imagination) on a tablescape with fantastic terrain.
There's a certain ubiquity when it comes to the natural-yet-geometric shapes of the building of Tatooine, but there's also enough variation between them that they're really easy terrain pieces to make with improvised materials (including craft products from the dollar store) meaning that you can create these buildings without spending a fortune. You can take the techniques from this tutorial and apply them to building and terrain crafting in the future to create buildings for all sorts of games.
Ready to look onto the horizon to a double-sunset? Let's get started!
What you need
Materials:
Syrofoam ball approximately 4″ in diameter
Short cylinder boxes approximately 5″ in diameter (I used gift boxes from the dollar store, but you could go even thrifter and recycle margarine containers.)
Foamcore, also known as craft board (it's a thin sheet of styrofoam with paper glued on both sides, available at craft stores or dollar stores)
Styrofoam blocks/sheets (I used XPS insulation foam, but you can just as easily use regular styrofoam blocks)
PVA glue/white glue
Drywall compound/filler
Decorative tissue paper
Sand
Craft Paint or Fine Art acrylic soft body paint (Paint intended for miniatures is wasted on terrain – use cheaper craft paints.)
Step 1: Cut Your Pieces
To start, you'll want to cut your styrofoam ball in half to create the dome shape at the top of the buliding. If you have a hot wire cutter, it's super handy to use it, but you can also use a long blade (like a bread knife).
You'll also want to cut your insulation foam into a rectangle that's shorter than your box is high, and about 1″ wide at the bottom. I used my wire cutter to cut the rectangle and then to cut the 1″ foam to a 1/2″ width because it was really thick, but this can be accomplished with an X-acto knife/hobby knife. I used 4, but you can use as little or as many as you think works for your building.
Finally, you'll need to cut the door shape out with the foam core. They'll need to be slightly shorter than the door frames you cut out in styrofoam, and I tapered them at the top but kept the width the same at the bottom. I drew on the shape onto the paper of the foam core and cut the shapes out with scissors.
Step 2: Glue It Together
This is a reasonably straightforward step and I simply used white glue, as hot glue can melt the styrofoam.
Step 3: Fill in the Gaps With Drywall Compound
If you look closely, there's some gaps between the base box structure and the styrofoam. I used drywall compound and a small spatula to fill those gaps in so I'd get a smoother end result, but this step is totally optional. Just be sure to let it dry before going onto the next step.
Step 4: Glue Seal The Tissue Paper To the Exterior Of The Building
Glue seal (a 1:1 mixture of water to white glue/PVA glue) does a couple things: first, it creates an exterior, hard shell on the outside of the styrofoam, giving it some strength to being handled. Second, it gives a surface for paint to adhere to the building when it's time to paint. Using tissue paper in this step adds extra strength, and gives the building a consistent texture (which is important when you're using different kinds of styrofoam).
I cut the tissue paper (the kind you use to stuff into gift bags) into small squares and used my glue seal mixture with a brush to adhere it all over the building. The smaller pieces made it easier to push it into the nooks and crannies and bend it around the dome shape of the building. Make sure you let it dry before moving on.
Step 5: Glue On Sand
While a certain Skywalker might have waxed on about sand and how he hates it, in this application the sand adds that organic texture that these huts want. Simply coat the building with white glue, and sprinkle sand over it. Let the sand dry, and then brush on a layer of glue seal to create a coating that will hold that sand onto the building (so it won't rub off with handling.)
Step 6: Paint
A couple of layers are used to create the final effect: a darker yellow-brown paint (yellow ochre) was used as the base colour, and then an ivory paint was drybrushed on top (if you don't know what drybrushing is, check out this article for painting Stormtroopers that covers the technique.)
You're Done!
The best part of crafting your scenery, apart from how cheap it is to create and the satisfaction of having cool things on the tabletop, is that you can apply these techniques to create all sorts of buildings. The fundamentals are pretty straightforward and how you end up creatively using these basic techniques to create all sorts of terrain for your tabletop is only limited by your imagination.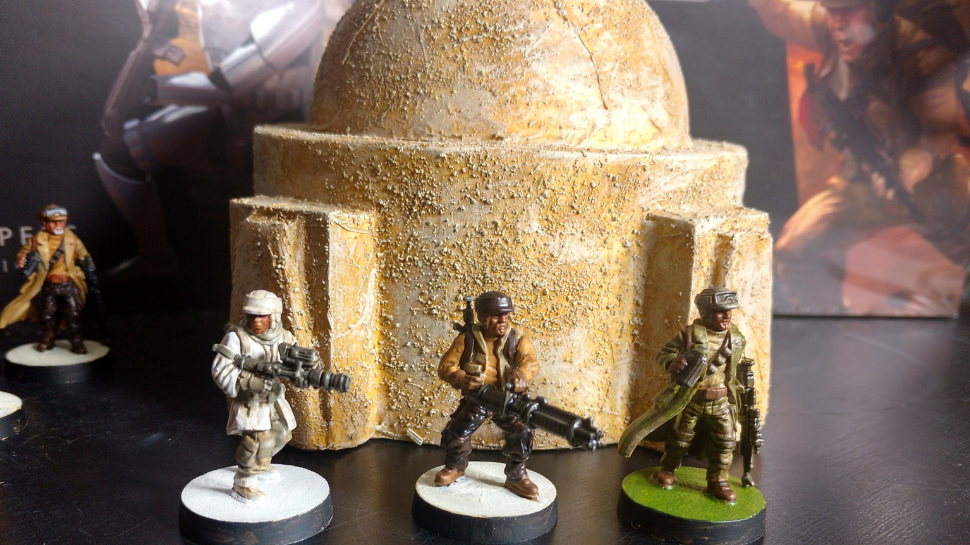 What sorts of tabletop crafts have you created? Share in the comments below!
More Tabletop Hobby Goodness!
Image Credits: Teri Litorco
Teri Litorco is perpetually posting photos of minis she's painting and tabletop terrain she's crafting on Instagram, Twitter, and Facebook. She also posts tutorials on her YouTube channel for miniature painting and terrain building.
Learn To Paint Miniatures with G&S Painters Guild!
Want to learn more from painting experts? Come and paint with us Mondays on Alpha! Don't have a subscription? Visit projectalpha.com use the code MINI for a free 60-day trial.