Each week here at Geek & Sundry we're taking a look at new and upcoming exciting titles on Kickstarter! This week's Kickstarter of the week is Batman: Gotham City Chronicles, a miniature skirmish board game featuring several different scenarios. As of this writing, the Kickstarter has exceeded their $500K funding goal and is over $3M.
How does the old meme go? Be yourself, but if you can't be yourself, be Batman? Bat-fans have plenty of opportunities to become the Dark Knight, ranging from brawlers like Injustice to the Arkham series of games. There's even good representation on the tabletop from HeroClix to Dice Masters to Knight Models DC miniatures. Yet the Bat's popularity is unstoppable. Monarch Board Games put the latest game starring Batman, called Gotham City Chronicles, on Kickstarter and raised nearly 2 million dollars in 24 hours. We looked at an early version of this game at Gen Con, but now that it's on Kickstarter, we can truly dig into what Monarch has to offer.
Batman: Gotham City Chronicles is an objective-based miniatures skirmish game for two to four players. The rules are based on Monolith's wildly popular Conan board game that have been adjusted based on feedback from that game and wanting to capture more of a comic-book feel for Batman. One player is the Mastermind, controlling a Batman villain and their minions trying to hatch a nefarious scheme. The other players play Batman and his allies, such as Commissioner Gordon, Batgirl, Robin, Nightwing. The key game mechanic is energy, which is a finite resource that cycles through each character. Players can choose to burn through their energy to make a flurry of moves toward their objective at the risk of leaving themselves exposed when their opponents make their moves. When a bad guy takes an action, they cycle towards the back of the mastermind's queue. The mastermind can choose to hop their space in line but using them so soon costs more energy than if they wait until the bad guy naturally cools off. Both sides of the game are a challenge of action, defense and rest, but they play slightly differently.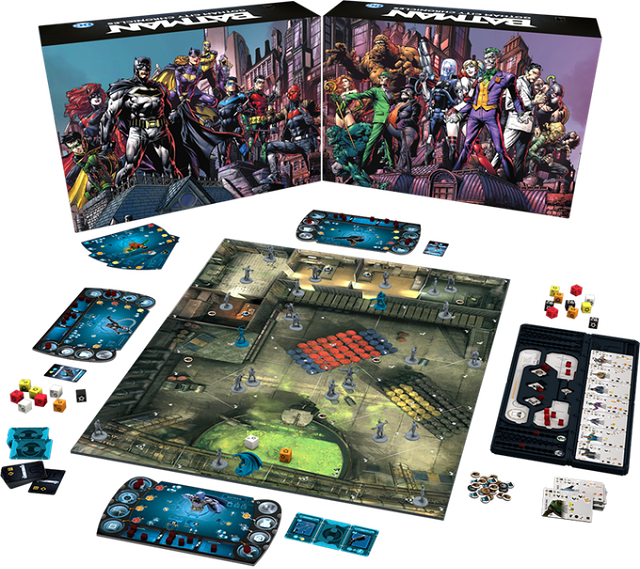 The basic game is structured in two boxes; one for Batman's side and one for the bad guys' side. There are expansions available that offer more maps, good guys and bad guys, plus two expansions that offer more play modes. Once is a versus skirmish mode where both players take a mastermind role allowing players to mix and match pieces in a fight for Gotham City. The other is the Batmobile expansion which features an impressive model of Batman's ride along with new scenarios and modifications of existing ones. Stretch goals are adding more heroes and villains, including ones that dig a little deeper into Batman's bench and alternate sculpts featuring different versions of characters that play differently.
There are two major levels of the Kickstarter; the basic game and the all-in version, both of which include all the stretch goals. Backers can add individual expansions as add-ons, but, like most grand plans in Gotham City, there's a ticking clock. Monolith claims that the game will NOT be available in retail channels, so anyone that doesn't back now will have to play a friends' copy or hope they get lucky on the secondary market. This is not a Kickstarter for the faint of heart, but the sheer amount of miniatures already unlocked make it a dream come true for ultimate Bat-fans everywhere.
The Kickstarter ends Saturday, March 31st, so if you want to match wits with Gotham's greatest villains, consider this your Bat-Signal.
Image Credits: Monolith Board Games

Rob Wieland is an author, game designer and professional nerd. He's worked on dozens of different tabletop games ranging from Star Wars and Firefly all the way down to his own creations like CAMELOT Trigger. He can be hired as a professional Dungeon Master for in-person or remote games. His Twitter is here. His meat body can be found in scenic Milwaukee, WI.