When Disney Lorcana: The First Chapter arrived over the summer, I followed the Ravensburger game inspired by Disney animation into the trading card rabbit hole. I learned about deck-building, the perils of booster packs and boxes (when I could track them down), and the value of buying single cards. I joined a weekly Lorcana league at a local game store and enjoyed seeing how quickly a community formed around the game. After a few months of perfecting my decks and preferred ink combinations with The First Chapter, it's all changing with Disney Lorcana: Rise of the Floodborn. The second set's starter decks bring additional features that, while friendly to beginners, bring depth and fresh challenges to the game.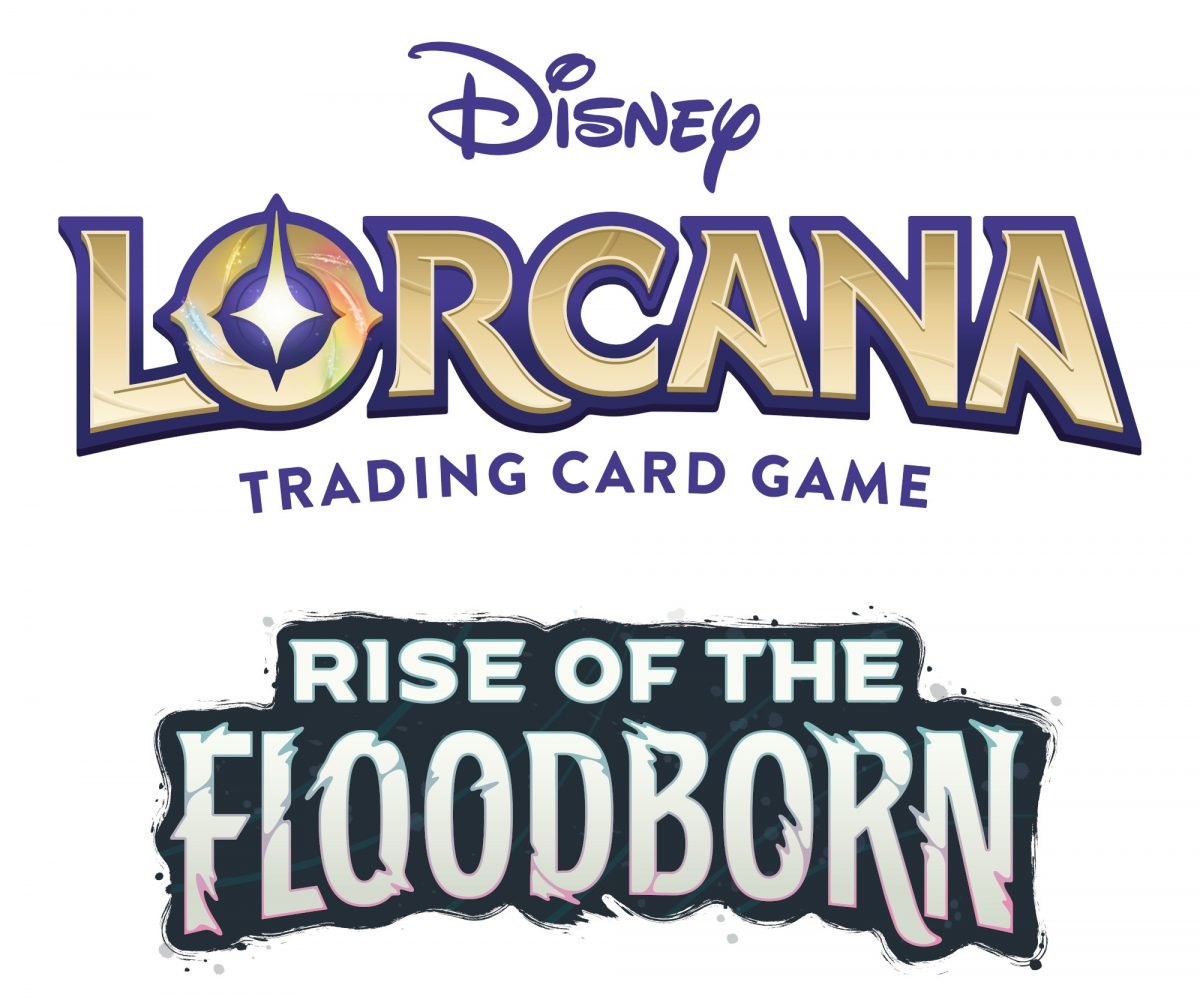 Ravensburger sent Nerdist one of each starter deck for review purposes. The starter decks have 60 cards each and are designed for immediate play. Both feature different ink combinations than The First Chapter's starter decks. Additionally, both decks include some cards from the first release. Though they might not have any of the set's most powerful cards, the starter decks are a well-rounded representation of Rise of the Floodborn. Both have stunning art of Disney characters and hint at the mysterious flood of ink that transformed some of the characters.
Rise of the Floodborn Amethyst and Steel Starter Deck
Called the Might and Magic deck, the Rise of the Floodborn Amethyst and Steel Starter Deck is all about transformation. This deck features several Merlin and Madam Mim transformation cards from their wizard's duel in The Sword in the Stone. Besides being excited to see the characters from the 1963 film, the Amethyst ink cards come with effects for when the characters enter play and when they leave play. This can mean gaining lore, drawing a card, peeking at the top card of your deck, or returning a card to your hand.
With the Steel ink, you have cards that represent the best of the ink's traits. That means bodyguards, damage dealers, and solid lore values. The Amethyst cards in this deck thrive with Steel at their back. Though I'm already imagining some modifications I would make with Steel cards from The First Chapter.
A huge selling point of this deck is Resist. After several months playing The First Chapter, it's going to take me a while to incorporate Resist and to remember its value. This new keyword brings the ability for a character to resist damage. We've seen all kinds of modifications to strength values, but not to damage. If you're playing Lorcana for the first time with Floodborn, use this to your advantage. If you've been playing Lorcana, I'd get this deck just to practice using this ability. It has the potential to be a gamechanger.
Play this deck if you're bold enough to banish your own cards or return them to your hand. (Reader: I am not bold enough. I want to hang on to my cards as long as possible and quest with them).
Rise of the Floodborn Sapphire and Amber Starter Deck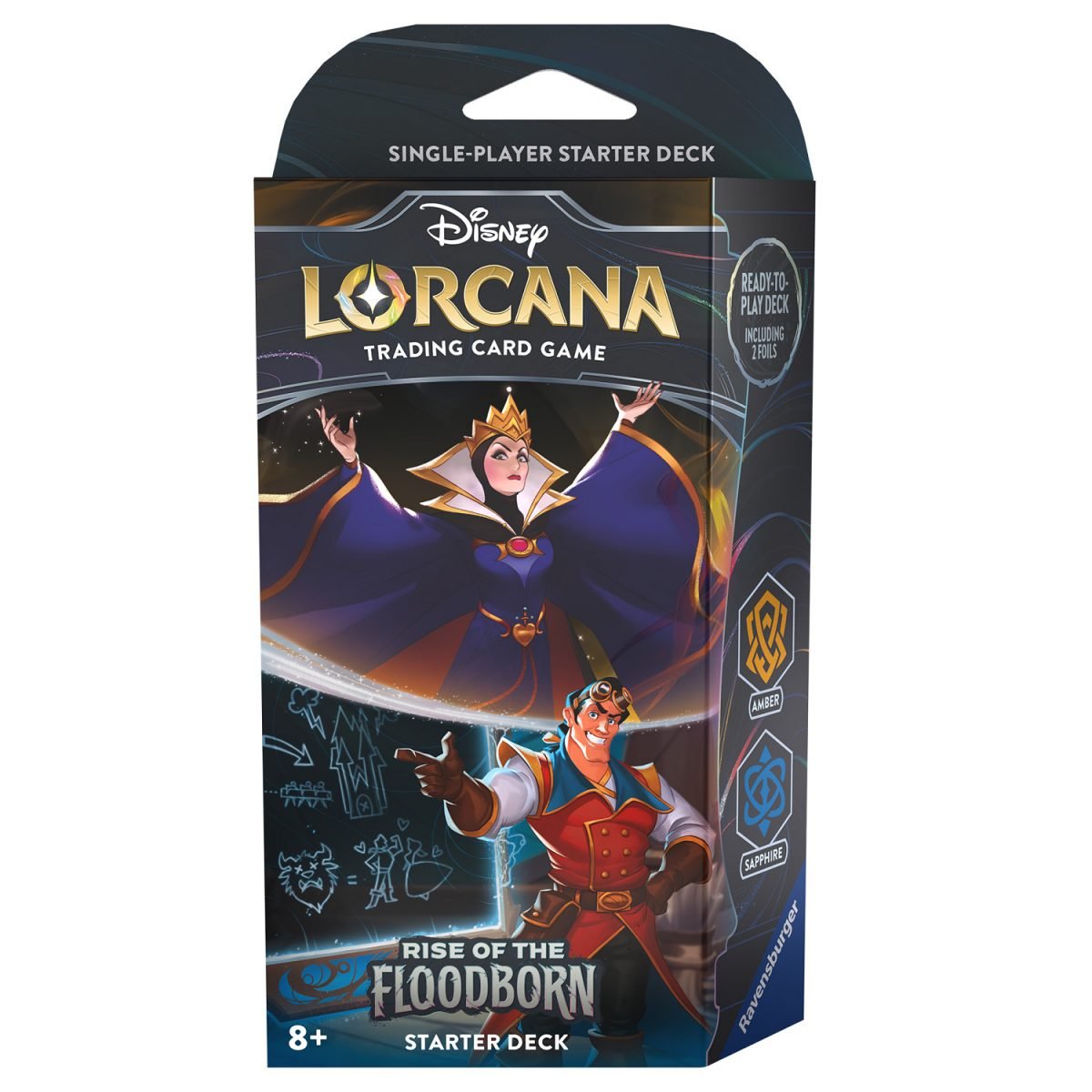 The Rise of the Floodborn Sapphire and Amber Starter Deck focuses on teamwork. It is, in fact, the Tactical Teamwork deck. That's largely because of Snow White and the Seven Dwarfs. The Seven Dwarfs play off each other, lending Support and abilities triggered upon banishment. They can build up lore and get very quest-y very quickly. Additionally this deck brings in more items (perfect for Tamatoa item deck builders) and adds new faces like Winnie the Pooh and Judy Hopps.
While the Sapphire in this starter deck doesn't load the inkwell as quickly as Sapphire cards in The First Chapter, it delivers on items and being ink fodder. It also helpfully brings in a character capable of challenging Evasive opponents for only two ink (Cruella de Vil, Fashionable Cruiser). Sapphire has intriguing items, too.
That said, Amber is what shines in this deck. I found myself inking Sapphire cards over and over to get Amber cards in play. I was initially skeptical about the sheer number of Seven Dwarfs cards, thinking I would get tired of seeing them, let alone playing them. They seem to rule the deck. But I quickly became a fan. Using the Seven Dwarfs to their full potential will take more finesse but even in a handful of games, they proved beneficial for challenging the opponent and also for questing. This deck's features make it easy to get characters with high lore value out on the board and make your opponent go on the defensive. It can go from low lore to high lore quickly to make a comeback, too.
Play this deck if you like to rely on a quest-heavy strategy. (Hi, it's me).
Overall, the Rise of the Floodborn starter decks complement the existing game's meta while introducing new possibilities. It delivers on expanding Lorcana's story while bringing fresh characters and gorgeous new art.
Disney Lorcana: The Rise of the Floodborn will release first at local game stores on November 17. Mass market retailers follow on December 1. Get more information at the official Lorcana website.
Featured Image: Ravensburger