Warning: This post contains major spoilers for Deadwood: The Movie, which you should definitely watch.
It was a long time coming, but it was more than worth the wait. Thirteen years after it was "canceled," Deadwood: The Movie brought us back to see what had and hadn't changed in the camp over time. Here are all of the questions this series finale answered, and the ones we're unlikely to ever learn.
Seth Bullock
His bid for county sheriff was stolen in the season three finale when Hearst rigged the elections against him, but you can't keep a good lawman down, and at some point Bullock earned back his badge. He became a U.S. Marshall and chief law enforcement official in Deadwood. He also became a father, having three kids with Martha, and a successful business man (his bidding at the auction showed he had at least some wealth), having opened a hotel with longtime friend and partner Sol Star. Despite all of that, he still kept his sense of right and wrong, stopping the camp's citizens from giving Hearst the frontier justice he deserved. Seth Bullock didn't lose his temper, but he was able to keep it under control more often than not.
Al Swearengen
Over the last ten years, life seemed to continue on in much the same way for a (slightly) kinder Al as it did before—even in terms of his clothing, and the fact that Dan, Johnny, and Jewel are still in his employ—though maybe with fewer problems. His question to Bullock about where he'd been all these years indicated the two didn't need to work together as often in the last decade. Life in Deadwood was seemingly a lot less complicated after George Hearst left town, at least until the telephone started making its presence felt, much to Al's dismay. But a lifetime of drinking had Al on death's door, and even if we didn't see him die at the end of the movie it seems certain he is not long for this world. And with Trixie set to inherit the Gem, which will get its own phone eventually, and with her certain to do away with prostitution, Al's death will mark the end of the town as we knew it.
Jane and Joanie
At some point, Jane, thinking her relationship with Joanie was over, left camp to travel the country, during which time Joanie inherited the Bella Union from Cy Tolliver. That sent Joanie back into a depression, as she returned to running a brothel after vowing never to do that again. A still-drinking Jane returned to camp to "collect her Joanie Stubbs," only to find a self-destructive Joanie in a drug-fueled orgy. After some initial coldness, the two women reconciled, in part because of Charlie Utter's death. They found strength in one another and by movie's end had both seemed to be the best version of themselves. Reckon they will make that visit to France.
Cy Tolliver
The great Powers Boothe passed away in 2017, but we didn't learn when or how Cy Tolliver died. Was the vile Cy murdered? Did he finally self-destruct? And did he ever have to pay for any of his crimes, like murdering Leon in the season three finale? We don't know anything about what happened to him, other than that he left the Bella Union to Joanie, whom he loved in a twisted way. Did he do that because he wanted to help secure her future? Or as punishment for leaving him, because he knew it would lure her back to the life she hated? It might have been both.
Alma Ellsworth
Mrs. Ellsworth sold her gold claim to Hearst in season three so she could stay in camp, but at some point in the ten years since she moved away with her daughter Sofia. We don't know why she left, but we know she didn't marry for a third time. Her bank also blossomed, helping to enrich her further, and she was able to honor Charlie Utter by putting her fortune to good use, besting Hearst at the auction. Alma never stopped loving Bullock, but it was never meant to be. At least she seemed to have finally take control of her life, finding happiness in her business and in her daughter.
Charlie Utter
As fearless as ever, Charlie (no longer a deputy) had managed to get himself a piece of land after years of hard work. After standing up to Hearst on his own, Samuel Fields told Bullock that Charlie seemed to find peace right before he was murdered. The brave and honorable Charlie deserved a better fate, but his funeral showed the impact he had both on his friends' lives and Deadwood, and at least he found peace in his final moments.

George Hearst
The villainous murderer and ruthless businessman went on to become a senator in California, but that didn't stop him from honoring "the rigors of his putrid f***in' nature" when he came back to Deadwood. Spurned and insulted by Charlie Utter, and made aware he had been deceived in the season three finale with the wrong dead woman, Hearst had his men kill Charlie so he could run his telephone polls over his land. Despite all his power though, he was once again dragged by the ear to jail by Seth Bullock. However, we don't know if he will ever truly answer for his many crimes. The show left him in that jail cell, half-beaten to death, but powerful men have a way of avoiding punishment. A rich U.S. senator could easily be freed. If freed, would he then flee Deadwood forever, or seek to exact his revenge on the camp? The answer might depend on how much his public beating humbled him.
Harry Manning
Harry only ran for sheriff to get his name "out there," because he really wanted to run a fire department. But Hearst rigged the election for him in the season three finale. At some point, Bullock became U.S. Marshall and his boss, all while someone else opened up a fire department. Harry didn't get the job he wanted, was demoted in the job he was given, and was beholden to Hearst, which ultimately led to his death when Jane saved Bullock from Harry's assassination. Plus, he had gout, so not a great decade for the formerly kind Harry who was swallowed up by Hearst's evil ways.
Trixie and Sol
Still together and now proud parents, the two no longer had to hide their relationship, which didn't seem to change much over the last decade. The birth of their child seemed to soften Trixie, who suddenly had a reason to live. And since the real-life Sol Star became a successful politician, we think Al's wedding gift to Sol will come true when he runs for office again.
E.B. Farnam and the Grand Central Hotel
Still mayor (though still mostly a titular position) and still working at his hotel (though it's unclear if he owns it again or it still belongs to Hearst), E.B. didn't change much over the years, especially since he used needed renovations at the Grand Central as an excuse to build in peep holes to spy on his clientele. At least it got a proper veranda this time. While still obnoxious, he did try to save Samuel Fields life by reporting what he heard to Bullock, maybe the bravest thing E.B. ever did.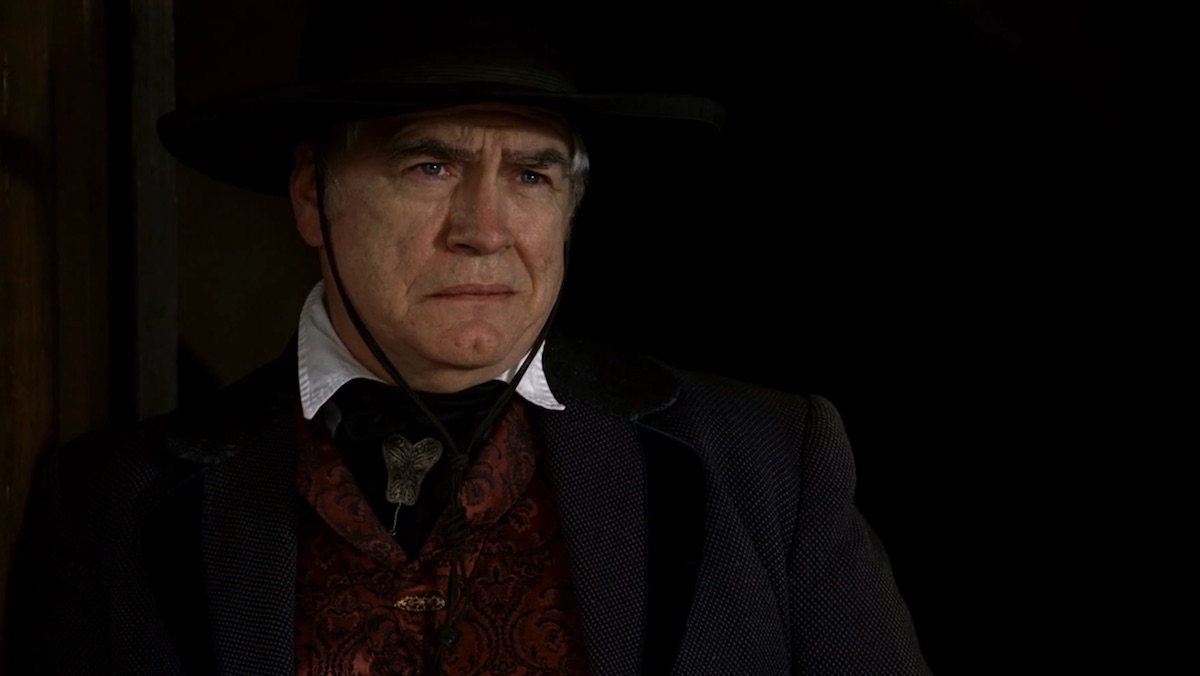 Jack Langrishe's Theater Company
A major presence in season three, Brian Cox's charming theater man Jack Langrishe was nowhere to be seen. We don't know what happened to his troupe, and we don't know who the mystery women he was speaking with in season three really were. This might be the single biggest unfinished thread from the series, but it might have been given a very slight nod in the movie. The Gem now has a stage where the barber's chair used to be. Maybe Jack did succeed in bringing the entertainment to Deadwood, a little culture in a hard world.
Earp Brothers
Wyatt and Morgan Earp made a brief stop in Deadwood during season three, but it was eventful. They managed to con the town with a false story of bravery, have major run-ins/interactions with Bullock, Swearengen, Tolliver, and Hearst, and get involved in a shooting that required them to leave town. Their seeming alliance with Bullock on their way out hinted at there being more to their story, but if they ever came back to Deadwood during the last ten years, we don't know about it.

Commissioner Jarry
The slimy, opportunistic representative of Yankton helped fix the elections for Hearst's preferred nominees in the season three finale (though, as we learned, Seth Bullock eventually become a U.S. Marshall and head law enforcement officer anyway, even if Sol never became mayor), but Jarry had other issues that were never resolved. He went to Silas Adams for help with a problem of his own making, having hinted at defrauding the county of money. Whatever did or didn't happen to Commission Jarry, we'll never know.
Silas Adams
Speaking of Silas, Al's other trusted servant/henchman/lackey is long gone from the Gem, even though Dan and Johnny are still there. Silas was always the smartest of the three, so did he leave for greener pastures? Was he fired after his man Hawkeye, whom he vouched for in season three, failed Al? Did he die in service to Swearengen? With Silas, a smart man willing to do anything to get ahead, any possibility—good or bad—is in play.
Steve Fields and Samuel Fields

The last time we saw racist drunk Steve Fields, he was being pushed around in a wheel barrel by a caretaker he didn't deserve, Samuel Fields (no relation). We know the "General" was still in Deadwood, living a quiet life of fishing and trying to avoid trouble, but we don't know what happened to Steve. Was he sent to an institution where he could be looked after by trained medical professionals, or did he finally succumb to his injuries? How long did the kindhearted Samuel look out for him?
The Other Characters We Caught Up with
Just like Johnny, Dan, and Jewel, Doc Cohran is still kicking. He's still serving his patients plenty of good care and lots of yelling. Newspaper man A.W. Merrick is also still in business, despite Hearst's threats in the season three finale to open his own competing newspaper. Over at No. 10 Saloon, Tom Nutall is still tending to his bar, and Mr. Wu now has a bilingual grandson to translate for him when talking to his friend Al, whom he still cares about.
Also, Con Stapleton became a (mediocre) minister, and Hearst's old cook Aunt Loo stayed behind in camp all these years, becoming a midwife.
The Characters We Didn't See
The camp might still have a telegraph, but we didn't see if Russian immigrant Blazanov still operates it. Also, E.B.'s favorite target, the simple-minded Richardson, likely passed away, as actor Ralph Richeson did in 2015. We have no idea what happened to unlikely guard of Joanie Stubbs, Mose Manuel, or minister Andy Cramed.

But even with all its unanswered questions, Deadwood: The Movie felt like a proper finale.
Images: HBO