Have you ever wished the the X-Men were actually a badass group of teen assassins? Well then Deadly Class is for you. The (mostly) monthly comic from Rick Remender, Wesley Craig, Lee Loughridge, and Rus Wooton is a fantastical, frenetic, and achingly cool action story which has been entertaining fans since 2014 and will be coming to our screens in a Russo Bros-produced adaptation early next year! That means it's the perfect time to look back on the radical series and let you in on everything you need to know about the cast of super cool characters that'll be coming your way when the show drops on SyFy in 2019.
What's It All About?
Deadly Class introduces us to Marcus Lopez, a teenage orphan in 1987 whose life has been defined by the actions and abuse of others. Marginalized from society, Marcus finds himself degraded and hurt at the hands of those who were meant to protect him; when we meet him, he's living on the streets of San Francisco. After what seems like a chance encounter, Marcus ends up at a mysterious school that trains young misfits to become deadly assassins! As the story goes on, we follow the students at King's Dominion Atelier of the Deadly Arts through various violent misadventures and the inevitable losses that go along with being an assassin.
Who's Who?
Now that you know about Marcus Lopez, let's see what kind of role models and bad influences will surrounding him at this school for assassins…
Master Lin
The dangerous man at the head of King's Dominion Atelier of the Deadly Arts, Master Lin is a cunning, charming, and threatening man. Imagine Master Shredder mixed with a more honest version of Professor X and you're halfway there. Though the young people of his academy are technically under his care, he's not afraid to dole out punishment that's often lethal.
Saya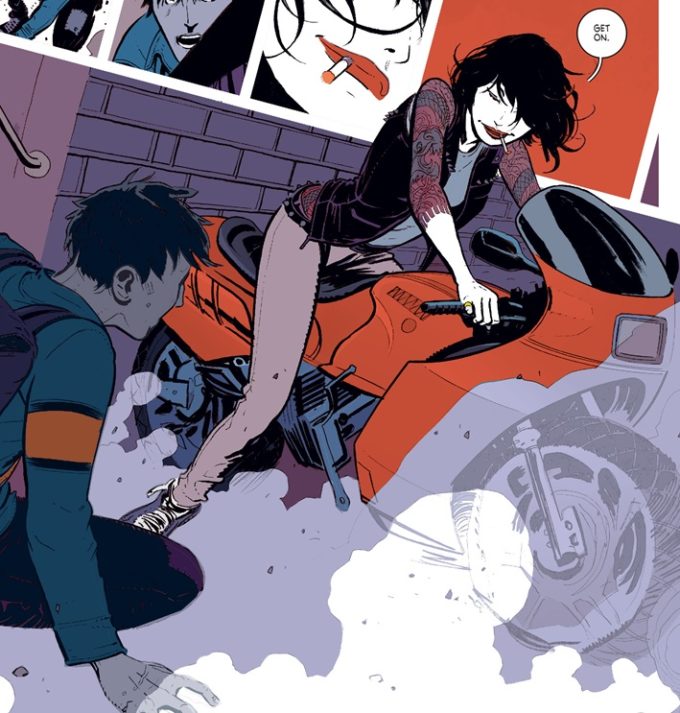 One of the first of the students that Marcus comes into contact with, Saya is like so many femme fatales before her as she's both beautiful and deadly! Her relationship with Marcus is complex and dangerous. She's a skilled assassin as well as a caring friend and partner. But like all of the kids at King's Dominion Atelier of the Deadly Arts, Saya is also dedicated to self-preservation.
Maria
Another of Marcus' closest confidantes and conquests at the school. Raised in Mexico, Maria joined a crime family after her parents were killed and she became a talented killer. She is close friends with Saya, and their concurrent relationships with Marcus can cause friction. Maria is an angry young woman with a good heart, though her anger could be her downfall.
Willie
At the behest of Master Lin, Willie went to look after Marcus before he was recruited into the school. The two grew to be close friends, but their mutual attraction to Saya proved to be an obstacle over time, with Willie eventually ending up with her. His past is complicated, and he struggles to reconcile the reality of what happened. Can he accept it and move on?
Billy
Left at King's Dominion Atelier of the Deadly Arts by his father, Billy's anger sets him on a course to his kill his dad. But when the plan goes awry, his friend Marcus steps in and takes care of the job. Billy struggles to live up to the expectations of others, especially when it comes to toughness, which he'll need if he's to survive at a school for assassins!
Why Should You Watch It?
While there's no premiere date set just yet, you'll want to tune into SyFy in early 2019 to watch this unusual period piece as it unfolds. It's X-Men-meets- Harry Potter but with more angst and violence, all set against the backdrop of the late '80s. We've seen hints of this kind of storytelling in Legion, The Gifted, and even SyFy's Happy, but this looks to be a one of a kind experience that's going to make a killing.
Images: Rick Remender, Wesley Craig, Lee Loughridge, and Rus Wooton