During Black History Month, many companies get in on the celebration of Black people and our contributions to society. Oftentimes, it is sadly performative with Kente prints haphazardly slapped onto paraphernalia and borderline offensive social media campaigns. But, some collaborations and efforts actually showcase and benefit Black creatives while highlighting our rich histories in various mediums. That's exactly what DC Comics is doing this year with DC Power: A Celebration.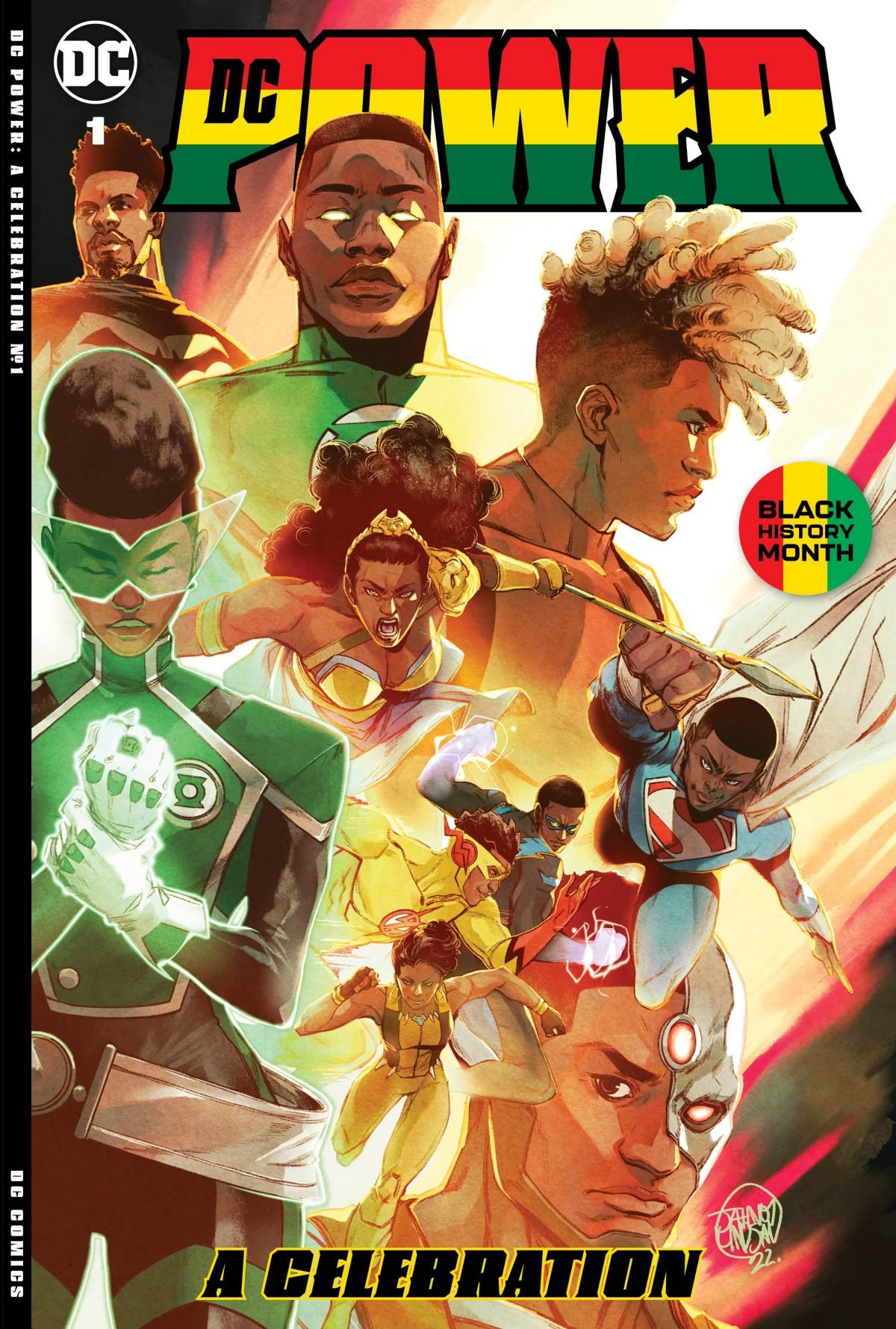 This 100-page one-shot anthology includes DC's long-running slate of Black superheroes like Cyborg, Black Manta, Nubia, Vixen, and others with artwork, one-off stories, and more. Better yet, the talent roster boasts some of the best Black writers and artists in the business, including Stephanie Williams, N.K. Jemisin, Alitha Martinez, and many others. Williams and Martinez, who worked together on Nubia and the Amazons, joined forces for a Nubia and Bumblebee adventure (more on that later!). For them, being a part of this collective was an easy decision.
"I think this is DC's first time doing this type of anthology, which is really exciting" Williams told Nerdist. "It's nice that DC is doing something that not only highlights Black characters but also Black creatives as well. The moment I heard about it, I was like 'Yeah, I'd love to be apart of something like this.' To share space with other Black creators is always a humbling experience, especially at bigger [comic] companies because those opportunities are always so few and far in-between. So with something like this, it was a no-brainer to say yes."
Martinez, who has decades of artistic experience in the industry, was also ready to dive into some creative fun. "I love drawing so much that it's all I want to do," she exclaimed. "And this [story] had new characters like Mallah in there. And I'm like 'Wait a minute…ahh, I get to draw a gorilla!' It was fun because it made me sit down and watch Young Justice and read Teen Titans again." Her sheer enthusiasm, pride in her work, and love for DC characters matches the vibe of this high-octane anthology.
But, what makes DC Power: A Celebration truly valuable is the inclusion of participants in The Milestone Initiative Talent Development Program. It carries on the legacy laid by Milestone Media founders Dwayne McDuffie, Denys Cowan, Michael Davis, and Derek T. Dingle and their mission to craft and elevate stories about Black heroes. The Milestone program focuses on finding, recruiting, and developing Black (and other non-white) creatives. The lucky chosen ones are given a platform to hone their skills and tell authentic, empowering stories. In DC Power: A Celebration, we get several stories from Milestone Initiative Talent alum like Petterson Oliveira, Morgan Hampton, Dorado Quick, and Jordan Clark.
It's an exciting and vital gateway that now-established creatives like Stephanie Williams and Alitha Martinez didn't have as they fought arduously against gatekeepers. They are both constantly working on large scale projects; however, DC Power allowed them to have a little Nubia/Bumblebee fun with a wild night at the symphony in a brief story that brings some normalcy to epic heroes. "The Queen, the Bee, and the Symphony" has the kind of storytelling that Williams does best, as evidenced by the popularity of her Living Heroes comic featuring Black Marvel heroines in a sisterhood inspired by the '90s sitcom Living Single.
"I had been working on projects that are DC related and that required me to look at a lot of older comics," said Williams. "And a lot of those stories are very Saturday morning cartoon type of vibes. You have a character out doing something and they are interrupted by some bombastic situation and then go back to what they were doing at the end of the episode. And because Nubia hasn't been around for that long, she hasn't had those kinds of stories."
And that's what Williams gives her through a quick foray into Man's World alongside Bumblebee. They are ready to get dressed up and go see the latter's husband, Mal Duncan, perform. But, of course, there's a major disruption. You'll have to read and see what transpires.
In addition to this adventure, here are a few other stories (and heroes) to expect in DC Power: A Celebration:
"Black Paradise" (Amazing Man) by Evan Narcisse and Darryl Banks
"Own Your Name" (Kid Flash/Aqualad) by Dorado Quick, Jordan Clark and Clayton Henry
"Booyah" (Cyborg) by Morgan Hampton and Valentine de Landro
"Keeping the Peace" (Green Lantern John Stewart) by Brandon Thomas and Natacha Bustos
"Vixen & Batwing" (Vixen/Batwing) by Chuck Brown and Petterson Oliveira
"The Cavalry" (Jace and Tiffany Fox) by John Ridley and Olivier Coipel (reprint from Batman: Black and White #3)
"Far Sector" (Green Lantern Jo Mullein) by NK Jemisin and Jamal Campbell (reprint of Far Sector #1)
The artwork is sublime, the stories are energetic, and it's a gorgeous celebration of Black heroes and ingenious Black creatives. This variant cover by Sozomaika with Black women heroes is absolutely stunning and enough reason to nab this special collection.
DC Power: A Celebration is currently available for purchase.