Mezco Toyz' LLD Presents line of dolls is made up primarily of iconic horror movie characters. Yet there's nothing scary about them. From a cuddly Freddy Krueger to a downright delightful Jack Torrance, these cinematic nightmares are more like sweet dreams. But there's nothing precocious or lovable about the newest additions to the series. They are, without question, the single most terrifying dolls Mezco Toyz has ever put out. Even though this gang isn't normally spooky at all. Get ready for Scooby-Doo and the Curious Case of Creepy Collectibles.
These figures are so unsettling they even come with pieces of Scooby.
Mezco Toyz
Big Bad Toys Store is now carrying the latest LLD Presents dolls, Scooby-Doo & Mystery Inc – Build-A-Figure set. It includes a dead-eyed Fred in his orange ascot, a white sweater over a blue collared shirt, blue pants, and yellow shoes. There's also a Daphne who looks like she passed away mysteriously in a Victorian mansion a century ago. She wears her classic purple long-sleeved dress, matching shoes, and her memorable green scarf. Velma, who definitely sees dead people, has on her orange turtleneck sweater, red skirt, knee-length socks, and matching shoes. And a terrified Shaggy, who hasn't spoken since "the incident," comes with his green v-neck shirt, brown bellbottoms, and black shoes.
However, none of them come with a soul. Just an insatiable appetite for the macabre.
Each doll stands approximately 10-inches tall and comes with five points of articulation. They are all packaged in a window box and come with Scooby-Doo body parts. No, seriously. All four dolls include one part of a build-a-figure Scoob. When pieced together/reunited in an ancient necromancer ritual of dark magic, the lovable doggo stands roughly 8-inches tall with six points of articulation.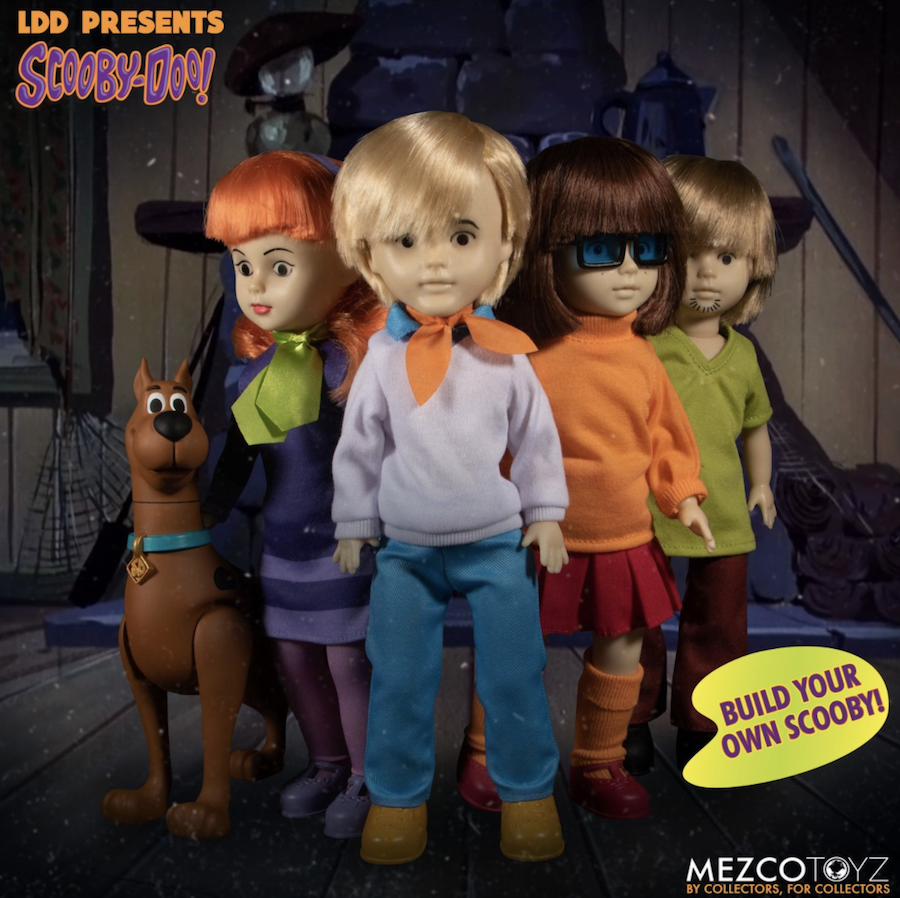 Mezco Toyz
If you prefer to leave him in pieces, spread out among the dolls as though they're holding a pagan sacrifice, to achieve the maximum nightmare effect… you just keep that to yourself.
This murder mystery gang has a listed retail price of $200. But the set is currently available at Big Bad Toys for $179.99. It's expected to ship sometime between December and February 2021. That's plenty of time to come up with a plan to survive when they attempt to kill you in your sleep.
Also, maybe order one of their Michael Myers figures with them too. You'll feel much safer with him around. That doll is adorable.
Featured Image: Mezco Toyz