Howdy, Wednesday Warriors! It's new comic book day! Get thee to the comic store and bring some joy into your life, but first check out a few of our recommendations and maybe try something new this week. Or, if you are a big spender, we also have a complete list of this week's releases. Just know, whether you buy one comic or 60 titles including variants for each, you are a member of the comic community and you are loved and cherished. Embrace your inner comic nerd and let your freak flag fly. The world needs you to be you, now more than ever.
As usual, we will touch on a plot detail or two below, which means you are officially entering spoiler territory. You've been warned, friends!
X-FORCE #8
Written By: Ed Brisson
Art By: Dylan Burnett
Colors By: Jesus Aburtov
Letters By: VC's Cory Petit
X-Force is the perfect X-book. Dramatic, confusing, heartfelt, and action-packed, it is seriously captivating stuff. We've praised Ed Brisson and Dylan Burnett's work on this title numerous times, and all of that awesomeness applies to X-Force #9 and then some. The team is stuck in the future, battling Strife's twisted task force while they search for Nathan Summers. Burnett is unleashing his usual magic here, especially on the pages that feature Summer's battle with the Techno-Organic virus that is slowly consuming him. Jesus Aburtov's colors, especially the crackling purples and explosive reds, push the energy of X-Force to beautiful heights.
ASSASSIN NATION #3
Written By: Kyle Starks
Art By: Erica Henderson
Colors By: Erica Henderson
Letters By: Deron Bennett
If you spent your weekend knee-deep in the brutal adventures of John Wick: Chapter 3, you're gonna love Assassin Nation #3. This series is a love letter to action movies and in its third chapter it ramps up the humor and violence to a whole new level. Kyle Starks and Erica Henderson will have you smiling from ear to ear as the unleash page after page of mercenary chaos. The cast of characters is getting gunned down quickly as Starks and Henderson prove that they have no problem killing off heroes and villains alike. Don't get too attached to anybody, in other words, because chances are they're gonna end up with a bullet in their head. Assassin Nation is a brutal ballet of death that also manages to be a divine comedy. It's basically a perfect comic book.
THE GOON #2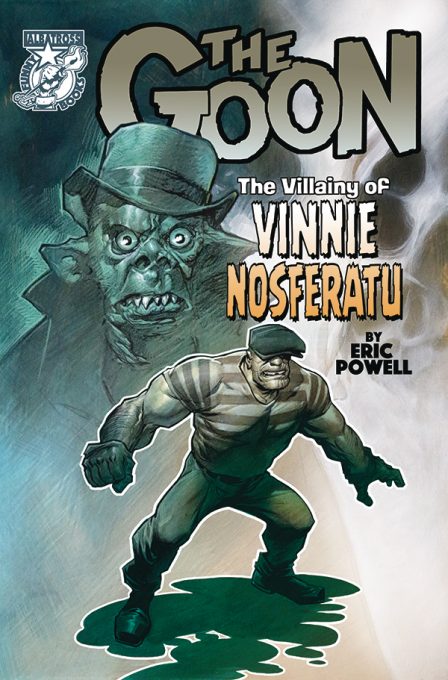 Written By: Eric Powell
Art By: Eric Powell
Colors By: Rachael Cohen and Eric Powell
The first page of The Goon #2 really sets the tone for everything that follows. You open this issue and there it is, the inner monologue of a dog letting the reader know that if this kid interrupts the dump he's about to take, he'll bite that damn kid. It's surreal, weird, and funny, which is a perfect description of The Goon. Eric Powell's comedic timing is on point and his artwork is gorgeous. The Goon is in a class all its own, no doubt. It's the perfect blend of Chuck Jones, Tex Avery, and HP Lovecraft, which is as dark, delightful, and deranged as it sounds. Best of all, you can jump right into any issue and have a good time, so you should do that. Pick up The Goon #2 and enjoy yourself. You deserve it.
ROAD OF BONES #1
Written By: Rich Douek
Art By: Alex Cormack
Colors By: Alex Cormack
Letters By: Justin Birch
With a title like Road of Bones and a cover that features a highway of skulls, we're willing to bet that many curious comic fans will be inspired to pick up this first issue without knowing anything about the series. It just looks and sounds cool, despite the fact that it reveals nothing about the genre, setting, or characters of the actual comic book. Well, good news, Road of Bones #1 is terrific, so randomly grabbing a new #1 off the shelf at your local comic shop paid off! Rich Douek and Alex Cormack unravel the mystery of this comic slowly, letting the dread and darkness seep into the reader's mind. If you saw the superb TV series The Terror, you'll have an idea of what to expect on these pages. Part historical drama, part creeping horror, Road of Bones is expertly crafted and devilishly addictive. Add this one to your pull list ASAP, because you won't want to miss a moment of it.
DETECTIVE COMICS #1004
Written By: Peter J. Tomasi
Art By: Brad Walker with Andrew Hennessy
Colors By: Nathan Fairbairn
Letters By: Rob Leigh
The Arkham Knight saga in Detective Comics has been a wild ride so far. This issue gives us the full origin story of the comic book version of the Arkham Knight, and it's pretty nuts. Peter J. Tomasi knows how to tell a kick-ass superhero tale, even when a questionable timeline is involved. But hey, age ain't nothin' but a number and it's not going to stop us from loving the hell out of this comic book. It's fun and that's all that matters. Also, the reveal is still a hundred times better than the reveal in the video game (you know it and we know it). Brad Walker continues to prove he's a superstar and Nathan Fairbairn delvers a radiating (sorry) Dr. Phosphorus. Hands down, Detective Comics is the best place to get your Batman fix these days.
RUMBLE #12
Written By: John Arcudi
Art By: David Rubin
Colors By: Dave Stewart
Letters By: Joe Sabino
First, can we just take moment and gaze upon the cover of Rumble #12. It looks like an album being released by Profound Lore Records. It's ugly and gross in the best possible ways. The cover is a perfect representation of the glorious mayhem contained in this issue. Rumble is a crazy series; it stars a sword-wielding scarecrow who is also a resurrected god, but this issue takes things to a whole new level. John Arcudi takes a few beats to set things up and then he just lets David Rubin and Dave Stewart go and holy cow is it wild. Giant plague monsters and strange fire demons create a spectacular sea of imagery that is equal parts psychedelic and enchanting. You can and should get lost in a comic book like this.
Okay, that's it for us this week! Let us know what comics you are picking up in the comments below!
Featured Image: Marvel Comics
PREMIER PUBLISHERS
BOOM! STUDIOS

JAN191415	AMAZING WORLD OF GUMBALL ADVENTURES ELMORE GN	$14.99
MAR191269	AVANT-GUARDS #5 (OF 12) MAIN	$3.99
MAR191270	AVANT-GUARDS #5 (OF 12) PREORDER MCGEE VAR	$3.99
MAR191268	AVANT-GUARDS TP VOL 01 DISCOVER NOW ED PX	$14.99
JAN191372	BLACK BADGE HC VOL 01	$29.99
MAR191285	BONE PARISH #9 (OF 12)	$3.99
MAR198440	BONE PARISH #9 (OF 12) FOC REBELKA VAR	$3.99
MAR191266	BUFFY THE VAMPIRE SLAYER TP VOL 01	$14.99
MAR198441	FAITHLESS #1 (OF 5) CVR A 2ND PTG (MR)	$3.99
MAR198442	FAITHLESS #1 (OF 5) CVR B LLOVET EROTICA 2ND PTG (MR)	$4.99
MAR191284	FAITHLESS #2 (OF 5) CVR B EROTICA DEL REY VAR (MR)	$4.99
MAR198439	FAITHLESS #2 (OF 5) FOC MOON VAR (MR)	$3.99
MAR191283	FAITHLESS #2 (OF 5) MAIN CVR POPE (MR)	$3.99
OCT181284	WELCOME TO WANDERLAND #4 (OF 4)	$3.99

DARK HORSE COMICS

JAN190483	ELFEN LIED OMNIBUS TP VOL 01	$24.99
DEC180424	HELLBOY ENAMEL PIN SET	$14.99
MAR190360	INVISIBLE KINGDOM #3	$3.99
JAN190482	LEGEND OF KORRA TP PART 01 RUINS OF EMPIRE	$10.99

DC COMICS

AUG180594	ABSOLUTE BATMAN THE BLACK MIRROR HC	$99.99
MAR190479	ACTION COMICS #1011	$3.99
MAR190480	ACTION COMICS #1011 VAR ED	$3.99
MAR190485	BATGIRL #35	$3.99
MAR190486	BATGIRL #35 VAR ED	$3.99
MAR190491	BATMAN BEYOND #32	$3.99
MAR190492	BATMAN BEYOND #32 VAR ED	$3.99
OCT180632	BATMAN FAMILY BATGIRL MULTI PART STATUE	$80.00
MAR190497	BOOKS OF MAGIC #8 (MR)	$3.99
FEB190568	COVER TP VOL 01 (MR)	$16.99
OCT180634	DC BOMBSHELLS POISON IVY SEPIA TONE VARIANT STATUE	$125.00
MAR190503	DETECTIVE COMICS #1004	$3.99
MAR190504	DETECTIVE COMICS #1004 VAR ED	$3.99
MAR190506	DIAL H FOR HERO #3 (OF 6)	$3.99
MAR190512	FLASH #71	$3.99
MAR190513	FLASH #71 VAR ED	$3.99
MAR190515	FREEDOM FIGHTERS #6 (OF 12)	$3.99
MAR190529	JUSTICE LEAGUE DARK #11	$3.99
MAR190530	JUSTICE LEAGUE DARK #11 VAR ED	$3.99
MAR190533	LOONEY TUNES #249	$2.99
MAR190536	MARTIAN MANHUNTER #5 (OF 12)	$3.99
MAR190537	MARTIAN MANHUNTER #5 (OF 12) VAR ED	$3.99
FEB190598	OUTSIDERS BY JUDD WINICK TP BOOK 01	$24.99
FEB190603	SANDMAN TP VOL 08 WORLDS END 30TH ANNIV ED (MR)	$19.99
FEB190601	SCOOBY APOCALYPSE TP VOL 05	$16.99
MAR190545	SCOOBY DOO TEAM UP #48	$2.99
MAR190548	SILENCER #17	$3.99
MAR190554	TERRIFICS #16	$3.99
MAR190558	WONDER WOMAN #71	$3.99
MAR190559	WONDER WOMAN #71 VAR ED	$3.99

DYNAMITE

MAR191091	BATTLESTAR GALACTICA TWILIGHT COMMAND #4 CVR A SCHOONOVER	$3.99
MAR191092	BATTLESTAR GALACTICA TWILIGHT COMMAND #4 CVR B TAMURA	$3.99
AUG181192	ELVIRA MISTRESS OF DARK SPRING SPECIAL ONE SHOT	$4.99
FEB191163	JAMES BOND BLACKBOX TP	$19.99

IDW PUBLISHING

MAR190723	CLUE CANDLESTICK #1 CVR A SHAW	$4.99
FEB198787	GHOST TREE #1 2ND PTG	$3.99
MAR190728	GHOST TREE #2	$3.99
JAN190734	GI JOE A REAL AMERICAN HERO #262 CVR A DIAZ	$3.99
JAN190735	GI JOE A REAL AMERICAN HERO #262 CVR B ROYLE	$3.99
JAN190855	HIGHWAYMAN TP	$19.99
MAR190729	ROAD OF BONES #1	$3.99
DEC180806	SHINING BEACON TP	$19.99
MAR190637	SONIC THE HEDGEHOG #17 CVR A LAWRENCE	$3.99
MAR190638	SONIC THE HEDGEHOG #17 CVR B PEPPERS	$3.99
FEB190636	STAR TREK Q CONFLICT #4 (OF 6) CVR A MESSINA	$3.99
FEB198079	STAR TREK Q CONFLICT #4 (OF 6) CVR B MESSINA	$3.99
MAR190643	TEAM SONIC RACING PLUS DLX TURBO CHAMPIONSHIP ED	$5.99

IMAGE COMICS

JAN199358	ASCENDER #1 2ND PTG (MR)	$3.99
MAR190196	ASSASSIN NATION #3 (MR)	$3.99
JAN190394	BLACK MAGICK HAWTHORNE CAT T/S LG	$24.99
JAN190393	BLACK MAGICK HAWTHORNE CAT T/S MED	$24.99
JAN190392	BLACK MAGICK HAWTHORNE CAT T/S SM	$24.99
JAN190395	BLACK MAGICK HAWTHORNE CAT T/S XL	$24.99
JAN190138	BLACK MAGICK HC (MR)	$34.99
NOV180120	CYBER FORCE #10 (MR)	$3.99
MAR198622	DIE DIE DIE #6 2ND PTG (MR)	$3.99
MAR198623	DIE DIE DIE #8 2ND PTG (MR)	$3.99
FEB190059	EAST OF WEST TP VOL 09	$16.99
MAR190207	GASOLINA #18 (MR)	$3.99
JAN190134	MATADOR TP VOL 01 (MR)	$19.99
MAR190221	MIDDLEWEST #7 (MR)	$3.99
MAR190092	MIDDLEWEST TP BOOK 01 (MR)	$9.99
MAR190225	MONSTRESS #22 (MR)	$3.99
MAR190125	REDLANDS TP VOL 02 (MR)	$16.99
MAR190234	REDNECK #20 (MR)	$3.99
MAR190235	RUMBLE #12 CVR A B&W RUBIN (MR)	$3.99
MAR190236	RUMBLE #12 CVR B JONES NOWLAN & STEWART (MR)	$3.99
JAN190370	SAVAGE DRAGON #244 (MR)	$3.99
MAR190256	WARNING #7 (MR)	$3.99
JAN190236	WAYWARD HC BOOK 03 (MR)	$39.99

MARVEL COMICS

MAR190936	AGE OF X-MAN AMAZING NIGHTCRAWLER #4 (OF 5)	$3.99
MAR190905	ALPHA FLIGHT #1 FACSIMILE EDITION	$4.99
NOV181004	AMAZING SPIDER-MAN OMNIBUS HC VOL 04 CHO VAR	$125.00
NOV181005	AMAZING SPIDER-MAN OMNIBUS HC VOL 04 ROMITA DM VAR	$125.00
MAR190815	ASGARDIANS OF THE GALAXY #9 MAXX LIM MARVEL BATTLE LINES VAR	$3.99
MAR190814	ASGARDIANS OF THE GALAXY #9 WR	$3.99
MAR190827	AVENGERS #19	$3.99
MAR190829	AVENGERS #19 MAXX LIM MARVEL BATTLE LINES VAR	$3.99
MAR198343	AVENGERS NO ROAD HOME #10 (OF 10) 2ND PTG IZAAKSE VAR	$4.99
FEB191011	CHAMPIONS GN TP WE STILL NEED HEROES	$12.99
MAR190907	DOCTOR STRANGE #14	$3.99
MAR190908	DOCTOR STRANGE #14 NEXON MARVEL BATTLE LINES VAR	$3.99
FEB191010	FANTASTIC FOUR TP BEHOLD GALACTUS	$24.99
FEB190999	FANTASTIC FOUR TP VOL 02 MR AND MRS GRIMM	$15.99
MAR190924	MARVEL COMICS PRESENTS #5	$4.99
MAR190877	MILES MORALES SPIDER-MAN #6	$3.99
MAR190878	MILES MORALES SPIDER-MAN #6 YOON LEE MARVEL BATTLE LINES	$3.99
MAR190822	MOON GIRL AND DEVIL DINOSAUR #43 SUJIN JO MARVEL BATTLE LINE	$3.99
MAR190821	MOON GIRL AND DEVIL DINOSAUR #43 WR	$3.99
MAR190927	MR AND MRS X #11	$3.99
MAR190906	RUNAWAYS #21	$3.99
MAR190900	SHURI #8	$3.99
MAR190901	SHURI #8 HEEJIN JEON MARVEL BATTLE LINES VAR	$3.99
FEB191007	SILVER SURFER EPIC COLLECTION TP INNER DEMONS	$39.99
FEB191001	SPIDER-MAN TP SINISTER SIX	$19.99
FEB191003	STAR COMICS PLANET TERRY TP COMPLETE COLLECTION	$39.99
MAR190973	STAR WARS AOR JABBA THE HUTT #1	$3.99
MAR190975	STAR WARS AOR JABBA THE HUTT #1 CONCEPT VAR	$3.99
MAR190977	STAR WARS AOR JABBA THE HUTT #1 PAREL VILLAINS VAR	$3.99
MAR190982	STAR WARS GALAXYS EDGE #2 (OF 5)	$3.99
FEB190852	TONY STARK IRON MAN #11	$3.99
FEB190853	TONY STARK IRON MAN #11 FERRY ASGARDIAN VAR	$3.99
MAR190853	TRUE BELIEVERS IRON FIST MISTY KNIGHT #1	$1.00
MAR190855	TRUE BELIEVERS POWER PACK #1	$1.00
MAR190858	TRUE BELIEVERS WHAT IF SPIDER-GIRL #1	$1.00
MAR190915	UNSTOPPABLE WASP #8	$3.99
MAR190808	VENOM #14 MAXX LIM MARVEL BATTLE LINES VAR WR	$3.99
MAR190807	VENOM #14 WR	$3.99
MAR190801	WAR OF REALMS JOURNEY INTO MYSTERY #3 (OF 5) WR	$3.99
MAR190797	WAR OF REALMS NEW AGENTS OF ATLAS #2 (OF 4) WR	$3.99
MAR198344	WAR OF REALMS PUNISHER #1 (OF 3) 2ND PTG FERREIRA VAR	$3.99
MAR190791	WAR OF REALMS PUNISHER #2 (OF 3) WR	$3.99
MAR190785	WAR OF REALMS STRIKEFORCE LAND OF GIANTS #1 HAMNER VAR WR	$4.99
MAR190784	WAR OF REALMS STRIKEFORCE LAND OF GIANTS #1 WR	$4.99
MAR190803	WAR OF REALMS UNCANNY X-MEN #2 (OF 3) WR	$3.99
MAR190942	WOLVERINE INFINITY WATCH #4 (OF 5)	$3.99
MAR190945	X-FORCE #8	$3.99

COMICS & GRAPHIC NOVELS

MAR192285	10 DANCE GN VOL 03 (MR)	$12.99
JAN191464	ANIMOSITY #21 (MR)	$3.99
MAR191479	ARCHIES SUPERTEENS TP	$12.99
MAR191871	CATALYST PRIME SUMMIT TP VOL 03 TRUTH CONSEQUENCES	$14.99
MAR192216	CHILDREN OF WHALES GN VOL 10	$12.99
MAR192134	CREATURE GIRLS HANDS ON FIELD JOURNAL WORLD GN VOL 01 (MR) (	$13.99
MAR191707	DF DETECTIVE COMICS #1000 HAESER SGN ARKHAM KNIGHT SKETCH	$89.99
MAR191706	DF DETECTIVE COMICS #1000 HAESER SGN BATMAN SKETCH	$89.99
MAR191847	DRAWING BLOOD SPILLED INK #1 (OF 4) CVR A BISHOP (MR)	$3.99
MAR191848	DRAWING BLOOD SPILLED INK #1 (OF 4) CVR B EASTMAN (MR)	$3.99
MAR191488	FATHOM VOL 2 #1 LMT ED CVR A WW PHILLY 05	$14.99
MAR191489	FATHOM VOL 2 #1 LMT ED CVR B WW PHILLY 05	$14.99
MAR191490	FATHOM VOL 3 #4 ASPENSTORE LMT ED CVR	$14.99
MAR191491	FATHOM VOL 4 #2 NYCC 2011 LT ED CVR	$14.99
MAR191492	FATHOM VOL 4 #7 LTD ED CVR FAN EXPO CANADA 2012	$14.99
MAR191493	FATHOM VOL 6 #3 LT ED CVR WONDERCON 2017	$14.99
MAR192233	FORBIDDEN SCROLLERY GN VOL 07	$13.00
MAR192093	FRIENDO TP VOL 01 (MR)	$17.99
DEC182197	FUTARIBEYA MANGA GN VOL 04 ROOM FOR TWO	$12.99
FEB191354	GOON #2	$3.99
FEB191355	GOON #2 ALEX ROSS CARDSTOCK VAR CVR	$5.99
MAR192288	GRAND BLUE DREAMING GN VOL 06 (MR)	$12.99
MAR192116	GRETEL #3 (OF 5) CVR A CHEN (MR)	$3.99
MAR192117	GRETEL #3 (OF 5) CVR B OTERO (MR)	$3.99
MAR192118	GRETEL #3 (OF 5) CVR C ROYLE (MR)	$3.99
MAR192119	GRETEL #3 (OF 5) CVR D DIAZ (MR)	$3.99
MAR191883	HONOR AND CURSE #4	$3.99
APR191806	HOUSE OF BLACK SPOT GN	$12.00
MAR192082	INCURSION #4 (OF 4) CVR A BRAITHWAITE	$3.99
MAR192083	INCURSION #4 (OF 4) CVR B GUEDES	$3.99
MAR192084	INCURSION #4 (OF 4) CVR C B&W BRAITHWAITE	$3.99
FEB198908	INCURSION #4 (OF 4) CVR D PRE-ORDER BUNDLE ED	$3.99
MAR191900	INVADER ZIM #43 CVR A	$3.99
MAR191901	INVADER ZIM #43 CVR B SMART	$3.99
MAR191842	JUNIOR HIGH HORRORS #5 CVR A  SCREAM SPOOF	$4.99
MAR191843	JUNIOR HIGH HORRORS #5 CVR B THE FOG PARODY	$4.99
MAR191844	JUNIOR HIGH HORRORS #5 CVR C NANCY LOVES FREDERICK	$4.99
MAR192237	KAKEGURUI TWIN GN VOL 02 (MR)	$15.00
MAR192238	KINIRO MOSAIC GN VOL 09	$17.00
MAR192330	KINOS JOURNEY BEAUTIFUL WORLD GN VOL 02	$12.95
MAR191884	KNIGHTS OF THE GOLDEN SUN #7	$3.99
JAN192112	LIFE IS STRANGE TP	$16.99
FEB191990	LIFE IS STRANGE TSHIRT COVER PACK (MR)	$15.99
FEB191963	LORNA TP (MR)	$10.00
FEB191906	LOUD HOUSE HC VOL 06 LOUD & PROUD	$12.99
MAR192292	LOVE IN FOCUS GN VOL 02	$10.99
MAR191960	MANFRIED SAVES THE DAY GN (MR)	$14.99
MAR191366	MARY SHELLEY MONSTER HUNTER #2	$3.99
MAR191672	MEAT & BONE GN (MR)	$25.00
MAR191863	MIDNIGHT RADIO GN	$14.99
MAR192218	MOBILE SUIT GUNDAM THUNDERBOLT GN VOL 11	$14.99
FEB191415	MOBSTER GRAVEYARD #4 (OF 5)	$3.99
MAR192332	MY BOY GN VOL 04	$12.95
MAR191816	NEON FUTURE #3 (OF 6) CVR A RAAPACK (MR)	$3.99
MAR191817	NEON FUTURE #3 (OF 6) CVR B RAAPACK (MR)	$3.99
MAR191818	NEON FUTURE #3 (OF 6) CVR C KUCIARA (MR)	$3.99
FEB191417	OFFBEATS #3	$3.99
MAR192217	OOKU INNER CHAMBERS GN VOL 15 (MR)	$12.99
MAR192112	OZ HEART OF MAGIC #2 (OF 5) CVR A CHEN	$3.99
MAR192113	OZ HEART OF MAGIC #2 (OF 5) CVR B VITORINO	$3.99
MAR192114	OZ HEART OF MAGIC #2 (OF 5) CVR C VIGONTE	$3.99
MAR192115	OZ HEART OF MAGIC #2 (OF 5) CVR D TOLIBAO	$3.99
MAR192162	PERSONA 4 GN VOL 10	$13.99
FEB192194	PLATINUM END GN VOL 08 (MR)	$9.99
MAR191875	QUINCREDIBLE VOL 01 QUEST TO BE BEST	$14.99
MAR192293	QUINTESSENTIAL QUINTUPLETS GN VOL 03 (MR)	$10.99
MAR191849	RADICALLY RONIN RAGDOLLS ONE SHOT CVR A LITTLE EASTMAN	$3.99
MAR191850	RADICALLY RONIN RAGDOLLS ONE SHOT CVR B EASTMAN	$3.99
MAR191851	RADICALLY RONIN RAGDOLLS ONE SHOT CVR C BISHOP	$3.99
MAR191852	RADICALLY RONIN RAGDOLLS ONE SHOT CVR D WILLIAMS II	$3.99
MAR191853	RADICALLY RONIN RAGDOLLS ONE SHOT CVR E SAKAI	$3.99
MAR192219	RAN & GRAY WORLD GN VOL 03	$14.99
FEB191745	RED ULTRAMARINE HC (MR)	$19.99
MAR192298	RISING OF THE SHIELD HERO GN VOL 11 MANGA	$11.95
MAR191471	RIVERDALE SEASON 3 #3 CVR A PITILLI	$3.99
MAR191472	RIVERDALE SEASON 3 #3 CVR B EISMA	$3.99
MAR192013	SECRET LIFE OF PETS #1 CVR A GOUM	$3.99
MAR192014	SECRET LIFE OF PETS #1 CVR B GOUM	$3.99
MAR192294	SEVEN DEADLY SINS GN VOL 32	$10.99
FEB191954	SHADOWPLAY #4	$3.99
MAR192243	SHIBUYA GOLDFISH GN VOL 04	$15.00
JAN191941	SIMAK HC	$19.95
FEB191669	SINK #9 (MR)	$3.99
JAN192017	SPECTACLE GN VOL 02	$15.99
MAR191867	STILETTO #3 (OF 3) NO WAY OUT	$5.99
MAR191744	STRUCTURE IS ROTTEN COMRADE HC	$34.99
MAR192246	SWORD ART ONLINE HOLLOW REALIZATION GN VOL 03	$13.00
JAN191574	TAINTED LOVE #2 (OF 4)	$3.99
MAR192247	TALES OF WEDDING RINGS GN VOL 06	$15.00
MAR191526	TERRIBLE MEANS GN	$12.95
MAR198513	THESE SAVAGE SHORES #1 (4TH PTG) (MR)	$3.99
MAR198512	THESE SAVAGE SHORES #2 (3RD PTG) (MR)	$3.99
MAR198511	THESE SAVAGE SHORES #3 (2ND PTG) (MR)	$3.99
MAR192249	TRINITY SEVEN 7 MAGICIANS GN VOL 16 (MR)	$13.00
APR192018	TRIP TO TOP O/T VOLCANO WITH MOUSE HC	$12.95
MAY181337	UNDERDOG & PALS #1 BLANK SKETCH CVR	$6.99
MAY181336	UNDERDOG & PALS #1 GALLANT COMMANDER MCBRAGG CVR	$3.99
MAY181335	UNDERDOG & PALS #1 GALVAN MAIN SELFIE CVR	$3.99
MAR192196	URUSEI YATSURA GN VOL 02	$19.99
FEB191324	VAMPBLADE SEASON 4 #1 CVR A BRAO (MR)	$4.99
FEB191325	VAMPBLADE SEASON 4 #1 CVR B BRAO RISQUE (MR)	$4.99
FEB191326	VAMPBLADE SEASON 4 #1 CVR C DESARIO (MR)	$4.99
FEB191327	VAMPBLADE SEASON 4 #1 CVR D DESARIO RISQUE (MR)	$4.99
FEB191328	VAMPBLADE SEASON 4 #1 CVR E GARCIA (MR)	$4.99
FEB191329	VAMPBLADE SEASON 4 #1 CVR F GARCIA RISQUE (MR)	$4.99
FEB191332	VAMPBLADE SEASON 4 #1 CVR I MCKAY VIRGIN (MR)	$9.99
FEB191333	VAMPBLADE SEASON 4 #1 CVR J MCKAY VIRGIN RISQUE (MR)	$9.99
MAR191673	WAGE SLAVES GN (MR)	$20.00
MAR191359	WASHINGTON UNBOUND GN	$14.95
APR192020	WHITE SNAKE HC	$16.95
FEB191416	WILLIAM THE LAST FIGHT AND FLIGHT #3	$3.99
FEB191684	YELLOW YELLOW HC	$15.95
MAR192296	YURI IS MY JOB GN VOL 03 (MR)	$12.99