Welcome, Wednesday Warriors! It's new comic book day! But before you head to the local comic shop, arm yourself with a few recommendations. It's the first Wednesday of the month, which means there is an insane amount of awesome comics hitting shelves! So get thee to the comic store and bring some joy into your life! And for you big spenders out there, we also have a complete list of this week's releases.
As usual, we will touch on a plot detail or two below, which means you are officially entering spoiler territory. You've been warned, friends!
FEMALE FURIES #1
Written By: Cecil Castellucci
Art By: Adriana Melo
Colors By: Hi-Fi
Letters By: Carlos M. Mangual
The story of Apokolips' most feared and brutal warriors is a complicated one and it shows that power dynamics in the Fourth World are not so different from the patriarchal struggles of the real world. Despite its more modern story, Female Furies #1 looks and reads like a comic from the '80s or early '90s. At first glance, you'd swear you picked this thing off of a spinner rack. The thick panel lines, flat color palette, and bountiful dialogue all are reminiscent of a different age of comics. These elements all give you the sense that you know where this story is going and you know exactly how things will play out, but you won't see the twists and turns coming. Castellucci's script is smart and perfectly over the top—there's a literal cooking competition in this issue—and Adriana Melo's character designs and action are perfection, again adding to the classic look and feel of the book. Female Furies #1 is a genuine surprise and a truly terrific start to what is sure to be an awesome miniseries.
DAREDEVIL #1
Written By: Chip Zdarsky
Art By: Marco Checchetto
Colors By: Sunny Gho
Letters By: VC's Clayton Cowles
The more things change, the more they stay the same. In other words, Matt Murdock's life still sucks. It might be at its lowest point ever, so if you thought Chip Zdarsky and Marco Checchetto were going to take Daredevil in lighter, more fun direction, think again. This book is bleak in all the best ways and fans of Ed Brubaker's epic run on the character will find a lot to love here. Zdarsky and Checchetto don't give Daredevil a fresh start, they give the book a long road of recovery and make it very clear that it's going to be a brutal walk down that road. We're one hundred percent on board with this and pretty excited to see where this all leads. A big shout out to colorist Sunny Gho, too, who really adds to the dark mood of this comic while still splashing the pages with gorgeous reds and soft blues.
WASTED SPACE #6
Written By: Michael Moreci
Art By: Hayden Sherman
Colors By: Jason Wordie
Letters By: Jim Campbell
Michael Moreci, Hayden Sherman, Jason Wordie, and Jim Campbell don't pull any punches in this issue, which features some of the most twisted moments of the series thus far (which is really saying something). This issue feels a lot like Empire Strikes Back, but with more cocaine, sex, and violence. Moreci's dark humor is on full display and Sherman stages things perfectly—even the scene where a dog gets lovingly petted to death. Yeah, Wasted Space is messed up and that's exactly what we love about it. The first trade is out on shelves now, so if you missed out on the beginning of this wonderful series, you should pick that up and then jump in here because this book is just too damn good. Wasted Space is an ongoing now, and you won't want to miss a single issue.
CEMETERY BEACH #6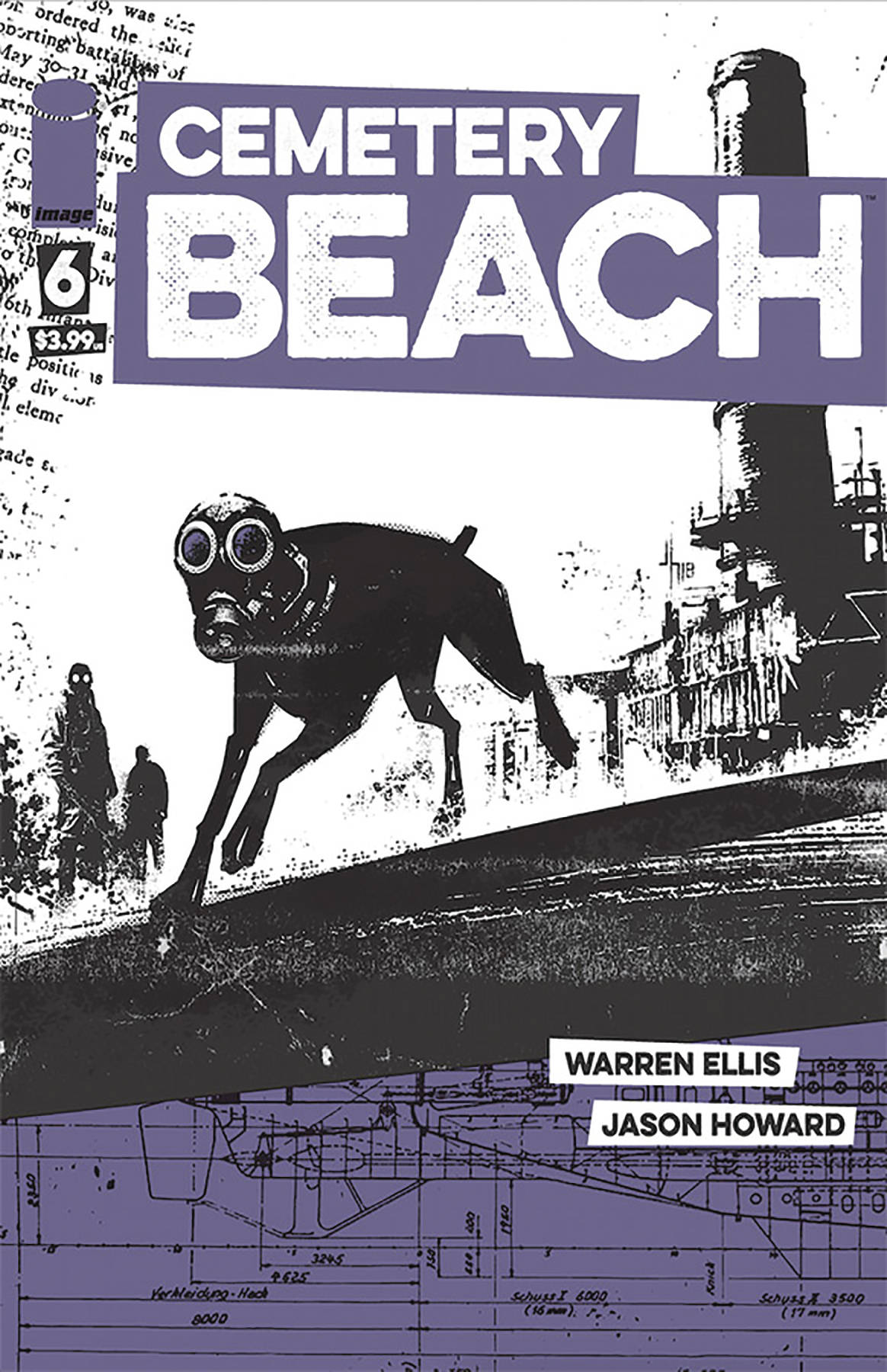 Written By: Warren Ellis
Art By: Jason Howard
Colors By: Jason Howard
Letters By: Fonografiks
As it barrels towards its finale, Cemetery Beach doesn't give you a single moment of reprieve. Its speed is relentless, its violence unlimited. Warren Ellis and Jason Howard continue to prove that they are dangerous men producing dangerous art that is as addicting as it is harrowing. This issue is another capture in the big chase scene that makes up this comic, but it also adds in the element of dogs with gas masks and a glimpse at the darkest parts of this parallel world. Things get bloody, as they tend to do in Cemetery Beach, and it looks like they are bound to get bloodier as we enter the final chapter.
SHADOW ROADS #6
Written By: Brian Hurtt and Cullen Bunn
Art By: Brian Hurtt
Colors By: Carlos N. Zamudio
Letters By: Crank!
We're really enjoying this tale of the extended Sixth Gun universe and its cast of misfits, warlocks, and gunslingers. Brian Hurtt's art is awesome, as always, but he's really showing off how great his writing in this issue. While Cullen Bunn and Hurtt put the story together as a team, Hurtt handled the scripting and it is really, really great. The dialogue and pacing are spectacular. This issue essentially just features a bunch of conversations between different groups of characters and we loved every single second of it. Hurtt is doing some brilliant work on these pages and the colors from Carlos N. Zamudio are unreal (that Ghost Walk scene is stunning).
UMBRELLA ACADEMY: HOTEL OBLIVION #5
Written By: Gerard Way
Art By: Gabriel Ba
Colors By: Nick Filardi
Letters By: Nate Piekos for Blambot
The villains are escaping, the world is ending, and things are generally looking pretty crappy for the heroes of Umbrella Academy. It's a bold statement, but we think Hotel Oblivion could become our favorite Umbrella Academy series to date. Gerard Way, Gabrial Ba, and Nick Filardi are so perfectly in sync, it's just incredible watching them jam. Even as things become bigger and bigger with the story fracturing across time and space, this creative team manages to produce a silky smooth issue that is both fast and furious.
Okay, that's it for us this week! Let us know what comics you are picking up in the comments below!
Featured Image: DC Comics
PREMIER PUBLISHERS

BOOM! STUDIOS

OCT181269	BIG TROUBLE IN LITTLE CHINA OLD MAN JACK TP VOL 03	$16.99
DEC181361	EMPTY MAN #4 MAIN	$3.99
DEC181362	EMPTY MAN #4 PREORDER HERVAS VAR	$3.99
OCT181277	FEATHERS ORIGINAL GN	$14.99
OCT181240	FIREFLY LEGACY EDITION TP VOL 02	$29.99
OCT181299	GARFIELD HOMECOMING TP	$9.99
DEC181379	GIANT DAYS #47	$3.99
DEC181348	WWE #25	$4.99
NOV188756	WWE #25 FOC GARZA INCV	$4.99
DEC181349	WWE #25 PREORDER XERMANICO	$4.99

DARK HORSE COMICS

DEC180358	BPRD DEVIL YOU KNOW #13	$3.99
OCT180284	BPRD DEVIL YOU KNOW TP VOL 02 PANDEMONIUM	$19.99
OCT180313	ETHER II TP VOL 02 COPPER GOLEMS	$19.99
DEC180403	GIRL IN THE BAY #1 (MR)	$3.99
DEC180387	HALO LONE WOLF #2 (OF 4)	$3.99
DEC180404	LAGUARDIA #3 (MR)	$4.99
OCT180306	MYSTERY SCIENCE THEATER 3000 #4 CVR A NAUCK	$3.99
OCT180307	MYSTERY SCIENCE THEATER 3000 #4 CVR B VANCE	$3.99
DEC180400	SWORD DAUGHTER #6 CVR A OLIVER	$4.99
DEC180401	SWORD DAUGHTER #6 CVR B CHATER	$4.99
DEC180364	UMBRELLA ACADEMY HOTEL OBLIVION #5 CVR A BA	$3.99
DEC180365	UMBRELLA ACADEMY HOTEL OBLIVION #5 CVR B BA	$3.99
APR180092	WITCHER 3 WILD HUNT BUST CIRI GWENT	$129.99

DC COMICS

DEC180529	ADVENTURES OF THE SUPER SONS #7 (OF 12)	$3.99
NOV180532	AQUAMAN SUICIDE SQUAD SINK ATLANTIS TP	$14.99
DEC180510	BATMAN #64 THE PRICE	$3.99
DEC180511	BATMAN #64 VAR ED THE PRICE	$3.99
NOV180547	BLACKEST NIGHT SAGA ESSENTIAL EDITION TP	$24.99
DEC180547	CURSE OF BRIMSTONE #11	$2.99
JUL180808	DC BOMBSHELLS HARLEY QUINN SEPIA TONE VAR STATUE	$125.00
JUN180604	DC ESSENTIALS SHAZAM & BLACK ADAM AF 2 PACK	$45.00
DEC180549	DEATHSTROKE #40 (ARKHAM)	$3.99
DEC180550	DEATHSTROKE #40 VAR ED (ARKHAM)	$3.99
DEC180555	DREAMING #6 (MR)	$3.99
DEC180519	FEMALE FURIES #1 (OF 6)	$3.99
DEC180520	FEMALE FURIES #1 (OF 6) VAR ED	$3.99
DEC180559	GREEN ARROW #49	$3.99
DEC180560	GREEN ARROW #49 VAR ED	$3.99
DEC180561	GREEN LANTERN #4	$3.99
DEC180562	GREEN LANTERN #4 VAR ED	$3.99
DEC180565	HARLEY QUINN #58	$3.99
DEC180566	HARLEY QUINN #58 VAR ED	$3.99
JUL180807	HARLEY QUINN RED WHITE & BLACK STATUE BY CHEN STATUE	$80.00
DEC180570	JUSTICE LEAGUE #17	$3.99
DEC180571	JUSTICE LEAGUE #17 VAR ED	$3.99
NOV180389	MAN AND SUPERMAN 100 PAGE SUPER SPECTACULAR #1	$9.99
NOV180564	NEW SUPER MAN & THE JUSTICE LEAGUE OF CHINA TP	$14.99
NOV180566	POWERS TP BOOK 03 NEW EDITION (MR)	$29.99
NOV180568	SHAZAM THE MONSTER SOCIETY OF EVIL TP NEW ED	$19.99
DEC180593	SUICIDE SQUAD BLACK FILES #4 (OF 6)	$4.99
DEC180603	UNITED STATES VS MURDER INC #6 (OF 6) (MR)	$3.99
DEC180610	YOUNG JUSTICE #2	$3.99
DEC180611	YOUNG JUSTICE #2 VAR ED	$3.99

DYNAMITE

DEC181109	BATTLESTAR GALACTICA TWILIGHT COMMAND #1 CVR A SCHOONOVER	$3.99
DEC181110	BATTLESTAR GALACTICA TWILIGHT COMMAND #1 CVR B TAMURA	$3.99
NOV181190	PROJECT SUPERPOWERS #6 CVR A MATTINA	$3.99
NOV181191	PROJECT SUPERPOWERS #6 CVR B BENES	$3.99
NOV181192	PROJECT SUPERPOWERS #6 CVR C ROYLE	$3.99
NOV181193	PROJECT SUPERPOWERS #6 CVR D GALINDO	$3.99
NOV181194	PROJECT SUPERPOWERS #6 CVR E SEGOVIA	$3.99
NOV181195	PROJECT SUPERPOWERS #6 CVR F DAVILA	$3.99
DEC181084	RED SONJA #1 AUTHENTIX ED	$10.00
DEC181072	RED SONJA #1 CVR A CONNER	$3.99
DEC181073	RED SONJA #1 CVR B LINSNER	$3.99
DEC181074	RED SONJA #1 CVR C WARD	$3.99
DEC181075	RED SONJA #1 CVR D CHO	$3.99
DEC181076	RED SONJA #1 CVR E COSPLAY	$3.99
DEC181252	RED SONJA 45TH ANNIV TRADING CARDS ANACLETO PROMO	$19.73
DEC181253	RED SONJA 45TH ANNIV TRADING CARDS GIORDANO PROMO	$73.00
NOV181224	VAMPIRELLA REANIMATOR #2 CVR A DESJARDINS	$3.99
NOV181225	VAMPIRELLA REANIMATOR #2 CVR B SAYGER	$3.99
NOV181226	VAMPIRELLA REANIMATOR #2 CVR C SHEPHERD	$3.99
NOV181227	VAMPIRELLA REANIMATOR #2 CVR D COSPLAY	$3.99

IDW PUBLISHING

OCT180650	ATOMIC ROBO & DAWN OF NEW ERA #2 (OF 5) CVR A WEGENER	$3.99
OCT180651	ATOMIC ROBO & DAWN OF NEW ERA #2 (OF 5) CVR B BAKER	$3.99
OCT180685	GI JOE A REAL AMERICAN HERO #259 CVR A JOSEPH	$3.99
OCT180686	GI JOE A REAL AMERICAN HERO #259 CVR B ROYLE	$3.99
DEC180755	GI JOE SIERRA MUERTE #1 CVR A FIFFE	$4.99
DEC180756	GI JOE SIERRA MUERTE #1 CVR B FIFFE	$4.99
OCT180714	LOWLIFES TP	$19.99
NOV180601	MARVEL ACTION AVENGERS #2 SOMMARIVA	$3.99
JUN180757	MIDWAY JOUST BOARD GAME	$29.99
NOV180647	RISE OF THE TMNT #5 SURIANO	$3.99
NOV180622	SONIC THE HEDGEHOG #13 CVR A THOMAS	$4.99
NOV180623	SONIC THE HEDGEHOG #13 CVR B GATES	$4.99
OCT180707	STAR TREK NEW VISIONS TP VOL 08	$17.99
NOV180652	TMNT BEBOP & ROCKSTEADY HIT THE ROAD TP	$17.99
NOV180681	TRANSFORMERS OPTIMUS PRIME TP VOL 05	$19.99
OCT180726	VOYAGE TO THE DEEP HC	$24.99

IMAGE COMICS

DEC180232	CEMETERY BEACH #6 (OF 7) CVR A HOWARD (MR)	$3.99
DEC180233	CEMETERY BEACH #6 (OF 7) CVR B IMPACT VAR (MR)	$3.99
NOV180118	CURSE WORDS #20 CVR A BROWNE (MR)	$3.99
NOV180119	CURSE WORDS #20 CVR B ESCAPE TRICK BROWNE (MR)	$3.99
DEC180240	DIE #3 CVR A HANS (MR)	$3.99
DEC180241	DIE #3 CVR B BARTEL (MR)	$3.99
DEC180246	FREEZE #3 (MR)	$3.99
DEC180247	GASOLINA #15 (MR)	$3.99
DEC180271	PRODIGY #3 (OF 6) CVR A ALBUQUERQUE (MR)	$3.99
DEC180272	PRODIGY #3 (OF 6) CVR B ALBUQUERQUE (MR)	$3.99
DEC180273	PRODIGY #3 (OF 6) CVR C CASSADAY (MR)	$3.99
SEP180239	SAGA MARKO ALANA PIN	$10.00
DEC180284	SELF MADE #3 (MR)	$3.99
DEC180291	UNNATURAL #7 (OF 12) CVR A ANDOLFO (MR)	$3.99
DEC180292	UNNATURAL #7 (OF 12) CVR B SEJIC (MR)	$3.99
NOV180041	VINDICATION #1 (OF 4) (MR)	$3.99
DEC180294	WALKING DEAD #188 (MR)	$3.99

MARVEL COMICS

DEC180879	AGE OF X-MAN MARVELOUS X-MEN #1 (OF 5)	$3.99
DEC180881	AGE OF X-MAN MARVELOUS X-MEN #1 (OF 5) HUGO VAR	$3.99
DEC180882	AGE OF X-MAN MARVELOUS X-MEN #1 (OF 5) INHYUK LEE CONNECTING	$3.99
NOV188699	AMAZING SPIDER-MAN #10 2ND PTG RAMOS VAR	$3.99
NOV188700	AMAZING SPIDER-MAN #11 2ND PTG OTTLEY VAR	$3.99
DEC181067	AMAZING SPIDER-MAN BY RIVERA POSTER	$8.99
DEC180988	ASGARDIANS OF THE GALAXY #6	$3.99
DEC180932	AVENGERS #14	$3.99
DEC180934	AVENGERS #14 PACHECO SKRULLS VAR	$3.99
DEC181068	AVENGERS NO ROAD HOME BY BROOKS POSTER	$8.99
NOV188878	CAPTAIN MARVEL START HERE SAMPLER 2019 (BUNDLE OF 25)	$PI
DEC180942	CHAMPIONS #2	$3.99
NOV181045	CONAN CHRONICLES EPIC COLLECTION TP DARKSOME HILLS	$39.99
NOV188702	CONAN THE BARBARIAN #1 2ND PTG ASRAR VAR	$4.99
NOV188703	CONAN THE BARBARIAN #2 2ND PTG ASRAR VAR	$3.99
DEC180826	CONAN THE BARBARIAN #3	$3.99
DEC180830	CONAN THE BARBARIAN #3 LARRAZ SKRULLS VAR	$3.99
DEC180841	DAREDEVIL #1	$4.99
DEC180848	DAREDEVIL #1 RAMOS SKRULLS VAR	$4.99
DEC181005	DEADPOOL #9	$3.99
DEC181006	DEADPOOL #9 HAWTHORNE SKRULLS VAR	$3.99
NOV188704	EXTERMINATION #5 (OF 5) 2ND PTG LARRAZ VAR	$4.99
DEC180861	GUNHAWKS #1	$3.99
DEC180862	GUNHAWKS #1 KUDER YOUNG GUNS VAR	$3.99
DEC180863	GUNHAWKS #1 MCLEOD SKRULLS VAR	$3.99
NOV188705	IMMORTAL HULK #11 2ND PTG BENNETT VAR	$3.99
DEC180949	IMMORTAL HULK #13	$3.99
DEC180950	IMMORTAL HULK #13 STEVENS SKRULLS VAR	$3.99
AUG181075	INFINITY GAUNTLET TP DELUXE EDITION	$34.99
DEC180973	KILLMONGER #4 (OF 5)	$3.99
DEC181069	MARVELS ANNOTATED BY ALEX ROSS POSTER	$8.99
NOV181014	MARVELS CAPTAIN MARVEL PRELUDE TP	$17.99
NOV181053	MOON GIRL AND DEVIL DINOSAUR GN TP VOL 01 BEGINNING	$12.99
NOV181054	MS MARVEL GN-TP KAMALA KHAN	$12.99
DEC180871	OLD MAN QUILL #1 (OF 12)	$3.99
NOV181042	PUNISHER EPIC COLLECTION TP KINGPIN RULES	$39.99
NOV181039	PUNISHER WAR JOURNAL FRACTION TP VOL 01 COMPLETE COLLECTION	$34.99
DEC181070	SAVAGE SWORD OF CONAN BY ALEX ROSS POSTER	$8.99
NOV188706	SHURI #2 2ND PTG ROMERO VAR	$3.99
NOV188707	SHURI #3 2ND PTG ROMERO VAR	$3.99
NOV188708	SPIDER-GEDDON #4 (OF 5) 2ND PTG BARBERI VAR	$3.99
DEC181009	STAR WARS #61	$3.99
DEC181016	STAR WARS AOR ANAKIN SKYWALKER #1	$3.99
DEC181017	STAR WARS AOR ANAKIN SKYWALKER #1 CONCEPT VAR	$3.99
NOV188709	SUPERIOR SPIDER-MAN #1 2ND PTG HAWTHORNE VAR	$3.99
NOV188710	THOR #8 2ND PTG DEL MUNDO VAR	$3.99
NOV180895	TONY STARK IRON MAN #8	$3.99
NOV180896	TONY STARK IRON MAN #8 NOTO MARVEL 80TH VAR	$3.99
DEC180922	TRUE BELIEVERS CAPTAIN MARVEL MS MARVEL #1	$1.00
DEC180923	TRUE BELIEVERS CAPTAIN MARVEL SPIDER-MAN & MS MARVEL #1	$1.00
DEC180896	UNCANNY X-MEN #11	$7.99
DEC180899	UNCANNY X-MEN #11 DAVIS CHARACTER VAR	$7.99
DEC180900	UNCANNY X-MEN #11 INHYUK LEE SKRULLS VAR	$7.99
DEC180897	UNCANNY X-MEN #11 LIEFELD VAR	$7.99
DEC180902	UNCANNY X-MEN #11 LIM VAR	$7.99
NOV188711	UNCANNY X-MEN #5 2ND PTG SILVA VAR	$3.99
NOV188712	UNCANNY X-MEN #6 2ND PTG CINAR VAR	$3.99
NOV188713	UNCANNY X-MEN #7 2ND PTG PEREZ VAR	$3.99
NOV188714	UNCANNY X-MEN #8 2ND PTG SILVA VAR	$3.99
AUG181071	VENOMNIBUS HC VOL 02	$125.00
DEC180998	WOLVERINE LONG NIGHT ADAPTATION #2 (OF 5)	$3.99
NOV181051	WOLVERINE TP LOGAN NEW PTG	$14.99
DEC181002	X-23 #9	$3.99
DEC181003	X-23 #9 LUPACCHINO SKRULLS VAR	$3.99

COMICS & GRAPHIC NOVELS

NOV181464	AM ARCHIVES THREE STOOGES #1 1953 LTD ED B&W PHOTO CVR	$9.99
NOV181463	AM ARCHIVES THREE STOOGES #1 1953 SAINT JOHN EDITION	$3.99
DEC182274	AO HARU RIDE MANGA GN VOL 03	$9.99
NOV181526	ARCHIE #702 CVR A SAUVAGE	$3.99
NOV181527	ARCHIE #702 CVR B QUINONES	$3.99
NOV181528	ARCHIE #702 CVR C WALSH	$3.99
DEC181601	ARCHIE 1941 #5 (OF 5) CVR A KRAUSE	$3.99
DEC181602	ARCHIE 1941 #5 (OF 5) CVR B ORDWAY	$3.99
DEC181603	ARCHIE 1941 #5 (OF 5) CVR C LOTAY	$3.99
DEC181614	ARCHIE JUMBO COMICS DIGEST #296	$6.99
DEC181619	ASPEN VISIONS FATHOM SPINNING OUR FATE #1 CVR A MARIA	$3.99
DEC181620	ASPEN VISIONS FATHOM SPINNING OUR FATE #1 CVR B GUNNELL	$3.99
DEC181450	BETROTHED TP VOL 01 LOVE OR DIE	$14.99
DEC181916	BIGBY BEAR HC	$14.95
NOV181583	BLACK AF DEVILS DYE #2 (OF 4) (MR)	$3.99
DEC182250	BLACK CLOVER GN VOL 14	$9.99
DEC182248	BLACK TORCH GN VOL 03	$9.99
DEC182337	BOARDING SCHOOL JULIET GN VOL 04	$10.99
DEC181940	CATALYST PRIME NOBLE #15	$3.99
DEC181939	CATALYST PRIME NOBLE TP VOL 03 NO ONE MAN	$14.99
SEP181455	CAVEWOMAN A WIZARD A SORCERESS AND MERIEM #1 (OF 1) CVR A MA	$3.99
DEC181937	CELLIES #7	$3.99
DEC182106	CHRONIN GN VOL 01 KNIFE AT YOUR BACK	$17.99
NOV181723	DF BATMAN #50 LEE SKETCH GOLD TOM KING SGN EXC	$299.99
OCT181638	DF FREEDOM FIGHTERS #1 SGN VENDITTI	$29.99
NOV182009	DOCTOR WHO 13TH #4 CVR A SPOSITO	$3.99
NOV182010	DOCTOR WHO 13TH #4 CVR B BROOKS	$3.99
NOV182011	DOCTOR WHO 13TH #4 CVR C STOTT	$3.99
OCT188643	DOCTOR WHO 13TH #4 GALLIFREYAN HIGH COUNCIL VAR	$3.99
DEC182339	EDENS ZERO VOL 02	$10.99
DEC182249	FOOD WARS SHOKUGEKI NO SOMA GN VOL 28	$9.99
OCT182195	FREEZING OMNIBUS GN VOL 12 (MR)	$19.99
AUG182043	GOD MODE #1 CVR A	$4.99
AUG182044	GOD MODE #1 CVR B	$4.99
AUG182045	GOD MODE #1 CVR C	$4.99
SEP181464	GOLD DIGGER #260	$3.99
DEC182355	HINAMATSURI GN VOL 02	$11.95
OCT182197	HOLY CORPSE RISING GN VOL 06	$12.99
NOV182249	HOW NOT TO SUMMON DEMON LORD GN VOL 03	$12.99
OCT181772	HUNTERS OF SALAMANSTRA #14 (MR)	$4.99
DEC182222	JOJOS BIZARRE ADV 3 STARDUST CRUSADERS HC VOL 10	$19.99
DEC182251	JUNI TAISEN ZODIAC WAR GN VOL 03	$9.99
JUN181903	KAIJUMAX DELUXE ED HC VOL 01 (MR)	$59.99
DEC182386	KINOS JOURNEY BEAUTIFUL WORLD GN VOL 01	$12.95
OCT181773	KNIGHTS OF THE DINNER TABLE #262	$5.99
NOV181695	LADY DEATH APOCALYPTIC ABYSS #1 (OF 2) CHATZOUDIS PREM FOIL	$25.00
NOV181696	LADY DEATH APOCALYPTIC ABYSS #1 (OF 2) NAUGHTY COVER (MR)	$40.00
NOV181694	LADY DEATH APOCALYPTIC ABYSS #1 (OF 2) SCYTHE VAR COVER (MR)	$4.99
NOV181693	LADY DEATH APOCALYPTIC ABYSS #1 (OF 2) STANDARD COVER (MR)	$4.99
DEC181781	LADY DEATH THE RECKONING #1 25TH ANNIV ED (MR)	$4.99
DEC181782	LADY DEATH THE RECKONING #1 25TH ANNIV GOLD FOIL ED (MR)	$25.00
SEP181706	LITTLE GIRL #4 (OF 4) (MR)	$3.99
AUG182053	LOST IN SPACE COUNTDOWN TO DANGER HC GN VOL 01	$17.99
DEC182039	MAGICAL BEATDOWN #1 (MR)	$6.00
DEC181871	MAKER COMICS GN BAKE LIKE A PRO	$12.99
DEC181873	MAKER COMICS GN FIX A CAR	$12.99
DEC181872	MAKER COMICS HC GN BAKE LIKE A PRO	$19.99
DEC181874	MAKER COMICS HC GN FIX A CAR	$19.99
NOV181398	MIRACULOUS TALES LADYBUG CAT NOIR S2 TP GOTCHA	$8.99
SEP181357	MIRACULOUS TALES LADYBUG CAT NOIR S2 TP NO EVIL DOING	$8.99
NOV182253	MISS KOBAYASHIS DRAGON MAID KANNA DAILY LIFE GN VOL 04	$12.99
NOV181969	MONSTROUS #3 (OF 4)	$3.99
NOV181786	MORT GERBERG ON SCENE SC	$25.00
DEC182240	MY HERO ACADEMIA GN VOL 17	$9.99
DEC182107	NARWHAL & JELLY HC GN VOL 04 OTTER FRIEND	$12.99
DEC181899	NEW KID GN	$12.99
DEC181900	NEW KID HC GN	$21.99
DEC181506	NICE #3 (OF 4) CVR A RENE	$3.99
DEC181507	NICE #3 (OF 4) CVR B LOTAY	$3.99
DEC181441	OBERON #1	$3.99
NOV188074	OGRE #1 (OF 3) 2ND PTG (MR)	$3.99
DEC182239	ONE PIECE GN VOL 89	$9.99
DEC182276	ORESAMA TEACHER GN VOL 25	$9.99
SEP182312	PLEASE TELL ME GALKO CHAN GN VOL 05	$14.99
SEP181362	PRINCELESS RAVEN PIRATE PRINCESS TP VOL 06 GOLDEN ROCK	$14.99
DEC182238	PROMISED NEVERLAND GN VOL 08	$9.99
DEC182079	ROBOTECH #17 CVR A SPOKES	$3.99
DEC182080	ROBOTECH #17 CVR B ACTION FIGURE VAR	$3.99
DEC182081	ROBOTECH #17 CVR C WALTRIP BROS	$3.99
DEC181976	SHADOW ROADS #6 CVR A	$3.99
DEC181977	SHADOW ROADS #6 CVR B ZAMUDIO VAR	$3.99
DEC182278	SHORTCAKE CAKE GN VOL 03	$9.99
DEC181901	SIMPSONS COMICS SHOWSTOPPER TP	$16.99
OCT181533	SNAP FLASH HUSTLE #2 (OF 4) (MR)	$3.99
NOV181772	STARSEEDS HC VOL 02	$29.99
DEC182022	SUPER SIKH GN VOL 01	$14.95
DEC182280	TAKANE & HANA GN VOL 07	$9.99
OCT182014	THESE SAVAGE SHORES #3 (MR)	$3.99
DEC181966	THROUGH A LIFE GN	$18.95
OCT182211	TO LOVE RU GN VOL 11-12 (MR)	$19.99
SEP181852	TRUMPS TITANS VS THE END #1 (OF 1) CVR A NO MORE	$4.99
SEP181853	TRUMPS TITANS VS THE END #1 (OF 1) CVR B IVANKA VS DARKVANKA	$9.99
SEP181854	TRUMPS TITANS VS THE END #1 (OF 1) CVR C CAPE ON A STICK	$4.99
SEP181374	VAMPBLADE SEASON 3 #9 CVR A COSTA (MR)	$4.99
SEP181375	VAMPBLADE SEASON 3 #9 CVR B COSTA RISQUE (MR)	$4.99
SEP181376	VAMPBLADE SEASON 3 #9 CVR C GRACE (MR)	$4.99
SEP181377	VAMPBLADE SEASON 3 #9 CVR D GRACE RISQUE (MR)	$4.99
SEP181378	VAMPBLADE SEASON 3 #9 CVR E MENDOZA (MR)	$4.99
SEP181379	VAMPBLADE SEASON 3 #9 CVR F MENDOZA RISQUE (MR)	$4.99
DEC182176	VAN HELSING SWORD OF HEAVEN #4 (OF 6) CVR A VITORINO	$3.99
DEC182177	VAN HELSING SWORD OF HEAVEN #4 (OF 6) CVR B ABRERA	$3.99
DEC182178	VAN HELSING SWORD OF HEAVEN #4 (OF 6) CVR C SANTACRUZ	$3.99
DEC182179	VAN HELSING SWORD OF HEAVEN #4 (OF 6) CVR D TOLIBAO	$3.99
OCT182009	WALLY WOOD DARE DEVIL ACES DLX SLIPCASE ED	$69.95
OCT182008	WALLY WOOD DARE DEVIL ACES HC	$39.95
NOV182085	WASTED SPACE #6 (MR)	$3.99
DEC182252	WE NEVER LEARN GN VOL 02	$9.99
NOV182274	WORLDS END HAREM GN VOL 04 (MR)	$12.99
DEC182141	WRATH ETERNAL WARRIOR #1 DOLLAR DEBUT	$1.00
DEC181493	WRONG EARTH #6	$3.99
DEC182282	YONA OF THE DAWN GN VOL 16	$9.99