Welcome back, Wednesday Warriors! Do you smell that? It smells like new comic book day and that is a truly delicious aroma! We know you are rushing out the door to the comic shop, but before you go, arm yourself with a few recommendations. After all, reading comic books will help you live longer, that's a fact. So, if it's immortality you crave, we also have a complete list of this week's releases, and you should just buy one of everything.
As usual, we will touch on a plot detail or two below, which means you are officially entering spoiler territory. You've been warned, comrades!
DETECTIVE COMICS #1001
Written By: Peter J. Tomasi
Art By: Brad Walker and Andrew Hennessy
Colors By: Nathan Fairbairn
Letters By: Rob Leigh
Peter J. Tomasi is one of the most consistent writers in superhero comics. The man always delivers and always brings out the best in the characters he handles. Just go read his Superman run with Patrick Gleason. It's literally the best Superman comic series to come out in decades. Tomasi has already done fantastic work with Batman in other titles, but there's something special about him taking the lead on Detective Comics. We got a glimpse of what he was cooking up in Detective Comics #1000 and this issue delivers on that teaser and then some. The Arkham Knight is heading into the DC Universe and from the looks of things, it's gonna be a bloody, epic affair.
We have to talk about Brad Walker, too, because holy crap he is amazing. His style is somewhere between Chris Sprouse and Ed McGuinness: fluid and graceful, but filled with strong, bold line work that anchors every page and brings every character to life. Tomasi and Walker make a perfect pair and we're so fired up for this new era of Detective Comics. Long live The Dark Knight.
FAIRLADY #1
Written By: Brian Schirmer
Art By: Claudia Balboni
Colors By: Marissa Louise
Letters By: David Bowman
Fairlady is a procedural set in a fantasy world. It's Matthew Scudder in Middle-earth. Writer Brian Schirmer and artist Claudia Balboni have promised that each issue will be a one-shot, or a case of the week if this comic were the procedural show it so desperately wants to be. It sounds a little bit crazy, but Fairlady nails the concept and then some. As the story of an investigator for hire who solves the crimes the laws can't or won't, it's great. As a fantasy adventure set in a new and exciting world, it is also great. Schirmer's dialogue is punchy and fast, while Balboni's storytelling is clear and direct. If you bought this book solely based on the awesome cover you see above, you'll be shocked at what you find inside—the kind of shock you get when find an old gift card and discover it has $100 on it. We hope you all give this book a chance because we want it to stick around. Go to your local shop and tell them you want Fairlady, trust us.
SAVAGE SWORD OF CONAN #4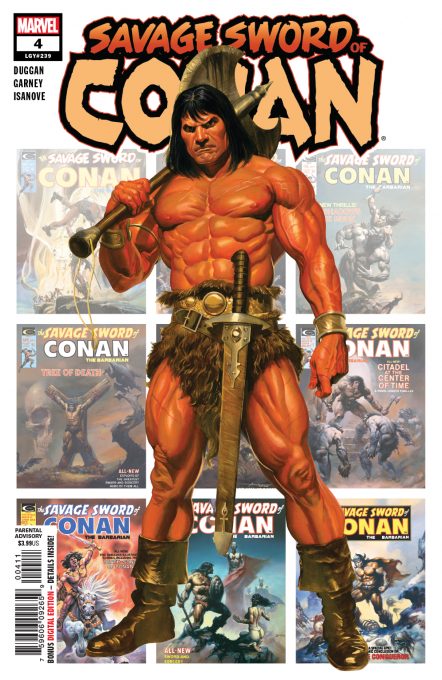 Written By: Gerry Duggan
Art By: Ron Garney
Colors By: Richard Isanove
Letters By: VC's Travis Lanham
Duggan and Garney are not fooling around. The first page of Savage Sword of Conan #4 is an explosion of action and it only gets crazier from there. Conan smashing skeletons. Conan drinking super old booze he finds in the skeletons he just smashed. Conan throwing a woman across a pit. This is exactly what a good Conan comic book should be. Duggan clearly has the Cimmerian's voice in his head and Garney has Crom's fury in his blood. Bleak, violent, and (obviously) savage, this series is a sinister delight. It just gets better and better with each issue.
X-FORCE #6
Written By: Ed Brisson
Art By: Damian Couceiro
Colors By: Erick Arciniega
Letters By: VC's Cory Petit
It's 2019 and we have an X-Force comic book with freakin' Stryfe on the cover. This should be terrible and should definitely not be one of Marvel's best series, but it is. Ed Brisson has fully embraced the insanity of this corner of the Marvel Universe and X-Force is all the better for it. Guest artist Damian Couceiro is a fine fill-in and handles this dialogue-heavy issue wonderfully. There's a lot of stage-building here, and it's clear that the set being dressed will be one of epic proportions and we can't wait to watch this bad boy unfold. If you aren't reading X-Force, you are missing out, big time, especially if you grew up watching the '90s X-Men cartoon and reading the Jim Lee era X-Men comics. This series hit's that sweet spot perfectly and we simply can't get enough.
Okay, that's it for us this week! Let us know what comics you are picking up in the comments below or just yell at us about how wrong we are!
Featured Image: DC Comics
PREMIER PUBLISHERS

BOOM! STUDIOS

FEB191277	BY NIGHT #10 (OF 12) MAIN LARSEN CVR	$3.99
FEB191278	BY NIGHT #10 (OF 12) PREORDER STERN VAR	$3.99
FEB191261	EMPTY MAN #6 MAIN	$3.99
FEB191262	EMPTY MAN #6 PREORDER HERVAS VAR	$3.99
FEB191250	FAITHLESS #1 (OF 5) CVR B LOTAY EROTICA VAR (MR)	$4.99
JAN199098	FAITHLESS #1 (OF 5) FOC BERMEJO VAR (MR)	$3.99
FEB191249	FAITHLESS #1 (OF 5) MAIN CVR POPE (MR)	$3.99
JAN199265	FIREFLY #3 (3RD PTG)	$3.99
FEB191266	GO GO POWER RANGERS #19 MAIN & MIX	$3.99
FEB191267	GO GO POWER RANGERS #19 PREORDER MOK VAR	$3.99
DEC181374	JIM HENSONS FRAGGLE ROCK ROUGH SIDE OF ROCK HC	$9.99
DEC181368	MECH CADET YU TP VOL 03	$14.99
DEC181353	PLANET OF THE APES ARTIST TRIBUTE HC	$24.99
JAN199266	RONIN ISLAND #2 FOC ANKA VAR	$3.99
FEB191256	RONIN ISLAND #2 MAIN	$3.99
FEB191257	RONIN ISLAND #2 PREORDER YOUNG VAR	$3.99

DARK HORSE COMICS

JAN190430	ALIENS RESISTANCE #3 CVR A JONES	$3.99
JAN190431	ALIENS RESISTANCE #3 CVR B DE LA TORRE	$3.99
JAN190443	ANTHEM #2	$3.99
JAN190492	ANTHEM JOURNAL	$19.99
FEB190356	ASTRO HUSTLE #2 (OF 4)	$3.99
NOV180259	DIFFERENTLY MORPHOUS HC	$12.99
FEB190334	DISNEY INCREDIBLES 2 SECRET IDENTITIES #1 (OF 3) CVR A CLAUD	$3.99
FEB190335	DISNEY INCREDIBLES 2 SECRET IDENTITIES #1 (OF 3) CVR B KAWAI	$3.99
DEC180412	DISNEY PRINCESS HC ARIEL AND SEA WOLF (YOUNG READERS)	$7.99
DEC180413	EC ARCHIVES TWO-FISTED TALES HC VOL 04	$49.99
JAN190452	HELLBOY HC ART OF MOTION PICTURE	$39.99
JAN190489	HELLBOY JOURNAL	$19.99
FEB190265	SHE COULD FLY LOST PILOT #1 (OF 5) (MR)	$3.99
NOV180283	UMBRELLA ACADEMY JOURNAL	$19.99

DC COMICS

SEP180604	ABSOLUTE SCARLET HC (RES) (MR)	$75.00
JAN190650	ADVENTURES OF THE SUPER SONS TP VOL 01 ACTION DETECTIVE	$16.99
FEB190478	BATMAN #68	$3.99
FEB190479	BATMAN #68 VAR ED	$3.99
JAN199262	BATMAN BLACK & WHITE BLIND BAG MINI FIGS W1 (18PC CS) (Net)	$90.00
SEP180641	BATMAN BLACK & WHITE STATUE WHITE KNIGHT BY SEAN MURPHY	$80.00
FEB190484	BATMAN WHO LAUGHS #4 (OF 6)	$4.99
FEB190485	BATMAN WHO LAUGHS #4 (OF 6) VAR ED	$4.99
FEB190487	CATWOMAN #10	$3.99
FEB190488	CATWOMAN #10 VAR ED	$3.99
JAN190665	CATWOMAN TP VOL 01 COPYCATS	$16.99
SEP180642	DC COMICS BOMBSHELLS BATWOMAN AWAY UNIFORM VAR STATUE	$125.00
SEP180566	DEATH & RETURN OF SUPERMAN OMNIBUS NEW ED HC	$150.00
FEB190489	DETECTIVE COMICS #1001	$3.99
FEB190490	DETECTIVE COMICS #1001 VAR ED	$3.99
JAN190669	ELSEWORLDS SUPERMAN TP VOL 02	$34.99
FEB190497	FLASH #68	$3.99
FEB190498	FLASH #68 VAR ED	$3.99
JAN190676	FORTUNE & GLORY A TRUE HOLLYWOOD COMIC BOOK STORY TP	$14.99
FEB190508	HAWKMAN #11	$3.99
FEB190509	HAWKMAN #11 VAR ED	$3.99
FEB190511	HOUSE OF WHISPERS #8 (MR)	$3.99
JAN190682	JUSTICE LEAGUE AQUAMAN DROWNED EARTH HC	$29.99
FEB190518	JUSTICE LEAGUE ODYSSEY #8	$3.99
FEB190519	JUSTICE LEAGUE ODYSSEY #8 VAR ED	$3.99
JAN190688	PLASTIC MAN TP	$16.99
FEB190526	RED HOOD OUTLAW #33	$3.99
FEB190527	RED HOOD OUTLAW #33 VAR ED	$3.99
FEB190528	SCOOBY APOCALYPSE #36	$3.99
FEB190529	SCOOBY APOCALYPSE #36 VAR ED	$3.99
FEB190536	SUPERGIRL #29	$3.99
FEB190537	SUPERGIRL #29 VAR ED	$3.99
FEB190538	SUPERMAN #10	$3.99
FEB190539	SUPERMAN #10 VAR ED	$3.99
JAN190698	SUPERMANS PAL JIMMY OLSEN BY JACK KIRBY TP	$29.99
FEB190541	TITANS #36	$3.99
FEB190542	TITANS #36 VAR ED	$3.99
FEB190548	WONDER TWINS #3 (OF 6)	$3.99
FEB190549	WONDER TWINS #3 (OF 6) VAR ED	$3.99
FEB190544	WONDER WOMAN #68	$3.99
FEB190545	WONDER WOMAN #68 VAR ED	$3.99

DYNAMITE

FEB191066	ARMY OF DARKNESS BUBBA HOTEP #3 CVR A GALINDO	$3.99
FEB191067	ARMY OF DARKNESS BUBBA HOTEP #3 CVR B MANDRAKE	$3.99
FEB191068	ARMY OF DARKNESS BUBBA HOTEP #3 CVR C HACK	$3.99
NOV181127	BETTIE PAGE #3 CVR A ROYLE	$3.99
NOV181128	BETTIE PAGE #3 CVR B CHANTLER	$3.99
NOV181129	BETTIE PAGE #3 CVR C WILLIAMS	$3.99
NOV181130	BETTIE PAGE #3 CVR D OHTA	$3.99
NOV181131	BETTIE PAGE #3 CVR E PHOTO	$3.99
FEB191121	JAMES BOND ORIGIN #8 CVR A PANOSIAN	$3.99
FEB191122	JAMES BOND ORIGIN #8 CVR B OMEARA	$3.99
FEB191123	JAMES BOND ORIGIN #8 CVR C SLINEY	$3.99
FEB191124	JAMES BOND ORIGIN #8 CVR D MOUSTAFA	$3.99
FEB191125	JAMES BOND ORIGIN #8 CVR E BOB Q	$3.99
AUG181298	KISS DELUXE TRADING CARD FOIL 12 PACK BOX	$PI
FEB191054	KISS END #1 CVR A SAYGER	$3.99
FEB191055	KISS END #1 CVR B FORNES	$3.99
FEB191056	KISS END #1 CVR C MEDRI	$3.99
DEC188054	KISS END #1 CVR D PHOTO	$3.99
JUL181310	SHADOW DEATH OF MARGO LANE HC SGN LTD ED	$49.99
JAN191250	VAMPIRELLA REANIMATOR #4 CVR A DESJARDINS	$3.99
JAN191251	VAMPIRELLA REANIMATOR #4 CVR B SAYGER	$3.99
JAN191252	VAMPIRELLA REANIMATOR #4 CVR C SHEPHERD	$3.99
JAN191253	VAMPIRELLA REANIMATOR #4 CVR D COSPLAY	$3.99

IDW PUBLISHING

NOV180735	CLYDE GN	$9.99
FEB190662	DUCKTALES #20 CVR A DISNEY	$3.99
FEB190663	DUCKTALES #20 CVR B DISNEY	$3.99
FEB190640	GHOSTBUSTERS 35TH ANNIV REAL GHOSTBUSTERS FERREIRA	$3.99
JUL180949	NICKELODEON SPLAT ATTACK	$59.99
SEP180785	NICKELODEONS SPLAT ATTACK REPTAR RAMPAGE	$19.99
DEC180726	STAR WARS ADVENTURES TALES FROM VADERS CASTLE BOX SET	$29.99

IMAGE COMICS

JAN199370	DIE #4 2ND PTG (MR)	$3.99
FEB190020	FAIRLADY #1 CVR A BALBONI & LOUISE	$3.99
FEB190021	FAIRLADY #1 CVR B LOTAY	$3.99
FEB190146	GUNNING FOR HITS #4 (MR)	$3.99
FEB190148	HIT-GIRL SEASON TWO #3 CVR A FRANCAVILLA (MR)	$3.99
FEB190149	HIT-GIRL SEASON TWO #3 CVR B B&W FRANCAVILLA (MR)	$3.99
FEB190150	HIT-GIRL SEASON TWO #3 CVR C CONNER (MR)	$3.99
FEB190153	INFINITE DARK #5	$3.99
FEB190085	KICK-ASS NEW GIRL TP VOL 02 (MR)	$17.99
JAN198548	LITTLE BIRD #1 (OF 5) 2ND PTG (MR)	$3.99
OCT180217	LOW #21 CVR A TOCCHINI (MR)	$3.99
OCT180218	LOW #21 CVR B ROBINSON (MR)	$3.99
OCT180219	LOW #21 CVR C TOCCHINI (MR)	$3.99
FEB190168	MURDER FALCON #7 CVR A JOHNSON & SPICER	$3.99
FEB190169	MURDER FALCON #7 CVR B HEAVY METAL VAR HENDERSON	$3.99
FEB190170	OBLIVION SONG BY KIRKMAN & DE FELICI #14 (MR)	$3.99
FEB190173	OUTER DARKNESS #6 (MR)	$3.99
FEB190180	PRODIGY #5 (OF 6) CVR A ALBUQUERQUE (MR)	$3.99
FEB190181	PRODIGY #5 (OF 6) CVR B ALBUQUERQUE (MR)	$3.99
FEB190182	PRODIGY #5 (OF 6) CVR C MCCARTHY (MR)	$3.99
FEB190183	PRODIGY #5 (OF 6) CVR D YILDIRIM (MR)	$3.99
FEB190045	RAT QUEENS SPEC SWAMP ROMP (ONE-SHOT) (MR)	$3.99
FEB190102	ROSE TP VOL 03	$16.99
DEC180283	SAVAGE DRAGON #243 (MR)	$3.99
JAN190405	SUNSTONE COLLAR PIN	$10.00
JAN190404	SUNSTONE HANDS PIN	$10.00
FEB190120	UNNATURAL TP VOL 02 (MR)	$16.99

MARVEL COMICS

FEB190935	AGE OF CONAN BELIT #2 (OF 5)	$3.99
FEB190906	AGE OF X-MAN APOCALYPSE AND X-TRACTS #2 (OF 5)	$3.99
FEB190909	AGE OF X-MAN MARVELOUS X-MEN #3 (OF 5)	$3.99
FEB190834	AMAZING SPIDER-MAN #19	$3.99
FEB190835	AMAZING SPIDER-MAN #19 YU CONNECTING VAR	$3.99
FEB190779	ASGARDIANS OF THE GALAXY #8 NOTO ASGARDIAN VAR	$3.99
FEB190778	ASGARDIANS OF THE GALAXY #8 WR	$3.99
JAN191112	AVENGERS EPIC COLLECTION TP FEAR THE REAPER	$39.99
FEB190792	AVENGERS NO ROAD HOME #9 (OF 10)	$3.99
FEB190793	AVENGERS NO ROAD HOME #9 (OF 10) SCALERA CONNECTING VAR	$3.99
JAN191122	AVENGING SPIDER-MAN TP COMPLETE COLLECTION	$39.99
FEB190874	CAPTAIN MARVEL #4	$3.99
FEB190875	CAPTAIN MARVEL #4 PAREL ASGARDIAN VAR	$3.99
JAN199145	COSMIC GHOST RIDER DESTROYS MARVEL HISTORY #1 (OF 6) 2ND PTG	$3.99
FEB190929	DEAD MAN LOGAN #6 (OF 12)	$3.99
JAN191106	DECADES MARVEL 70S TP LEGION OF MONSTERS	$24.99
JAN199146	DOMINO HOTSHOTS #1 (OF 5) 2ND PTG BALDEON VAR	$3.99
FEB190869	FRIENDLY NEIGHBORHOOD SPIDER-MAN #5	$3.99
JAN199147	GUARDIANS OF THE GALAXY #2 2ND PTG SHAW VAR	$3.99
DEC181035	ICEMAN AND HIS AMAZING FRIENDS TP	$17.99
JAN199148	IMMORTAL HULK #2 4TH PTG BENNETT VAR	$3.99
JAN199149	IMMORTAL HULK #4 3RD PTG BENNETT VAR	$3.99
JAN199150	IMMORTAL HULK #5 3RD PTG BENNETT VAR	$3.99
JAN199151	IMMORTAL HULK #6 3RD PTG GARBETT VAR	$3.99
FEB190845	INVADERS #4	$3.99
FEB191012	MAJOR X BY LIEFELD POSTER	$8.99
FEB190808	MARVEL TALES THANOS #1	$7.99
FEB191013	MARVELS 80TH BY PHIL NOTO POSTER	$8.99
JAN191126	MIGHTY AVENGERS BY SLOTT TP COMPLETE COLLECTION	$39.99
JAN199152	MILES MORALES SPIDER-MAN #3 2ND PTG GARRON VAR	$3.99
OCT181009	MMW AVENGERS HC VOL 19	$75.00
OCT181010	MMW AVENGERS HC VOL 19 DM VAR ED 273	$75.00
JAN199153	OLD MAN QUILL #2 (OF 12) 2ND PTG GILL VAR	$3.99
JAN191102	RUNAWAYS BY ROWELL AND ANKA TP VOL 03 THAT WAS YESTERDAY	$17.99
FEB190937	SAVAGE SWORD OF CONAN #4	$3.99
FEB190868	SPIDER-MAN DEADPOOL #49	$3.99
JAN191100	SPIDER-MAN DEADPOOL TP VOL 08 ROAD TRIP	$15.99
FEB190959	STAR WARS AOR GRAND MOFF TARKIN #1	$3.99
FEB190961	STAR WARS AOR GRAND MOFF TARKIN #1 CONCEPT VAR	$3.99
FEB190963	STAR WARS AOR PRINCESS LEIA #1	$3.99
FEB190965	STAR WARS AOR PRINCESS LEIA #1 CAMUNCOLI BONETTI PROMO VAR	$3.99
FEB190966	STAR WARS AOR PRINCESS LEIA #1 CONCEPT VAR	$3.99
JAN191095	STAR WARS TP VOL 10 ESCAPE	$17.99
FEB190822	SYMBIOTE SPIDER-MAN #1	$4.99
FEB190824	SYMBIOTE SPIDER-MAN #1 ARTGERM VAR	$4.99
FEB191014	SYMBIOTE SPIDER-MAN #1 BY LAND POSTER	$8.99
FEB190823	SYMBIOTE SPIDER-MAN #1 LIM VAR	$4.99
FEB191015	THANOS #1 BY DEKAL POSTER	$8.99
FEB190798	TRUE BELIEVERS AVENGERS RONIN #1	$1.00
FEB190799	TRUE BELIEVERS AVENGERS STORMBREAKER #1	$1.00
FEB190800	TRUE BELIEVERS AVENGERS THANOS AND GAMORA #1	$1.00
FEB190788	UNBEATABLE SQUIRREL GIRL #43 WR	$3.99
JAN199154	UNCANNY X-MEN ANNUAL #1 2ND PTG GOMEZ VAR	$4.99
FEB190899	UNSTOPPABLE WASP #6	$3.99
FEB190768	WAR OF REALMS JOURNEY INTO MYSTERY #1 (OF 5) CAMUNCOLI VAR	$3.99
FEB190767	WAR OF REALMS JOURNEY INTO MYSTERY #1 (OF 5) WR	$3.99
FEB190858	WEB OF VENOM CULT OF CARNAGE #1	$4.99
FEB190860	WEB OF VENOM CULT OF CARNAGE #1 CASSARA VAR	$4.99
FEB190893	WINTER SOLDIER #5 (OF 5)	$3.99
FEB190924	X-23 #11	$3.99
FEB190925	X-23 #11 OUM ASGARDIAN VAR	$3.99
FEB190926	X-FORCE #6	$3.99
FEB190927	X-FORCE #6 FEDERICI ASGARDIAN VAR	$3.99
JAN199155	ZIGGY PIG SILLY SEAL COMICS #1 2ND PTG CHABOT VAR	$3.99

COMICS & GRAPHIC NOVELS

JAN191903	ALIENATION GN (MR)	$19.99
FEB192273	ATTACK ON TITAN GN VOL 27 (MR)	$10.99
FEB191845	BALLAD OF YAYA GN VOL 01 FUGUE	$9.99
FEB191445	BETTY & VERONICA JUMBO COMICS DIGEST #272	$6.99
NOV181487	BLACKENING #4 (OF 6) (MR)	$3.99
JAN192429	CAPTAIN HARLOCK DIMENSIONAL VOYAGE GN VOL 08	$12.99
FEB191858	CATALYST PRIME NOBLE #17	$3.99
JAN191432	COLD BLOOD SAMURAI #1	$3.99
FEB191746	COMPLETE LIFE & TIMES SCROOGE MCDUCK HC VOL 01 ROSA	$29.99
FEB191645	CURSED LAND TP (MR)	$18.99
FEB191819	D DAY FROM PAGES OF COMBAT ONE SHOT GLANZMAN CVR (RES)	$9.99
FEB191820	D DAY FROM PAGES OF COMBAT RUSS BRAUN CVR (RES)	$19.99
DEC181820	DF WONDER TWINS #1 ELITE GOLD SGN RUSSELL	$89.99
DEC181819	DF WONDER TWINS #1 SGN RUSSELL	$29.99
DEC182322	DINING WITH EMIYA FAMILY GN VOL 01 (OF 3)	$12.95
AUG181809	DMC GN #3	$19.99
JAN192106	DOCTOR WHO 13TH #6 CVR A SPOSITO	$3.99
JAN192107	DOCTOR WHO 13TH #6 CVR B PHOTO	$3.99
JAN192108	DOCTOR WHO 13TH #6 CVR C ZANFARDINO	$3.99
JAN192409	GRAND BLUE DREAMING GN VOL 05 (MR)	$12.99
JAN192434	HIMOUTO UMARI CHAN GN VOL 05	$12.99
DEC181449	HOT LUNCH SPECIAL TP VOL 01	$14.99
JAN192438	IF ITS FOR MY DAUGHTER DEFEAT DEMON LORD GN VOL 03	$12.99
FEB191743	IN THE WILDERNESS GN  (MR)	$PI
FEB191364	JOHNNY THE HOMICIDAL MANIAC #2 (O/A)	$3.50
FEB192320	KNIGHTS OF SIDONIA MASTER ED GN VOL 01	$34.95
FEB191558	LADY DEATH (ONGOING) #25 CLASSICS PINUPS A (MR)	$8.99
FEB191559	LADY DEATH (ONGOING) #25 CLASSICS PINUPS B (MR)	$8.99
FEB191560	LADY DEATH (ONGOING) #25 CLASSICS PINUPS C (MR)	$8.99
FEB191561	LADY DEATH (ONGOING) #25 CLASSICS PINUPS D (MR)	$8.99
FEB191562	LADY DEATH (ONGOING) #25 CLASSICS PINUPS E (MR)	$8.99
FEB191563	LADY DEATH (ONGOING) #25 CLASSICS PINUPS F (MR)	$8.99
FEB191564	LADY DEATH (ONGOING) #25 CLASSICS PINUPS G (MR)	$8.99
FEB191565	LADY DEATH (ONGOING) #25 CLASSICS PINUPS H (MR)	$8.99
FEB191566	LADY DEATH (ONGOING) #25 CLASSICS PINUPS I (MR)	$8.99
FEB191603	LADY DEATH APOCALYPSE #0 ROYAL BLUE	$15.99
FEB191605	LADY DEATH APOCALYPSE #1 CENTURY BRING IT (MR)	$15.99
FEB191606	LADY DEATH APOCALYPSE #1 CENTURY CRACKLING (MR)	$15.99
FEB191604	LADY DEATH APOCALYPSE #1 CENTURY MOONLIGHT (MR)	$15.99
FEB191607	LADY DEATH APOCALYPSE #2 CENTURY CHARGED UP (MR)	$15.99
FEB191608	LADY DEATH APOCALYPSE #2 CENTURY EPIC (MR)	$15.99
FEB191609	LADY DEATH APOCALYPSE #2 CENTURY GOTHIC (MR)	$15.99
FEB191611	LADY DEATH APOCALYPSE #2 CENTURY NO MERCY (MR)	$15.99
FEB191610	LADY DEATH APOCALYPSE #2 CENTURY NOCTURNAL (MR)	$15.99
FEB191612	LADY DEATH APOCALYPSE #2 CENTURY RED HOT (MR)	$15.99
FEB191613	LADY DEATH APOCALYPSE #4 CENTURY A (MR)	$15.99
FEB191614	LADY DEATH APOCALYPSE #4 CENTURY B (MR)	$15.99
FEB191615	LADY DEATH APOCALYPSE #4 CENTURY C (MR)	$15.99
FEB191616	LADY DEATH APOCALYPSE #4 CENTURY D (MR)	$15.99
FEB191617	LADY DEATH APOCALYPSE #4 CENTURY E (MR)	$15.99
FEB191618	LADY DEATH APOCALYPSE #4 CENTURY F (MR)	$15.99
FEB191619	LADY DEATH APOCALYPSE #4 CENTURY G (MR)	$15.99
FEB191620	LADY DEATH APOCALYPSE #4 CENTURY H (MR)	$15.99
FEB191621	LADY DEATH APOCALYPSE #4 CENTURY I (MR)	$15.99
FEB191622	LADY DEATH APOCALYPSE #5 CENTURY A (MR)	$15.99
FEB191623	LADY DEATH APOCALYPSE #5 CENTURY B (MR)	$15.99
FEB191624	LADY DEATH APOCALYPSE #5 CENTURY C (MR)	$15.99
FEB191625	LADY DEATH APOCALYPSE #5 CENTURY D (MR)	$15.99
FEB191626	LADY DEATH APOCALYPSE #5 CENTURY E (MR)	$15.99
FEB191627	LADY DEATH APOCALYPSE #5 CENTURY F (MR)	$15.99
FEB191638	LADY DEATH APOCALYPSE #5 CENTURY G (MR)	$15.99
FEB191639	LADY DEATH APOCALYPSE #5 CENTURY H (MR)	$15.99
FEB191640	LADY DEATH APOCALYPSE #5 CENTURY I (MR)	$15.99
FEB191631	LADY DEATH APOCALYPSE #5 CENTURY J (MR)	$15.99
FEB191632	LADY DEATH APOCALYPSE #6 CENTURY A (MR)	$15.99
FEB191633	LADY DEATH APOCALYPSE #6 CENTURY B (MR)	$15.99
FEB191634	LADY DEATH APOCALYPSE #6 CENTURY C (MR)	$15.99
FEB191635	LADY DEATH APOCALYPSE #6 CENTURY D (MR)	$15.99
FEB191636	LADY DEATH APOCALYPSE #6 CENTURY E (MR)	$15.99
FEB191637	LADY DEATH APOCALYPSE #6 CENTURY F (MR)	$15.99
FEB191628	LADY DEATH APOCALYPSE #6 CENTURY G (MR)	$15.99
FEB191629	LADY DEATH APOCALYPSE #6 CENTURY H (MR)	$15.99
FEB191630	LADY DEATH APOCALYPSE #6 CENTURY I (MR)	$15.99
FEB191641	LADY DEATH APOCALYPSE #6 CENTURY J (MR)	$15.99
FEB191601	LADY DEATH BLACKLANDS #1 ROYAL BLUE	$15.99
FEB191583	LADY DEATH DEAD RISING ROYAL BLUE	$15.99
FEB191576	LADY DEATH DEATH GODDESS ROYAL BLUE	$15.99
FEB191600	LADY DEATH FETISHES 2006 ROYAL BLUE	$15.99
FEB191584	LADY DEATH INFERNAL SINS ROYAL BLUE	$15.99
FEB191587	LADY DEATH LOST SOULS #1 ROYAL BLUE #0	$15.99
FEB191553	LADY DEATH SHI ORIGINAL SKETCH SET (3 BOOKS)	$29.99
FEB191577	LADY DEATH VS PANDORA ROYAL BLUE	$15.99
FEB191594	LADY DEATH VS WAR ANGEL #1 ROYAL BLUE	$15.99
FEB192280	LAND OF THE LUSTROUS GN VOL 08	$12.99
FEB192049	LIFE & DEATH OF TOYO HARADA #2 (OF 6) CVR A SUAYAN	$4.99
FEB192050	LIFE & DEATH OF TOYO HARADA #2 (OF 6) CVR B OLIVETTI	$4.99
FEB192051	LIFE & DEATH OF TOYO HARADA #2 (OF 6) CVR C HASPIEL	$4.99
JAN199437	LIFE & DEATH OF TOYO HARADA #2 (OF 6) CVR D PRE-ORDER BUNDLE	$4.99
FEB192058	LIVEWIRE #5 CVR A ROCAFORT (NEW ARC)	$3.99
FEB192059	LIVEWIRE #5 CVR B CONRAD (NEW ARC)	$3.99
FEB192060	LIVEWIRE #5 CVR C WILLAMSON (NEW ARC)	$3.99
JAN199438	LIVEWIRE #5 CVR D PRE-ORDER BUNDLE ED	$3.99
FEB191889	LONG CON #8	$3.99
FEB192085	LUCY & ANDY NEANDERTHAL SC GN VOL 03 BAD TO BONES	$7.99
FEB191599	MEDIEVAL LADY DEATH / BELLADONNA #1 ROYAL BLUE	$15.99
FEB191598	MEDIEVAL LADY DEATH / BELLADONNA #1/2 ROYAL BLUE	$15.99
FEB191672	MEN AT SEA GN	$24.95
FEB191404	MUTTS SUMMER DIARIES TP	$9.99
FEB191366	NICE TP VOL 01	$14.99
FEB191765	NICO BRAVO & HOUND OF HADES HC GN	$19.99
FEB191764	NICO BRAVO & HOUND OF HADES SC GN	$12.99
DEC182194	NIGHTMARE BEFORE CHRISTMAS ZEROS JOURNEY #8	$3.99
JAN191441	NULL FAERIES #3 CVR A CICCONI (MR)	$3.99
JAN191442	NULL FAERIES #3 CVR B SUHNG (MR)	$3.99
FEB191344	ORPHAN AGE #1 PLATI CVR	$3.99
FEB191350	PATIENCE CONVICTION REVENGE TP VOL 01	$14.99
NOV188039	PUNCHLINE #1 2ND PTG	$3.99
FEB192118	ROBYN HOOD OUTLAW #3 CVR A COCCOLO	$3.99
FEB192119	ROBYN HOOD OUTLAW #3 CVR B GOH	$3.99
FEB192120	ROBYN HOOD OUTLAW #3 CVR C ZALDIVAR	$3.99
FEB192121	ROBYN HOOD OUTLAW #3 CVR D SPAY	$3.99
OCT181398	ROCKY BULLWINKLE BEST BORIS NATASHA #1 LTD ED RETRO AN CVR	$9.99
OCT181397	ROCKY BULLWINKLE BEST BORIS NATASHA #1 MAIN CVR	$3.99
FEB191768	SCIENCE COMICS WILD WEATHER HC GN	$19.99
FEB191767	SCIENCE COMICS WILD WEATHER SC GN	$12.99
AUG181432	SHINOBI NINJA PRINCESS HC	$19.99
FEB191955	SOURCE #3 (RES)	$3.99
FEB191875	STORY OF LEE COMPLETE SET GN	$29.99
FEB191302	STRANGERS IN PARADISE XXV OMNIBUS HC	$39.99
FEB191301	STRANGERS IN PARADISE XXV OMNIBUS SC	$29.99
JAN191430	SWEETIE #2	$3.99
FEB192283	TOKYO TARAREBA GIRLS GN VOL 06	$12.99
FEB191844	UNDERFOOT GN VOL 01 MIGHTY DEEP	$12.99
JAN192043	VINCENT GN BOOK 01 GUIDE TO LOVE MAGIC & RPG	$9.99
FEB191685	WALT & SKEEZIX HC VOL 07 1933 - 1934 (RES)	$49.95
FEB191837	WHEN I ARRIVED AT CASTLE GN	$15.00
FEB192285	WITCH HAT ATELIER GN VOL 01	$12.99
FEB191880	YEAR OF LOVING DANGEROUSLY SC GN	$15.99
JAN191435	ZOMBIE TRAMP ONGOING #58 CVR A YOUNG (MR)	$4.99
JAN191436	ZOMBIE TRAMP ONGOING #58 CVR B YOUNG RISQUE (MR)	$4.99
JAN191437	ZOMBIE TRAMP ONGOING #58 CVR C MCKAY VAR (MR)	$4.99
JAN191438	ZOMBIE TRAMP ONGOING #58 CVR D MCKAY RISQUE LTD ED (MR)	$4.99
JAN191439	ZOMBIE TRAMP ONGOING #58 CVR E MENDOZA RISQUE LTD ED (MR)	$4.99
JAN191440	ZOMBIE TRAMP ONGOING #58 CVR F MENDOZA RISQUE LTD ED B (MR)	$4.99
DEC181509	ZORRO LEGENDARY ADVENTURES BOOK 2 #1 BLAZING BLADES LTD ED C	$9.99
DEC181508	ZORRO LEGENDARY ADVENTURES BOOK 2 #1 MAIN CVR	$3.99