Just in time for the holidays, Sony Pictures is unveiling a new online store for its hit YouTube Premium streaming series, Cobra Kai. The 10-episode show, a sequel to 1984's The Karate Kid, blew up when it was released this May. The premiere episode, "Ace Degenerate," recently passed 50 million views, making official merchandise a no-brainer!The online store will also feature items branded with characters and quotes from the original Karate Kid film, like Mr. Miyagi-adorned phone cases and t-shirts reading "Wax On, Wax Off."
Items straight from Cobra Kai include apparel and accessories featuring Daniel LaRusso (Ralph Maccio) and Johnny Lawrence (William Zabka), who reprise their original roles in the new series, about the re-opening the titular karate dojo and their ongoing rivalry. Products include shirts, hats, mugs, notebooks, and more.
We're especially fond of these gorgeous shirts featuring the Cobra Kai logo.
Or any product with the Cobra Kai motto, "Strike first, strike hard, no mercy," like this notebook.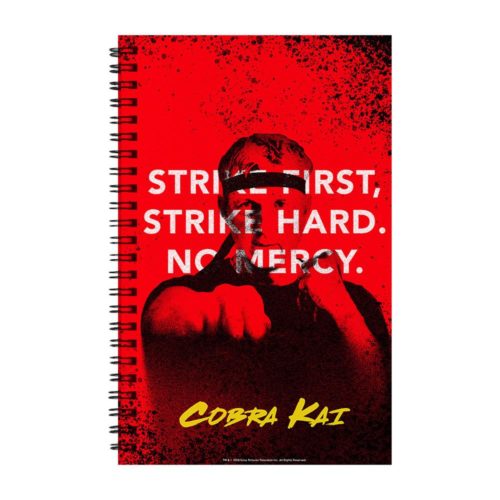 The store is developed by the Acara Group in collaboration with Sony Pictures Consumer Products, and currently ships to the U.S., Canada, the U.K., Australia, and New Zealand. These would make perfect gifts for the Cobra Kai lover in your life, or as a pre-celebration of the 35th anniversary of The Karate Kid, which celebrates that milestone next year.
Images: Acara Group/Sony Pictures Consumer Products