Cobra Kai continues the story that began in the Karate Kid franchise. And the smash hit show's audience has only grown since it was picked up by Netflix. The series tells the story of the warring dojos from the classic films: the titular Cobra Kai and their rivals at Miyagi-Do. Much of the series centers on the rivalries created by the two factions, building tension and teen drama against a martial arts backdrop. With season five of the action-dramedy on the horizon, it's the perfect time to check back in on our favorite karate obsessed valley kids. These are all the rivalries that are going to shape season five of Cobra Kai.
Daniel LaRusso vs. Terry Silver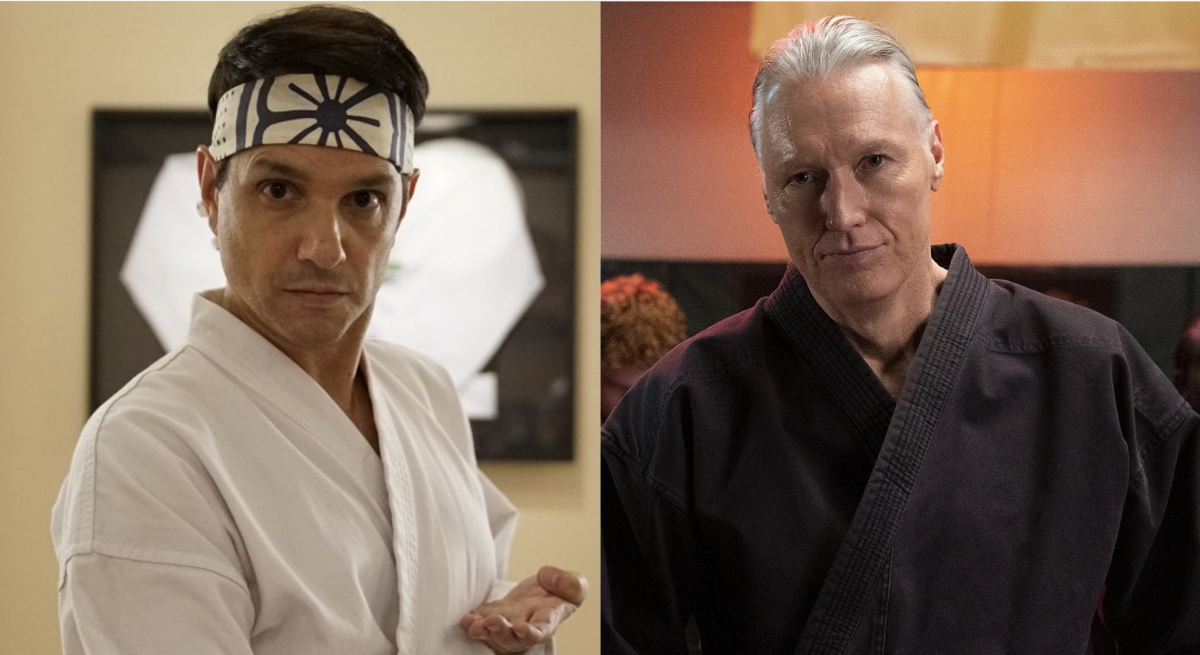 The first four seasons of Cobra Kai focused on the decades-long rivalry between Johnny Lawrence (William Zabka) and Daniel LaRusso (Ralph Maccio). But the end of last season saw the pair team up, sparked by the return of Karate Kid III villain Terry Silver (Thomas Ian Griffith). Teaming up with Johnny's old mentor, John Kreese (Martin Cove), Silver did a stealth takeover of Cobra Kai—more on that later—becoming the reigning dojo in the valley. Since Silver took Daniel under his wing only to physically abuse him in the third Karate Kid movie, Daniel has always surveyed the elder with distrust. Silver is now in charge of Cobra Kai and back to his crooked ways, and Daniel is dedicated to taking him down. Miyagi-Do and Daniel's journey this season will likely be defined by this rivalry, especially as Daniel has enlisted his old Karate Kid II rival, Chozen (Yuji Okumoto).
Tory Nichols vs. Sam LaRusso
In the original Karate Kid film, Daniel LaRusso was the working class kid facing down the rich, privileged kids at his new school in Reseda. Since its first season, Cobra Kai has switched that up. LaRusso is now a wealthy businessman. His eldest daughter, Sam (Mary Mouser), is the one carrying on the traditions of Miyagi-Do, but her competitive nature and lack of self-awareness make her one of the show's most complicated characters. Her rivalry with Tory Nichols (Peyton List) is something we hope to see resolved this season, as Sam has never considered the reality of Tory's life as a poverty stricken caregiver. Sam is desperate to fight after losing the All Valley Tournament last season.
Tory is always trying her best to be a good person. And after seeing Terry Silver doing some dodgy dealings, she may have realized her win wasn't about her talent. We'd love to see Tory finally join Miyagi-Do this season, but it won't happen until she's finally worked things out with Sam.
Miguel Diaz vs. Robby Keene
One of the original Cobra Kai rivalries, this began as so many teen rivalries do with a love triangle. The real reason this got to the point that it did though is due to the tragic high school fight that saw Miguel get severely injured by Robby. Though that was an accident, both their terrible father figures—Daniel LaRusso and Johnny Lawrence—just made things worse. Both boys have essentially been abandoned throughout the show, with season four seeing Robby become a vital member of the ever-more brutal Cobra Kai and Miguel head off to Mexico. The latter's search for his father must end quickly as a recent trailer showed the two battling again. We hope that season five will see them overcome their differences, but we wouldn't bet on it.
Kenny Payne vs. Anthony LaRusso
A key player in season four, Kenny continues the series tradition of subverting our expectations of who is the "good guy." While Kenny is currently in Cobra Kai 2.0, he only joined due to brutal bullying at the hands of Daniel's son, Anthony LaRusso, and his friends. Kenny is a sweet kid who just wanted to make friends at school, but instead Anthony mercilessly picked on him, even catfishing him by pretending to be a girl from school. Kenny's journey to Cobra Kai is one that came from self-preservation and from Robby's hope to make a positive difference. Alas despite Robby's prison friendship with Kenny's brother, he was unable to keep Kenny out of Silver's grasp. With Kenny now a diehard member of Cobra Kai, his rivalry with Anthony will only get bigger this season. The real question, though, is when will Kenny realize Silver's the bad guy?
John Kreese vs. Terry Silver
This is going to be a big one. John Kreese long seemed like the main antagonist of Cobra Kai, but season four changed that. Reintroducing Terry Silver was a dynamite move that upped the stakes. Now that Terry has stolen Cobra Kai from under his friend's nose, the old Vietnam buddies are going to be out for blood. Kreese has struggled to make a life without Cobra Kai so he's going to take this slight extra personally, especially as he was the one who reached out to Silver to help him recreate the dojo's glory days. Now Silver is planning to franchise Cobra Kai dojos and manipulate young people into his dangerous and violent vision for karate.
Johnny Lawrence vs. John Kreese
With the Terry Silver of it all, it's easy to forget that John Kreese was the original one who took over the newly opened Cobra Kai. It was Johnny who resurrected it—for better or worse—and reignited the valley's most dangerous karate rivalry. Now with Terry in charge and Johnny and Daniel teaming up, it seems likely that the former will have to face down his old mentor. The show has been hinting at a Kreese redemption arc for a while, but before that happens we're sure that his and Johnny's rivalry will get more heated than ever.
Cobra Kai 2.0 vs. Everyone
This is the big one for season five. Now that Cobra Kai is under the control of Terry Silver, a man who we know has no qualms about hurting kids, things are about to get heavy. But the good news is we last left Miyagi-Do and Eagle Fang teaming up in the wake of Cobra Kai's victory. This means that we're basically going to see both of the original teams go up against Silver's new streamlined badasses. Those teams and alliances have changed throughout the series and we can expect to see the same this season. With Tory and Robbie potentially embracing redemption this season it'll be interesting to see where the fate of Cobra Kai lands once the truth about Terry Silver comes out.
Cobra Kai season five will hit Netflix on September 9.
Featured Image: Netflix