Just when you thought you wouldn't see new Chilling Adventures of Sabrina until next year, the Archieverse's Roberto Aguirre-Sacasa is here with a sprinkling of creepy Christmas magic. He announced a Sabrina Christmas special on Monday. In a teaser for Netflix's upcoming holiday movie slate we got a couple of glimpses of the upcoming episode, which will hit the streaming service on December 14.
The official description gives us an idea of what we might see in the special. "The Church of Night, like all covens, celebrates the Winter Solstice–the longest night of the year–when families gather together around the Yule Fire to sing pagan carols, tell ghost stories and huddle against the supernatural creatures that come out to cause mischief. Since the Winter Solstice is when the veil between this world and the next is at its thinnest, it's the perfect time to conduct a séance–which Sabrina convenes, to try and contact her mother. But the holidays are also a time for guests and visitors–both welcome and unwelcome–and you never know what might come down the chimney."We've come up with six things we're dying to see when the special hits our screens next month.
Krampus
Come on! If St. Nick's creepy companion Krampus doesn't make an appearance in this episode we'll eat our Santa hats. Krampus is a horned and cloven foot being derived from Pagan pre-Christian tradition; he bares a striking visual similarity to Chilling Adventures of Sabrina's Dark Lord. Krampus is celebrated on December 6, the night of Krampusnacht, in some European countries, and we would love to see the show bring in this seasonal supernatural icon.
Some Classic Christmas Horror Nods
Sabrina is a horror super fan, and the show has had a lot of fun tipping its hat to classic genre flicks. Luckily for the creative team–and us–there are plenty of classic Christmas horror films we would love to see them reference. The ones we'd bet on are slasher classics Black Christmas and Silent Night Deadly Night, but we wouldn't say no to some Gremlins or Jack Frost.
The Power of the Spellman Women
It became clear over the course of the series that the Church of Night is a horribly misogynistic and oppressive organization, and it would be perfect if this episode could begin to show how the women come together in the face of that oppression–even if it's just a little bit of rebellion in the face of the Church's classic Solstice celebrations.
A Musical Number
One thing we've learned from Riverdale is that Roberto Aguirre-Sacasa loves a musical number, and we have yet to see one in Chilling Adventures of Sabrina. But Christmas is the perfect time to get everyone singing and dancing, and the most likely version of this would be a caroling sequence. We'd be so happy we could die if they slipped in a classic musical number or even a slightly more fitting tune from The Nightmare Before Christmas…
Some Incredible Costumes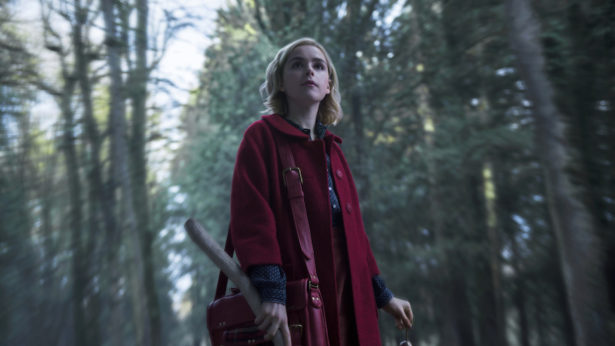 The sumptuous costumes are a huge part of the visual landscape of Sabrina, and we cannot wait to see what they come up with for the Christmas special. We're sure the wardrobe will include lots of blood red velvet, hopefully some (fake) fur, and maybe even some Christmas specific outfits!
Evil Santa
This might be slightly wishful thinking, but: nothing's really scarier than Demon Santa and we think Richard Coyle would just love to chew some scenery as a Dark Lord/St. Nick mashup. The more realistic option is a creepy demon or murderer in a spooky Santa costume, which is a classic genre staple.What do you hope to see in the Sabrina Christmas special? Cast a spell in the comments and let us know.
Images: Legendary, Netflix, Disney, Manson International