Sometimes the world forces us into situations we aren't prepared for, like being stuck at home with our kids. Oh, sure, children are great. Just great. They're the future, or whatever. But that doesn't mean we want them around all the time. It's good for them to get away from their parents. It's also good for us to get away from them. But if you suddenly find yourself trapped at home (by quarantine or otherwise) with them, you're going to need to do something to avoid going stir crazy.
For instance, watching something you'll love just as much as they do. Preferably something that has a whole lot of episodes. Fortunately for you, we know just what that should be. Here are 13 classic cartoons you and your kids can enjoy via streaming right now.
Netflix
The Magic School Bus
If your kids are missing school, you can still make sure they learn something, all while having some fun. Netflix has the entire four-season, 52-episode run of the original The Magic School Bus series. Not only does it still hold up, but Miss Frizzle's fantastic adventures will help you escape the doldrums of being stuck inside. And when you finish watching it, you can start the new version of the show starring SNL's Kate McKinnon as our favorite animated teacher.
Disney+
The Simpsons
One of the best things about rewatching old Simpsons episodes is picking up on jokes we missed as kids. The other best thing is everything else. Introduce your kids to the show's first eight seasons, which rank among the best television series ever. And if you end up stuck in the house for another six weeks months or so, you can just keep going. There are so many seasons that by the time you finish, a new one will probably be available.
Original DuckTales
Life really is like a hurricane sometimes. We're big fans of the new DuckTales reboot, but it can never replace the original's place in our heart. We grew up going on adventures with old Scrooge McDuck and his nephews Huey, Dewey, and Louie. And while we know you can't actually swim through a sea of gold coins, we'd still like to try. Also, despite the show only running for three seasons, there are still 101 episodes, plus a movie on Disney+. When you finish that, you can then move on to the modern version.
Darkwing Duck
Kids today, with their Iron Mans and their Captain Marvels, don't know about the greatest superhero of them all: the terror that flaps in the night! Okay, maybe Drake Mallard wasn't the best superhero, but he sure was funny. And a good dad! And since the world is extra scary right now, it will be comforting to get dangerous with old friend Darkwing Duck for 91 episodes.
Chip 'n Dale: Rescue Rangers
Heroes come in all shapes and sizes, including the two fearless detective Chip and Dale. Whether you were more of a Chip, serious and focused, or a Dale, mischievous and silly, the Rescue Rangers made for a great team. It's why the pair became an afternoon staple for kids in the early '90s. Now you can introduce your kids to them on Disney+. It has all 65 episodes of the series. Just don't get angry when your kid asks why Dale is dressed like Chief Hopper from Stranger Things.
Goof Troop
Goofy will always be funny, whether you're seven or 70. And he will always be one of the best single dads in TV history. You don't even need to have kids to justify rewatching all 78 episodes of the show, but it will be a lot of fun to watch the family show together. And when you're done with Goof Troop Disney+ has lots of other movies starring Goofy to watch too.
Hulu
Animaniacs and Pinky and the Brain
Please don't actually collapse from laughter. Just lie on the couch watch all five seasons and 99 episodes of the original Animaniacs on Hulu. Your kids will even learn from it.
Then follow it up with the show's spin-off series Pinky and the Brain. Hulu also has all three seasons of the show to stream right now.
Tiny Toon Adventures
You can't rewatch Animaniacs without also rewatching its sister series Tiny Toon Adventures. (Well, you could, but why would you?) It was also one of our favorite animated shows growing up. And in the same way old Looney Tunes cartoons still hold up, so do the tales of their tiny brethren. All three seasons and 98 episodes (featuring 163 segments) are available.
Rugrats
What better way to pass the time when you're trapped with your own little rugrats than to watch the beloved Nickelodeon series. All nine seasons of Tommy and the gang's imaginative adventures, epic battles with Reptar, and issues with heights are available on Hulu. Getting to revisit Rugrats is almost worth being quarantined.
Hey Arnold!
Why not make your unexpected extra time in the house a complete celebration of classic '90s Nick toons? After you finish up Rugrats you can start your rewatch of our favorite Friends of Stoop Kid with Hey Arnold! Not only does Hulu have all five seasons of the show, it also has the 2017 film Hey Arnold! The Jungle Movie.
Doug
You can then wrap up your revisit of great Nickelodeon animated shows with Doug. Let Doug's vivid imagination help you and your family get through any tough times. (Though you might end up with a song by The Beets stuck in your head as a result.) Hulu has the first four seasons of the show available.
Amazon Prime
SpongeBob Squarepants seasons one through five
SpongeBob Squarepants and Bikini Bottom will outlast us all. That's strangely comforting. But while we're still here we can watch the first five seasons of the show on Amazon Prime. Not only is the show an all-time classic, it can offer some needed perspective. You might be unexpectedly stuck at home with your kids for a while, but at least you aren't Squidward. He's been stuck with SpongeBob since 1999.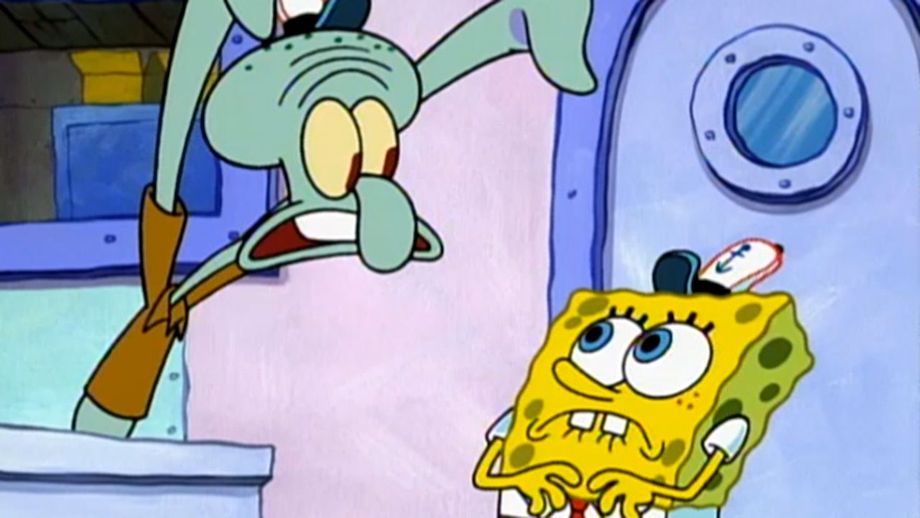 Nickelodeon
Also, if you're looking for some other classic 'toons, including The Jetsons, The Flintstones, The Smurfs, Garfield, Looney Tunes, Tom and Jerry, Popeye, and lots more, they are all on Boomerang. You can sign up for a one-week free trial. Hopefully, for all of us, you and your kids won't need more than a week's worth of cartoons. But it's nice to know they're there if you do.
Did we miss anything? Is there another classic cartoon we can stream right now? Tell us—and everyone else looking for something to help pass the time with their kids—in the comments below.
Featured Image: PBS/Warner Bros./Nickelodeon