Borderla nds 3 is bringing the mayhem—and the party—to PAX West in Seattle!
Gearbox and Nerdist are teaming up for a larger-than-life booth with 50 playable game stations, a party downtown with a cosplay runway, and announcements from the Gearbox Software panel. We can't wait to see you there!
Swing by Showbox SoDo (1700 1st Ave S, Seattle, WA 98134) on Friday, August 30 at 9:00 PM Pacific for a PAX party unlike any other. Not only will it be a packed house with music and dancing to rival the Borderlands 3 trailer, Nerdist's own Dan Casey is hosting a cosplay runway event featuring partygoers with stunning costumes and props!
Entry to the party is first come first served, so show up early. Borderlands cosplayers will have access to a priority line and be entered into a drawing to win a collector's edition of the new game.
Please note: This event is 21+ only. IDs will be checked at the door.
Before you party on Friday, though, be sure to attend the Gearbox Main Theater Show! On August 30 at 1:30 PM PDT in the Main Theater, you'll have the opportunity to get a closer look at the upcoming Borderlands 3, along with the latest news and updates from Gearbox Publishing. There will be never-before-seen reveals, exclusives, and surprises, so don't miss out!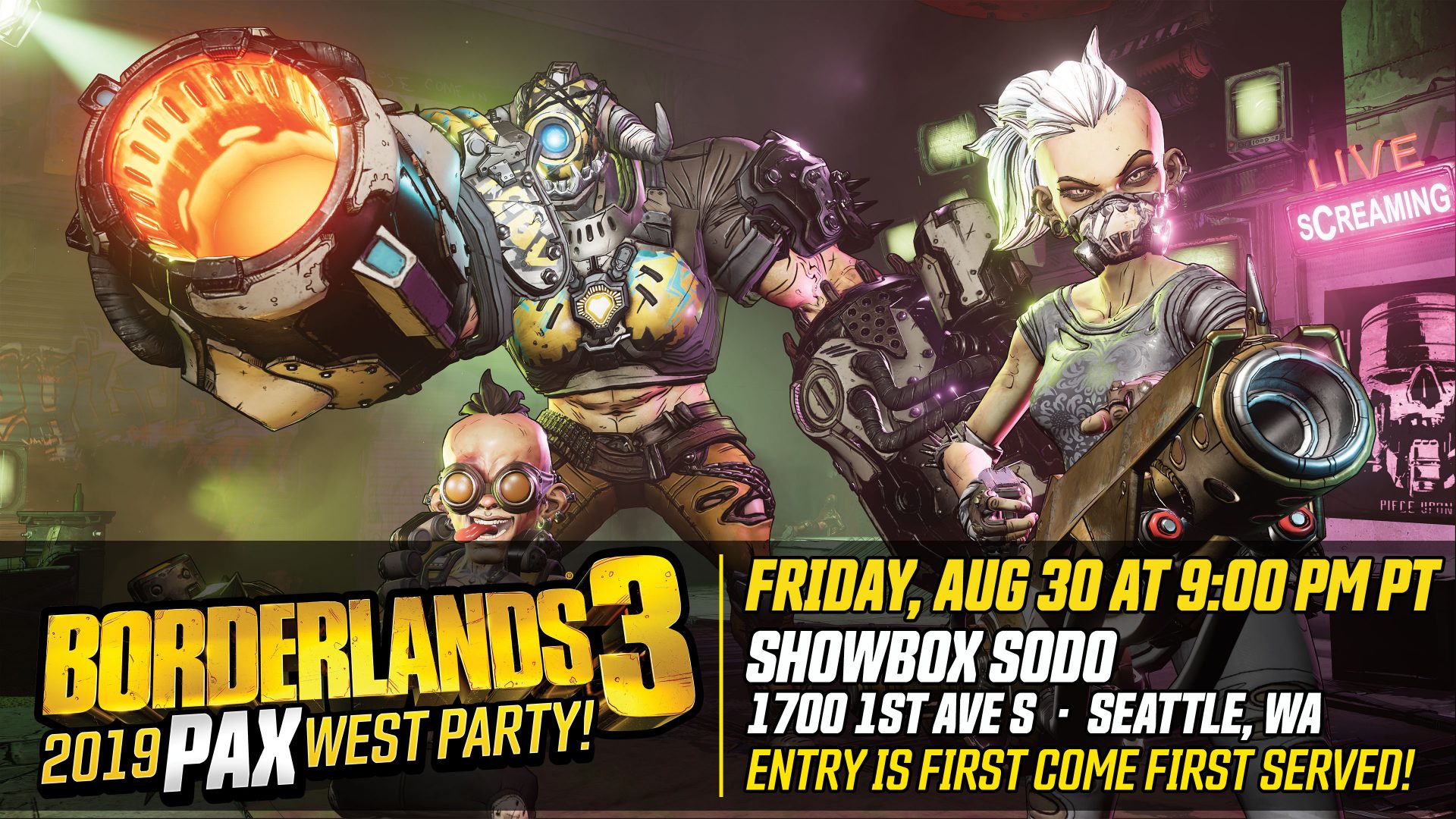 And don't forget during the four days of PAX West (August 30-September 2, 2019), you can play Borderlands 3 yourself when you visit the booth on the main show floor. You'll also find a cosplay video booth and more swag than you can fit in your carry-on.
We can't wait to meet all you Vault Hunters at one of these amazing Borderlands 3 events at PAX West! If you can't join us this time, make sure you tune into the Gearbox Main Theater Show livestream and stay tuned to Nerdist for news, behind-the-scenes, and more from PAX West.
This post is sponsored by 2K.