Batman has had many loves in his life. There's Talia, and Vicki Vale. Even Wonder Woman, in some versions of the character. But his main squeeze will forever be Selina Kyle, a.k.a. Catwoman. Their love affair has lasted over 82 years, ever since they first met in Batman #1. And it's still going strong today, as we all saw recently in The Batman.
Now, the folks at Sideshow Collectibles are celebrating "the Cat and the Bat" and their epic romance with a new deluxe diorama. This is a limited edition piece, with a production run to be determined. It'll set Bat/Cat fans back $680.00. You can read Sideshow's official description and check out some early images below: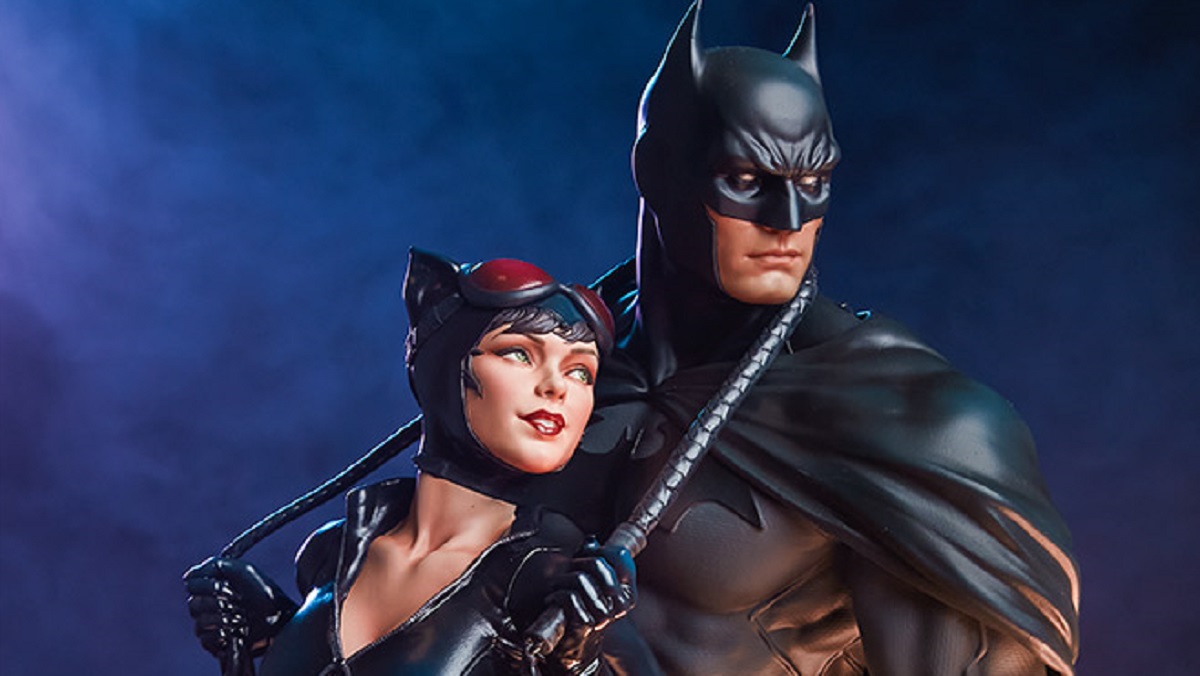 Here's how Sideshow describes the figures:
Measuring 20" tall and 9.25" wide, this fully sculpted polystone DC Comics statue depicts a Gotham City rooftop rendezvous. One with all the sensuality and playfulness that surrounds the relationship between the Dark Knight and his darling companion. Catwoman situates herself in front of her beau, mask off, and sultry smirk on. She's clad in a black catsuit as she slings her signature bullwhip across Batman's shoulders, back arched and eyes on the prize while she draws the Caped Crusader closer.
Selina Kyle has worn many costumes in her Catwoman career, some great, and some not so memorable. But they're choosing one of her most famous ones for this new diorama. The outfit Catwoman wears here came from the mind of the late, great artist Darwyn Cooke, back in the early 2000s. Superstar artist Jim Lee popularized this look even more, when he used it in the classic Batman story, " Hush." And it was clearly an inspiration for Zoe Kravitz's Selina Kyle wardrobe in The Batman.
The Batman/Catwoman diorama is already up for presale at the official Sideshow Collectibles site. The expected shipping date is May 2023 to August 2023.
Click To View Gallery