LEGO has announced five new Endgame sets that promise the Avengers aren't done fighting Thanos, whether it's on the road, in the air, at their compound, or in the Quantum Realm.
We're less than a month away from the release of Avengers: Endgame and there's still so much we don't know about the movie, but we're starting to learn more about the film's toys. After Hasbro announced tons of new figures and collectibles, LEGO has shared five new sets for the movie that are all available now. We still have to wait to find out whether these contain actual spoilers or are just fun playsets, but either they look like a lot of fun.
Captain America: Outriders Attack
This 167-piece Captain America set ($19.99) has Steve Rogers in his new helmet and Endgame suit, riding a motorcycle and fighting three Outriders (those gnarly creatures who attacked Wakanda in Infinity War). Cap's bike (2" high, 8" long, 2" wide) comes with a minifigure cockpit, two Captain America shield shooters, a front wheel with a detachable non-shooting blasters, attachment points for minifigures, a fold-down bike stand, headlights, and an exhaust flame. The blasters also fit into Captain America's hands, as does his shield.
War Machine Buster
This very intriguing, 362-piece set ($34.99) features four minifigs: War Machine and Ant-Man both in their new suits, and two Outriders. Of course the most exciting (possibly revealing) part is War Machine's giant Buster suit (6" high, 2" long, 5" wide). It includes a minifigure cockpit, a six-stud rapid shooter, two detachable stud-shooting cannons, two flick missiles, posable arms and legs, gripping hands, and an opening storage compartment for extra ammo.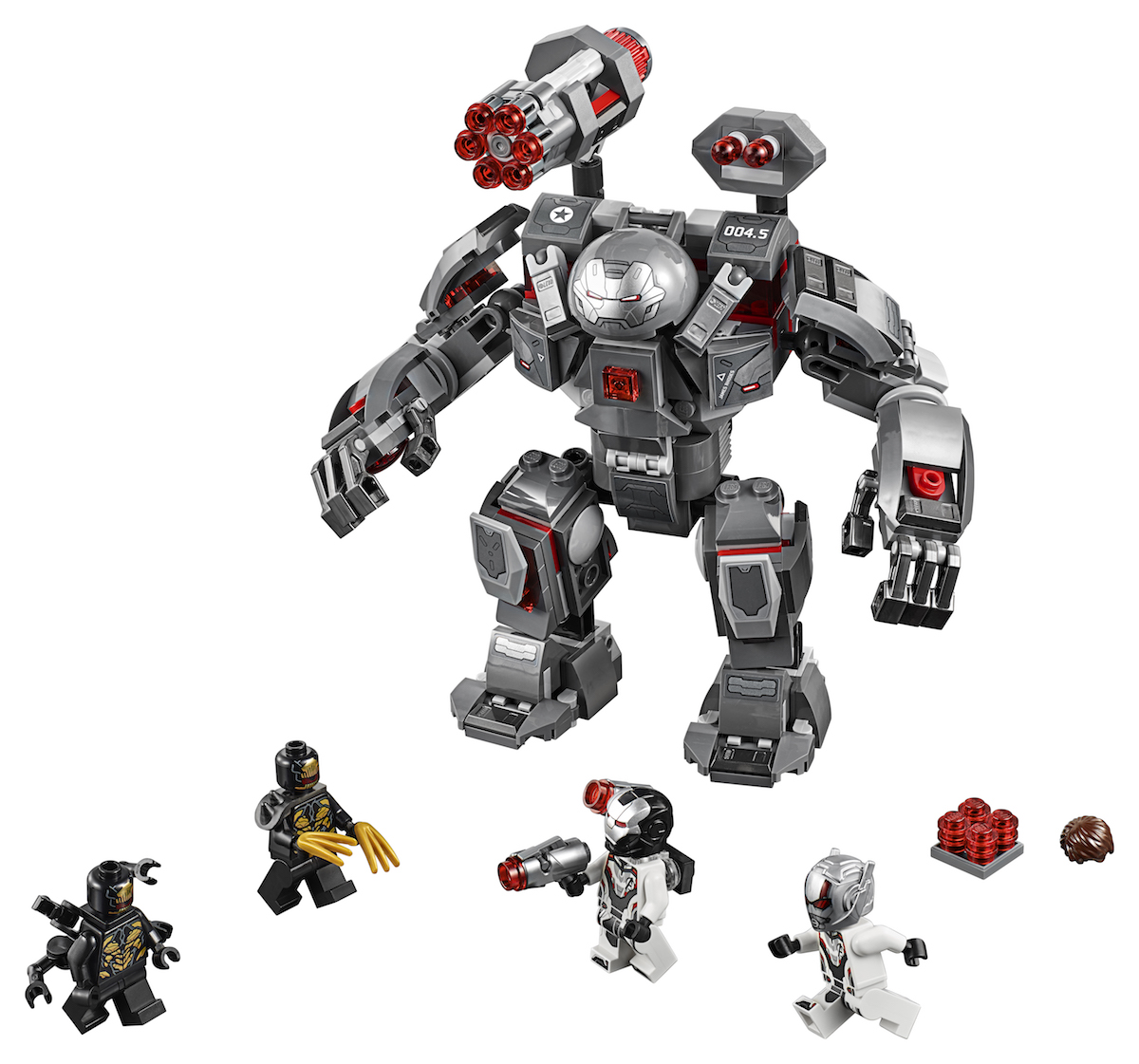 Iron Man Hall of Armor
Reminiscent of the crazed suit-building days of Tony Stark seen in Iron Man 3 is this 524-piece Hall of Armor set ($59.99). The five figures include the Iron Man MK 1, Iron Man MK 5, Iron Man MK 41, Iron Man MK 50, and an Outrider. The lab (which in standard formation stands over 5" high, 13" wide, 6" deep) comes with a rotating podium with two posable robotic arms, a desk with translucent-blue screen, minifigure chair and cup elements, a kitchen module with a buildable smoothie maker and cup section (nice), a weapon storage module with a stud shooter, power-up jetpack and energy beam section, a tool storage module with a wrench, radar dish, a safety barrier, fire extinguisher, two flame elements, and modules to store Iron Man suits.
Those modules are detachable so you can combine and stack them however you like, and the Igor suit (over 3" high, 1" long, 3" wide) also has a spot for another minifig to fit in.
Avengers Ultimate Quinjet
The Avengers' favorite ride, the Quinjet, is getting a new, Ultimate 838-piece set ($79.99). In addition to six minifigs—two Chitauri, along with Black Widow, Hawkeye, Rocket, and Thor in their new suits—the buildable Quinjet (over 4" high, 15" long, 11" wide) comes with a minifigure cockpit, two stud shooters, an opening passenger compartment with seats and weapon racks, an opening rear compartment with fold-out six-stud rapid shooter and trike, and adjustable wings and spinning rotors.
The figures are also ready for battle. Black Widow has two energy sticks, Hawkeye has his bow and arrow, Rocket is equipped with a gun, Thor has Stormbreaker, and the Chitauri have their own blasters (and no chance).
Avengers Compound Battle
While not the biggest of the new sets at 699 pieces, the Avengers Compound Battle does come with the biggest price tag ($99.99) and a Mad Titan. It includes regular figures of Iron Man, Captain Marvel, Nebula (in new suit), and an Outrider, along with over-sized, posable Hulk and Thanos figures (with only two Infinity Stones, hmm), and a micro Ant-Man figure (also in new suit).
The compound features two levels. The office building includes two Avengers logos, a rotating, tilting spring-loaded shooter on the rooftop, a lower level with an entrance, a rotating computer, a "laser-beam" safe. The upper level has a meeting room, table with secret compartment, a rotating door leading to the helipad and accessories (three chairs, two guns, three cups, and a jug).
There's also a a helipad with two dual stud shooters and a bridge to the office building, a garage for the buildable off-roader with a ramp, an opening barrier, a rotating, tilting radar dish, along with tool racks that come with a crowbar, wrench, welder, and circular saw. The set's helicopter has a cockpit for two minifigures, two spinning, tilting rotors, and a six-stud rapid shooter. Weapons and accessories include Nebula's sword, Thanos' double-sided battle axe, and 10 power bursts for Captain Marvel.
Even if these are spoilers, we still don't know a lot about the movie! But we're more excited than ever to see it.
Images: LEGO