Artemis Fowl fans have waited a long time for author Eoin Colfer's beloved book series to make it to the big screen. The film's first trailer was released way back in November 2018, which was roughly 37 years ago. Then director Kenneth Branagh's adaptation, originally set to hit theaters in August 2019, was pushed back to May 2020. But now, with just a couple months until its long-awaited premiere, Artemis Fowl has a new trailer. Just maybe not the one many fans were hoping for. In a version that completely flips the story we know, the movie appears to be turning literature's youngest villain into a hero.
From Disney's official synopsis:
"Disney's Artemis Fowl, based on the beloved book by Eoin Colfer, is a fantastical, spellbinding adventure that follows the journey of 12-year-old genius Artemis Fowl, a descendant of a long line of criminal masterminds, as he seeks to find his father who has mysteriously disappeared. With the help of his loyal protector Butler, Artemis sets out to find him, and in doing so uncovers an ancient, underground civilization—the amazingly advanced world of fairies. Deducing that his father's disappearance is somehow connected to the secretive, reclusive fairy world, cunning Artemis concocts a dangerous plan—so dangerous that he ultimately finds himself in a perilous war of wits with the all-powerful fairies."
Disney's official synopsis for the movie sounds exactly like the plot of the first Artemis Fowl book. However, this latest trailer features some significant changes. Here young Artemis (Ferdia Shaw) appears to be a hero, not a villain like in the novel. He's working with magical creatures to stop an even bigger enemy. Fan favorite Holly Short (played by Lara McDonnell), a fairy captain in the Lower Elements Police Reconnaissance force, is Artemis's main foil in the novel. She's the "good guy." Here though she's immediately presented as someone specifically sent to be Artemis's ally.
As is the dwarf Mulch Diggums (Josh Gad). That's another major departure from the book where Mulch is definitely not helping the young human. Disney seems to have made the decision to skip ahead in the story when it comes to character relationships. But without laying the groundwork for how those changes happen organically, they run the risk of those relationships not meaning as much.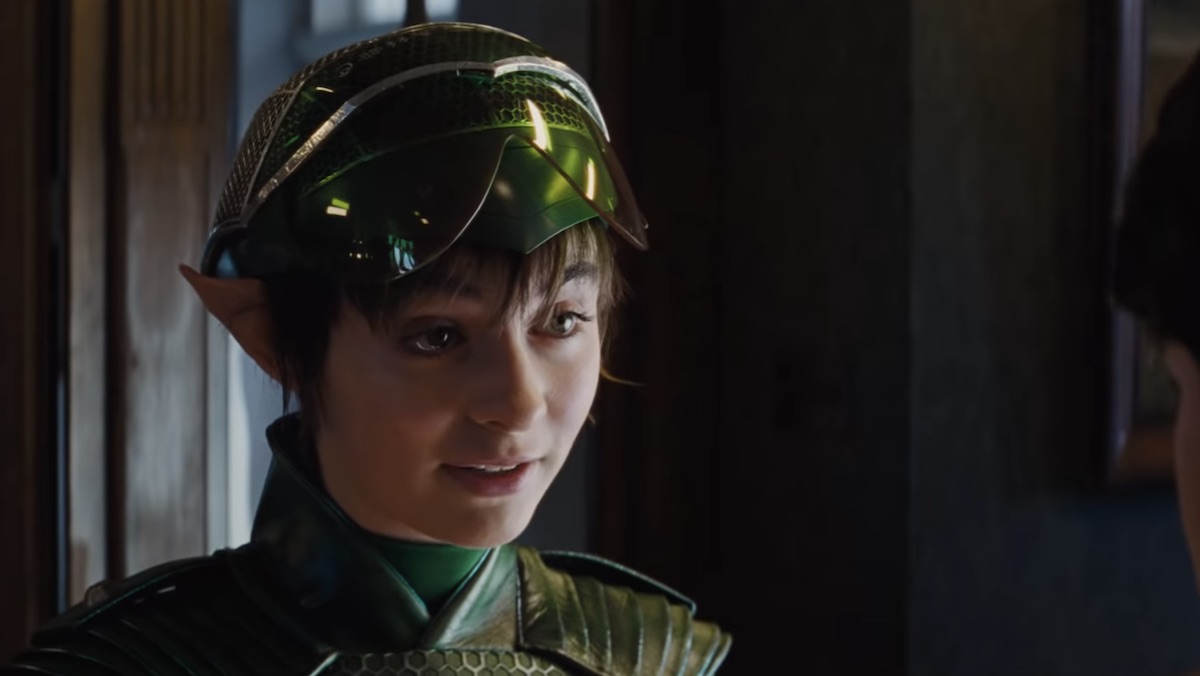 Disney
And by presenting Artemis as a hero, it completely upends one of the most appealing aspects of the character. He's 12 and clearly the bad guy. (Even if he can only be so bad.) There are plenty of YA heroes. Why not adapt one of those stories if you wanted a good guy main character?
Could these changes work? Of course. Movies are a different medium, and some of the best adaptations make major changes. However, that hasn't prevented the ire from fans of the book.
This is all wrong.
Artemis Fowl was a cold, calculating, genius villain. That's what made the books unique, because he was the villain but you still cheered for him.

Then Disney comes along, throws pixie dust at Artemis and now he's a good boy hero with a heart of gold. https://t.co/GUy16wDeSU

— 🇲🇽🇩🇴 ʇoN 𝕵𝖔𝖘𝖎𝖊 𝕲𝖗𝖔𝖘𝖘𝖞 𝐵𝐿𝑀 ACAB (@NotJosieGrossy) March 2, 2020
Error occurred!
Probably not a great sign for enthusiasm when your trailer makes people commiserate with Percy Jackson readers.
Error occurred!
Artemis Fowl fans 🤝 Percy Jackson fans

On realizing their beloved books have been butchered as movie "adaptations" by Fox and Disney pic.twitter.com/oolmrI7atF

— 🎃🧋 VforVera¹⁷🧋🎃 (@VforVintageVera) March 2, 2020
Upset by this trailer? We get it. Our advice though is to keep doing what Artemis Fowl fans have done for a long time: wait until you see the movie. Then judge it. Hopefully it can find the right kind of magic to make your patience pay off.
Colin Farrell, Judi Dench, Hong Chau, and Nikesh Patel also star in the film.
Artemis Fowl comes to theaters (finally) on May 29, 2020.
Featured Image: Disney