Update: Season two finally has an official release date. Viewers' long wait will come to an end on March 10, when the eight-episode second season kicks off at 8PM ET/PT on Starz.The announcement also came with a new synopsis of the season, and a very stylish poster featuring Ricky Whittle's Shadow Moon and Ian McShane's Mr. Wednesday.
"We were forged in God's image, but the Gods are also made in ours — and in Season Two the battle moves inexorably toward crisis point as the destinies of gods and men collide. While Mr. World plots revenge for the attack against him in Season One, Shadow throws in his lot with Wednesday's attempt to convince the Old Gods of the case for full-out war, with Laura and Mad Sweeney in tow. A council at the House on the Rock explodes into chaos, sending deities both Old and New on quests across America that will converge on Cairo, Illinois: forcing Shadow to carve out a place as a believer in this strange new world of living gods — a dark world where change demands commitment, and faith requires terrible sacrifice."
We've waited a long time for the new season, at least now we know when our prayers will be answered.Original postDespite a stellar first season that accomplished what many thought was impossible—bringing to life Neil Gaiman's epic fantasy novel, while also beautifully expanding on the book with new adventures and characters—the conversation around American Gods' second season has been dominated by controversy. First was the shocking news that show runners Bryan Fuller and Michael Green were leaving the series, and then the disappointing departures of cast members Gillian Anderson and Kristin Chenoweth, which all contributed to a delay in production on the second season. And most recently, a stunning report by Collider that new showrunner Jesse Alexander had been "sidelined" before the final episode was set to be shot, amid growing unhappiness from the cast and Gaiman.Understandably all of these issues have fans worried that the show would be taking an unholy dip in quality onscreen. But some of those worries were eased on Friday at New York Comic Con when Starz blessed viewers with a teaser that promises to bring fans to one of the book's most memorable locales, taking a major step on the path to all-out war among the old gods and the new.

From the very beginning, fans of the book have been waiting to see the House on the Rock, where Ian McShane's Mr. Wednesday will meet with his fellow old gods to convince them to fight for their existence. Getting to finally see that strange, infamous tourist attraction and its massive, magical carousel would have been enough to get any fan of the novel excited for the upcoming season, but we also get to see the old gods of season one—including Mr. Wednesday in his classic Odin eye-patched Norse appearance—in their original form. (Though Orlando Jones' Mr. Nancy still wins for most stylish aesthetic.)
They'll need to unite, because as Crispin Glover's mysterious and powerful new god Mr. World says from what looks like a dark base of operations, "A storm is coming." Helping him in that fight is the newest new-god, New Media played Kahyun Kim, who replaced Gillian Anderson's Old Media. With her younger, modern rockstar look we expect her to challenge Technology Boy for the God of choice for millennials.
But while this teaser promises to bring the show closer to the war Mr. Wednesday wants so badly, we also get another major storyline of the season, Shadow Moon's immersion into the world of gods. In season one Ricky Whittle's Shadow was only on the fringe of what was actually happening, unsure what was real or dream, like when his dead wife showed up, not fully aware of just who his boss is. Season one ended with his eyes being open to the hidden world around him, and based on this teaser the new season will find Shadow learning to exist and make sense of his new surreal reality. As Pablo Shreiber's Mad Sweeney says to him, he's truly "in the fairy tale now."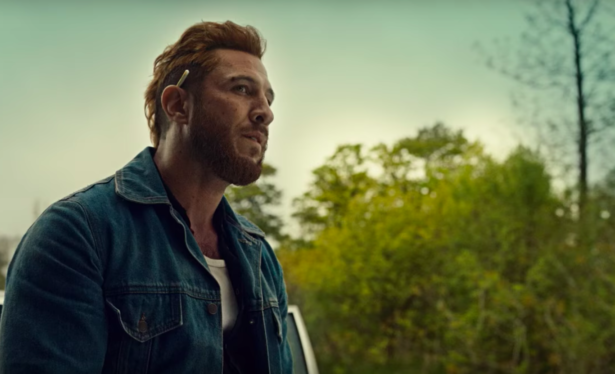 Until now viewers didn't know what to believe about the second season either, and while a great teaser doesn't promise a great season, this one certainly has restored some of our faith in the show.
What do you think of this first look? Are you less worried than you were before? What do you expect from the second season? We're praying you'll share your thoughts with us in the comments section below.

Images: Starz