I don't know if the '90s ruled, but Beavis and Butt-Head definitely did. Mike Judge's animated series about two super dumb, super lazy teenagers with an affinity for music videos was unlike anything else on TV. Well, if you also loved the classic cartoon and are looking for a way to wear your nostalgia, next month adidas will let you totally score some new swag inspired by the duo's time in the fast food industry.
Adidas Skateboarding and MTV have teamed up for a limited-edition collection dedicated to the duos' experience as employees at Burger World. The collection is highlighted by the dumbasses' (a term of endearment for them) very own version of the recently released 3MC sneakers. The black shoes with a white soles are covered in Beavis and Butt-Head and Burger World graphics. They would look pretty good with the black lightweight jacket that says "Burger World" on the front, with their faces on the back.
Fans who want to be able to scream, "I am the Great Cornholio!" can also grab two different t-shirts. The white tee has the pair recovering from a spill, and the black t-shirt has the adidas logo over a palette of Burger World menu items.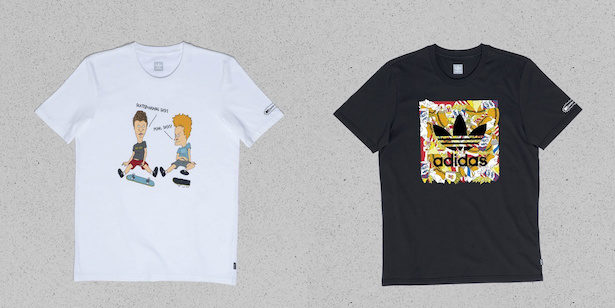 The last piece is a gray, fleece-blend pullover hoodie that shows the two hard at work (huh huh, "hard"), with their names down the left sleeve.
The entire collection will be available on November 3rd at the adidas Skateboarding website and at adidas Skateboarding retailers worldwide.Remember, though, these are limited-edition, so unless you want to be like Beavis and Butt-Head, act fast or you won't score any. That would not rule. That would totally suck.What's your favorite moment from Beavis and Butt-Head's time at Burger World? Serve up yours in our comments section below.
Images: adidas Skateboarding