From the lengthy list of Disney's continually growing cast of animated characters, only one will make you believe an elephant can fly. The long-anticipated live-action adaptation of Disney's Dumbo is officially headed to the big screen later this month with director Tim Burton at the helm–you could call him the film's ringleader, in a sense.
And when Nerdist, along with a small group of outlets, had the chance to visit the set of Dumbo, we learned a slew of interesting tidbits from costume designer Colleen Atwood, production designer Rick Heinrichs and producers Justin Springer and Derek Frey, all of which made us even more ready to believe.
There are nods to the original cartoon all along the way.
When it came time to start building the world of Dumbo with costumes, the biggest reference point was the source material itself. According to Atwood, she and her team went back to the 1941 animated film constantly, not just for shaping each costume element but also in the overall color scheme that the thoroughly impressive and extensive wardrobe employs. "The cartoon is really important to me as far as the telling of the story in the sense of the graphic and the color palette," Atwood told us. "There are nods to the cartoon all the way along." In fact, the second show that Max Medici's (Danny DeVito) struggling circus puts on in the film directly references the famous scene featuring all those clowns and fire engines.
You won't see any characteristic Tim Burton "black-and-white stripes" in the costume design.
Atwood and Burton are frequent co-collaborators — she's worked on over 10 films with the director, supplying the looks for films like Miss Peregrine's Home for Peculiar Children, Sweeney Todd, Sleepy Hollow, Big Fish and Edward Scissorhands–and she told us that she'd found ways to honor Burton's commonly-recognized aesthetic while also trying to avoid certain Burton-esque costume tropes. "With Tim, you kind of pay homage to Tim. He's a singular vision and a true artist in his own way," Atwood said. But don't think that means that any of those tell-tale black-and-white stripes will show up; Atwood mentioned she decided to leave out that pattern this time around.
Even Dumbo needed his own wardrobe.
Dumbo might be a mostly computer-generated character, but even he needed a few different looks handmade for the film. Atwood told us the costumes teams physically created outfits for Dumbo, including pieces like a large baby bonnet, which were then scanned by the visual effects team for Dumbo to "try on" and "wear," but also in order for Burton to have a sense of what Dumbo's costumes would look like in person.
Footage of real-life elephants informed the overall design of Dumbo.
Heinrichs shared that the process of designing Dumbo started with studying elephants and how they move in the real world. However, when it came time to actually start working on what the character would look like, the visual effects team used the cartoon as a reference point while adding more realistic qualities into the mix. Dumbo doesn't just have those big ears, for example; he has those big baby-blue eyes, too, but Heinrichs says that Dumbo's expressiveness isn't that far off from the faces baby elephants pull from time to time.
Dumbo is the only animal with any magical qualities.
Of course, there are a lot of real-life physics to consider when creating a flying elephant, but Heinrichs said that they were constantly trying to walk a fine line between the classic storybook elements of the original animation and the logistics of Dumbo's ability to fly. Dumbo will have a bit of a "learning curve" when it comes to trying to figure out how to use his abilities — there won't be any soaring right off the bat, as Springer and Frey noted. Nor are there any talking animals to lend words of advice or cruelly tease the big-eared pachyderm.
There are live animals thrown into the mix too.
While several other animals were created as CG elements, including Dumbo's mom Mrs. Jumbo, there are real animals in the film as well, although the movie isn't necessarily overrun by them. In the story itself, Medici's circus has fallen on hard times and has had to ditch a lot of its animal acts, but there will be real animal actors, like poodles and horses, mixed into the story.
None of the movie was shot on location.

The film was completely shot at Pinewood Studios and the Cardington hangars, on which sets were built for Medici's circus as well as V. A. Vandevere's (Michael Keaton) impressive mega-circus known as Dreamland, and aerial artist Colette's (Eva Green) luxurious apartment.

Burton cast real circus performers to add a greater sense of authenticity to the film.
Although several of the main actors in Dumbo don't necessarily have a lot of circus experience, the same isn't true for the supporting cast, many of whom were hand-selected by Burton in order to integrate their actual skills into the story. Springer and Frey shared an anecdote about the director casting for the film based on a performance from a circus act he saw. Part of the fun of the film will be picking out those bonafide performers who are lending their talents to make the magic world of Dumbo feel more grounded in reality.
Keep your eyes peeled for movie posters starring Eva Green's character Colette.
If you pay close attention, you'll be able to spot the Old Hollywood-style film posters in Colette's apartment that Heinrichs and his team designed to showcase her long-ranging career. These are movies you won't be able to rent, unfortunately, but you'll be able to see posters for such made-up flicks as The Curtain Falls, Naughty but Nice, and Canary in a Coal Mine.
Two intertwining perspectives make up the plot of the film.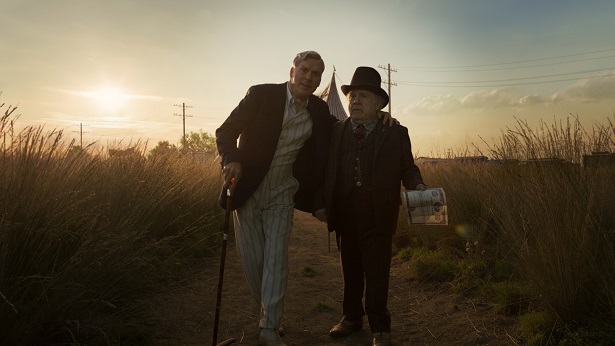 The major difference between the original movie and Burton's will be the addition of a "human counterpart to Dumbo's story." Although most of the story is still from Dumbo's POV, as it was in the original animated movie, his journey is now intertwined with the family who discover his secret, including Holt Farrier (Colin Farrell) and his two young children. Springer and Frey said that over the course of the film, the two stories inform one another thanks to the family's experience with Dumbo.
Dumbo will premiere in the U.S. on March 29.
Images: Disney