Love is in the air as Valentine's Day approaches! Or encroaches, depending on how you feel about sickly sweet cards and candy, and the general sappiness that comes with this pink-drenched time of year.
If you're anything like me, permanently melancholy and only into love when it's moody and weird, the quickest way to your heart is through terror. With that in mind, I've rounded up ten different Valentine's Day cards and presents inspired by spookiness that are perfect for ghouls like me, and that can serve as inspiration for your own gift-giving this year.
Hannibal Valentine's Card by TheStuckShop
Give the gift of cannibalism to the Hannibal obsessive in your life. That may look like a turkey, but I wouldn't be so sure. (Purchase here for $4.)
How cute are these little soap hearts? They may look nice and spooky on their own, but they're actually made with thieves oil, which got its name from the men who would rub the concoction on their bodies during the Black Plague to avoid disease. How romantic! (Purchase here for $13.)
Cute Bat Valentine's Card by IsabelleMouton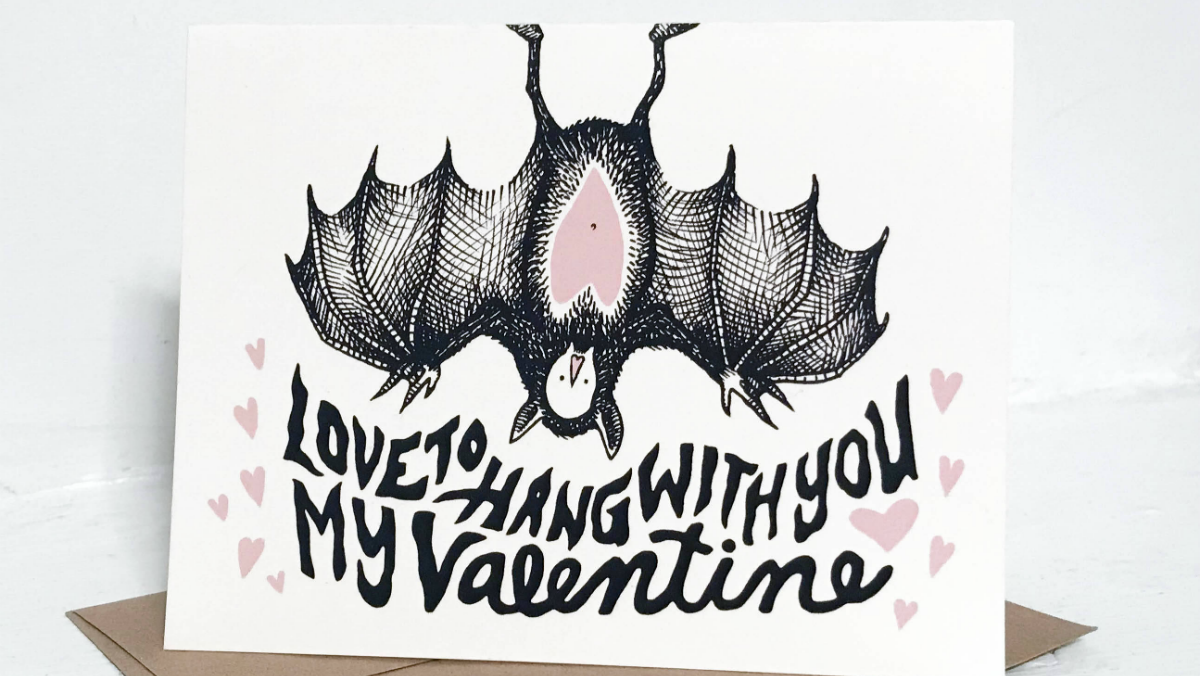 If "weird but cute" is more of your partner's thing than straight-up spooky, this bat card has an Edward Gorey vibe but pink! (Purchase it here for $4.)
February the 14th Mug by MovieHouse
What's a good alternative to a card that still gets the whole "I love you" thing across? A Valentine's Day mug that spoofs a slasher classic, of course! Let your lover feast on the blood of their enemies (or, you know, coffee) with this gem. (Purchase it here for $14.95.)
Jack Torrance Valentine's Card by Ratbeef
All work and no play makes Jack Torrance a… man filled to the brim with affection for his wife? That's not how things play out in The Shining, but this card is still a super rad pick for any horror lover. (Purchase it here for $3.73.)
Cthulhu Belgian Milk Chocolate Bar by Ganderwick
Who needs regular chocolate when you can have cosmic horror chocolate? This tentacled chocolate bar is made from milk chocolate and painted with an edible bronze color coating, for optimal shininess. (Purchase it here for $13.50.)
Pan's Labyrinth Pale Man Valetine's Card by LittleSpookyStudio
Guillermo del Toro is known for movies with haunting creature design, and the Pale Man from Pan's Labyrinth still haunts my dreams. Why not haunt your Valentine's dreams, too, with this card that makes the dude look almost cute? (Purchase it here for $4.)
Instead of putting a ring on it why not put a pin in it? This Hellraiser-inspired heart necklace set is perfect for the couple who want to die together in an extradimensional realm! (Purchase them here for $16.28/necklace.)
This one is extra demented but hey, that's what this list is for! Scare the pants off your Netflix-obsessed significant other with this card from You, featuring Penny Badgley's Joe, who is a murderer and a stalker and definitely no one to aspire to, but the card is definitely worth a laugh. (Purchase it here for $3.73.)
"My Heart Burns There Too" IT Keychain by ClaireyLouCreations
If you've seen or read It, then you'll recognize this phrase as part of a poem that Ben writes for Bev, his crush. "Your hair is winter fire / January embers / My heart burns there too." Now, you can pass the same sweet message along to your loved one on Valentine's Day. Bonus points if they're a redhead. (Purchase it here for $12.)
Images: Universal Pictures, TheStuckShop, ParanormalBathtivity, IsabelleMounton, MovieHouse, Ratbeef, Ganderwick, LittleSpookyStudio, AlternativeJewellery, GrizzlyPaperCraft, ClaireyLouCreations.