Welcome back to Music Dispatch! It's a new year, a new day, and we have a load of new music happenings to share with you from around the web, including (but not limited to) an art installation by PJ Harvey, an X-ray of Bono's elbow, and a pair of stinky shoes from Mac DeMarco. Before we jump into all that, though, how about joining us on a nostalgic trip down memory lane, all the way back to that carefree time of six whole days ago, and check out Nerdist's Top 10 Albums and Top 50 Tracks of 2014, both curated by our emotional Music Editor, Matt Grosinger.
Good lists, right? Okay, lets get on with the news:
Kanye West and Paul McCartney have collaborated on a ballad, with West improvising on vocals as Sir Paul improvises on the keys. The sweet and simple song is available to stream right now on kanyewest.com, and, as West explains, through the song, he channels his mother Donda: "My mom was singing to me, and through me to my daughter." Following the track's release, Ty Dolla $ign revealed that even more collabs between West and McCartney are on their way, and he and Rihanna will also be appearing alongside the music icons on at least one. [Consequence of Sound]
In related news, and in the first SMH moment of 2015, either the Daily Mail can't tell when people are joking, or Kanye fans are asking, "Who this Paul McCartney guy Yeezus discovered?". But since this is the internet we are talking about, we have to assume the trolls have mobilized and this is likely a ploy to make the media think people are dumb enough not to know who the most revered living musician is. Nice try, trolls. Nice try. (Check out our recent Nerdist Podcast with Sir Paul, and go behind the scenes of his Destiny music video right here.)

Death Grips supposedly broke up last year, but promised the eventual release of the second half of their much hyped double-album The Powers That B/jenny death. Now, the experimental hip hop group has dropped a surprise instrumental soundtrack, called Fashion Week, with the last letter of each track spelling out "JENNY DEATH WHEN," leaving redditors to speculate that the album release will coincide with February's NYC's Fashion Week. The instrumental album is available to stream on YouTube, SoundCloud and available for free download from the Death Grips' website. [Spin]
Forget The Artist is Present. With her upcoming studio album, the incomparable and influential rocker PJ Harvey will not only be present, she will be working, as she records her album live within an art installation in London's Somerset House. Between January 16th and February 14th, attendees can observe Harvey work with her producers Flood and John Parish through one-way glass, as they create the album Recording In Progress. Tickets are on sale now. [Pitchfork]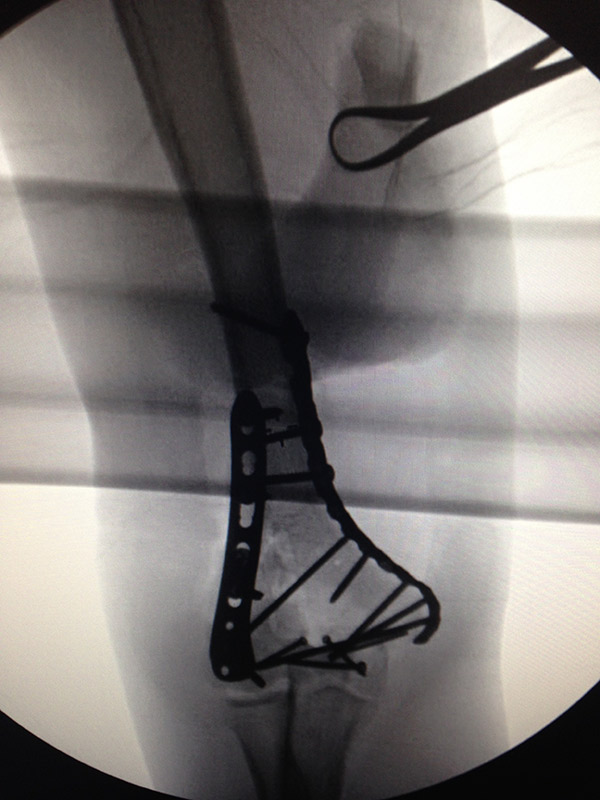 Bono's Titanium Elbow: In a 6,000 word end-of-the-year blog post on the U2 website, Bono revealed that he may never be able to play the guitar again following his brutal November bike crash in New York's Central Park. While he lamented his lost ability, he also joked about the situation, sharing an x-ray of his newly bionic arm and saying, "The band have reminded me that neither they nor Western civilization are depending on this. I personally would very much miss fingering the frets of my green Irish falcon or my (RED) Gretsch. Just for the pleasure, aside from writing tunes. But then does the Edge, or Jimmy Page, or any guitarist you know have a titanium elbow, as I do now? I'm all elbows, I am." [Rolling Stone]

Janglepop oddball Mac DeMarco sold a pair of old, "stinky shoes" on eBay, and made a clean, $21,100 profit, with the proceeds going to the Willie Mae Rock Camp for Girls. The shoes, which DeMarco estimated would last another two months if worn regularly, passed his girlfriend's smell test, which surely convinced any 4 bidders. [Pigeons & Planes]
In a heartfelt, ALL CAPS instragram post, singer-songwriter Lykke Li broke the news that she will be taking an immediate and indefinite break from performing, as to focus on her health, posting, "I am utterly devastated, sometimes we push and push but the body simply won't follow. I gave it all I had, my body, heart and soul. After 7 years of touring my health is screaming/begging for me to listen/heal/slow down…I love you. I will come back. stronger. But for now my loves, I have to rest." [Consequence of Sound]
Also from the world of Instagram, a mysterious photo of First Daughter Malia Obama popped up on the Pro Era crew's Instagram account, lighting the blogosphere on fire with speculation into the teenager's musical tastes, and just why and how this earth-shaking photo happened. Gawker reached out to Joey Bada$$ for more information, and learned that Pro Era received the photo from "a mutual friend of Malia and the pro era member." So mystery solved, we guess. [MTV]

Before we go, here's footage of a McDonald's-themed Black Sabbath cover band called Mac Sabbath. We're loving it. [Loudwire]
Have a stellar 2015, and we will pick off from where we left right here on Wednesday!