Wonder Woman has long been an icon and hero for all of us. Her decades-long career has seen Diana Prince inspire some of the most powerful people on Earth. A new graphic novel anthology from DC Comics recognizes Diana's impact. Helmed by bestselling author and YA icon Laurie Halse Anderson Wonder Women of History celebrates "real-world heroes who take up Wonder Woman's iconic mantle and work in the fields of science, social justice activism, politics, and more." The book shares its name with iconic spy, Nazi-fighter, and DC editor Alice Marble's column that used to run in Golden Age Women Woman comics.
You can check out our exclusive reveal of the radical cover below!
DC Comics
" Wonder Woman has been an iconic figure for girls and women around the world for generations," Anderson told Nerdist. "She gave me the example of a woman who combined justice, compassion, athleticism, and power that I needed. When the good people at DC brought up the idea of an anthology of real-life Wonder Women to me, I was on board instantly."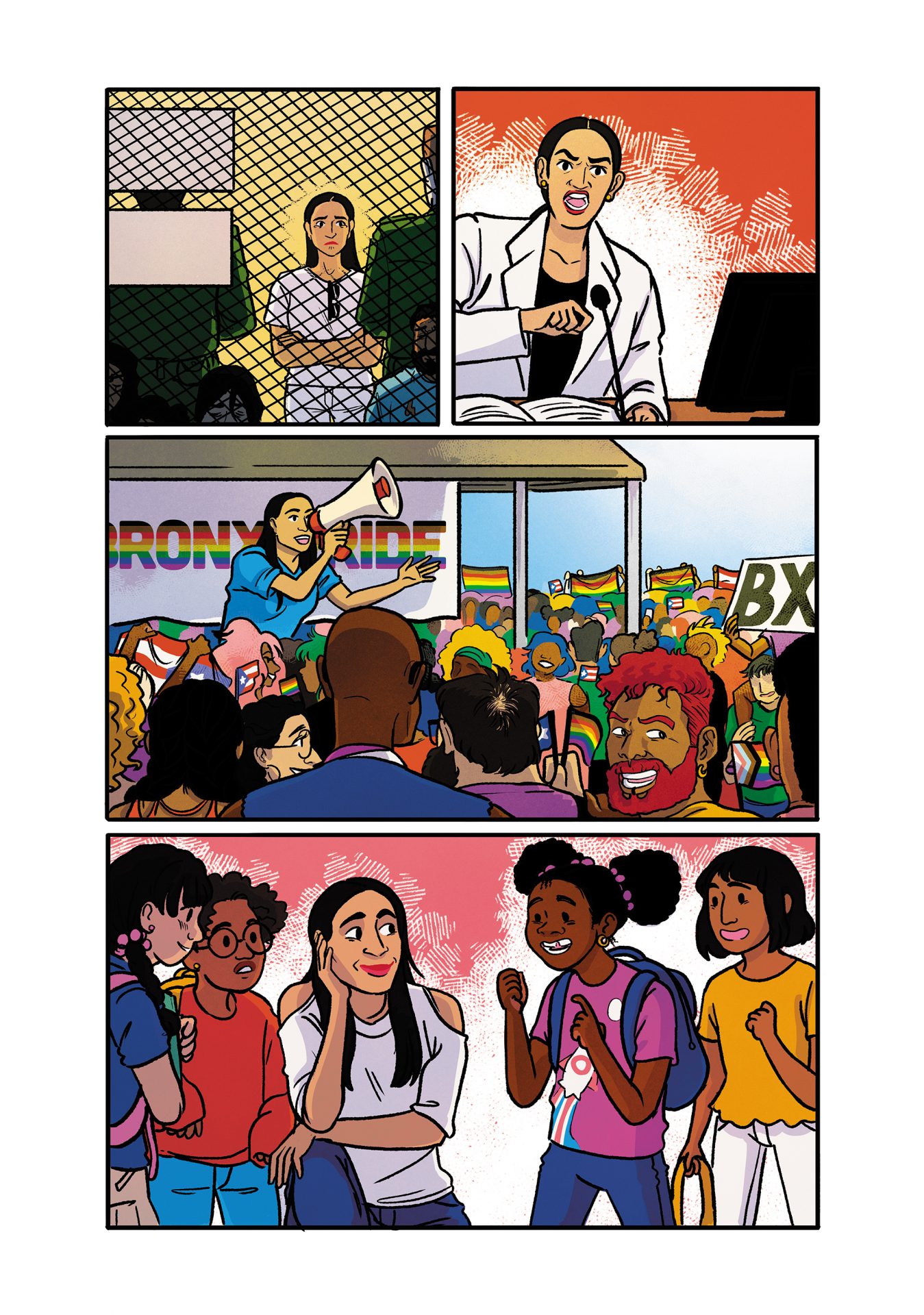 DC Comics, art by Anastasia Longoria
Anderson's passion is clear and she has a vision for what she hopes readers will take away from the beautiful tome. "Our kids are hungry for examples of women and girls who have fought against oppressive systems to make the world a better place," the author explained. "The incredible writers and artists in this anthology have created a masterpiece filled with those examples. Our book will inspire and strengthen every reader who picks it up!"
Wonder Women of History features art and stories by an impressive roster of talent which Nerdist is proud to reveal for the first time right here:
Alexandria Ocasio-Cortez – written by Lilliam Rivera and drawn by Anastasia Longoria
Ruth Bader Ginsburg – written by Lilah Sturges and drawn by Devaki Neogi
Elizabeth Warren – written and drawn by Renae De Liz
Rashida Tlaib – written and drawn by Marguerite Dabaie
Teara Fraser – written by Traci Sorell and drawn by Natasha Donovan
Beyoncé – written by Mikki Kendall and drawn A. D'Amico
Mari Copeny – written by Olugbemisola Rhuday-Perkovich and drawn by Sharee Miller
Edith Windsor – written by Amanda Deibert and drawn by Cat Staggs
Marsha P. Johnson – written by Jadzia Axelrod and drawn by Michaela Washington
Emma Gonzalez – written by Kami Garcia and drawn by Igzell
Judith Heumann – written by Marieke Nijkamp and drawn by Ashanti Fortson
Ellen Ochoa – written by Cecil Castellucci and drawn by Carina Guevara
Shi Zhengli – written by Emily X.R. Pan and drawn by Wendy Xu
Serena Williams – written by Danielle Paige and drawn by Brittney Williams
Tig Notaro – written by Sara Farizan and drawn by Nicole Goux
Keiko Agena – written by Sarah Kuhn and drawn by Lynn Yoshii
Dominique Dawes – written by Danny Lore and drawn by Robyn Smith
Janelle Monae – written by Vita Ayala and drawn by O'Neill Jones
DC Comics, art by Marguerite Dabaie
One of the writers behind the brilliant book is Marieke Nijkamp. They're the first disabled author to ever write Barbara Gordon in the recent Oracle Code graphic novel for DC. When it came time to pick who they would highlight in the book, Nijkamp immediately knew where to start. "It was both incredibly easy and very complicated," the writer told Nerdist. "I knew from the start I wanted to focus on a disabled activist, and there are so many amazing disabled women (and disabled people of all genders) out there fighting for disability rights and justice that at times it felt impossible to narrow that scope."
Nijkamp continued, "But I also knew I wanted to shine a light on the rich history of disability rights activism, including some of the essential turning points—like the 504 Sit-In. With that in mind, and especially combined with the release of Crip Camp: A Disability Revolution earlier this year, as well as her own memoir (Being Heumann), Judy Heumann was the very obvious right choice. Not just as a wonder woman of disability history, but also as part of a broader story."
Picking just one person to highlight was incredibly hard but Nijkamp found a loophole. "When you read our story, you'll find that I cheated a little and many of the people who didn't make the cut still show up in the narrative," the author shared. "It was incredibly important to me to show that activism is a communal effort, and to reflect how varied and diverse the disability experience is. I'm very grateful we were able to do that!"
They also told us who their top runner up was for being highlighted in the book. "I'd say Alice Wong. If future anthologists look back on where we are now, Alice is going to be one of the essential disability activists of this time, especially when it comes to supporting, platforming, and preserving disabled voices and narratives. She's also the editor of Disability Visibility: First-Person Stories from the Twenty-First Century, which is an essential, must-read collection of essays for anyone who wants to know more about or better understand disability justice."
DC Comics, art by A. D'Amico
Just like Anderson, Nijkamp has a wish for what readers will take away when they read their story. "I hope it challenges readers to ask questions of the world around them and their own position in it, I hope it challenges them to continue to demand access and inclusiveness for all, and I hope it challenges them to keep fighting for a better world."
You'll be able to learn more about the book at the DC FanDome panel "New Voices of Wonder Woman," moderated by me… Rosie Knight! The panel will take place on Saturday, September 12. Wonder Women of History goes on sale on December 1, 2020 and you can pre-order it now.
Featured Image: DC Comics