You may not shell out for the fastest internet on the market, but that doesn't mean you should deal with lagging games. If the computer on your wrist is more powerful than the Apollo 11's, you shouldn't have to wait for videos to load. The Wi-Fi Booster Repeater Signal Amplifier by URG Lightning can amplify your choppy signal without losing connection quality. Right now, you can get it for $29.99 (Reg. $44).
The American national average for WiFi speed is barely over 99Mbps, but this WiFi extender can boost your signal strength by up to 300Mbps, or 3 times stronger. It's universally compatible with all 802.11/b/g/n/a, which means it'll work with pretty much any standard router. The Wifi Booster delivers a range of 2,640 square feet; considering the average range is only a few hundred feet, that's a noticeable difference.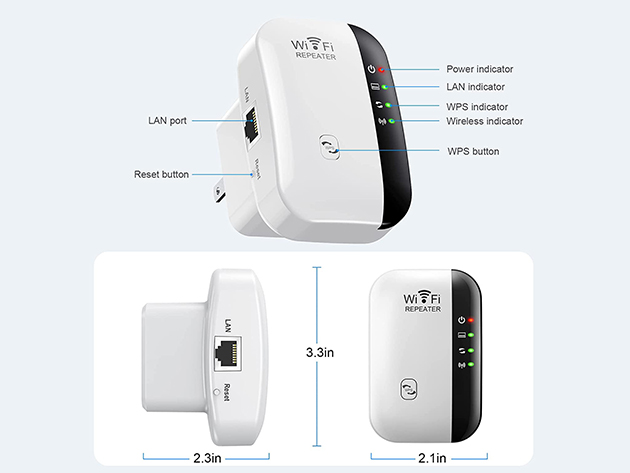 The WiFi Booster is great for all kinds of users. Deadzone-riddled homes can have a strong enough connection to stream movies in rooms that wouldn't normally have a signal. Remote workers don't have to worry about losing a day's worth of work due to signal drops. Gamers and streamers can keep their software running without tanking their connection.
It's easy to use too. To connect, press the repeater's WPS button, then your router's, and then plug the repeater wherever you want it. Experiment until you find the perfect location for your home and WiFi connection.
Erase dead zones, get a stronger signal, and enjoy faster internet with this WiFi amplifier. Right now, we have the best price on the web for the WiFi Booster Repeater Signal Amplifier at only $29.99 (Reg. $44).
Prices subject to change
Featured Image: StackCommerce
This post has affiliate links, which means we may earn advertising money if you buy something. This doesn't cost you anything extra, we just have to give you the heads up for legal reasons. Click away!