Wearing an Apple Watch is like having a personal assistant, health and wellness partner, DJ, and receptionist around your wrist. But if you're a musician, there's an even smarter watch to wear. While this one is $30 off, you can get an extra $40 in savings when you enter CORE40 at checkout.
The Soundbrenner Smart Watch for Musicians is specifically designed for those who play instruments. It can add convenience to any musicians' practice, and improve their skills with its multifunctional metronome, contact tuner, and dB meter.
Stop lugging around, or worse, forgetting the important tools that can really refine your sound. Just sit down and start practicing. No more setup hassle. With the Soundbrenner Smart Watch, your tools are at the convenience of your wrist.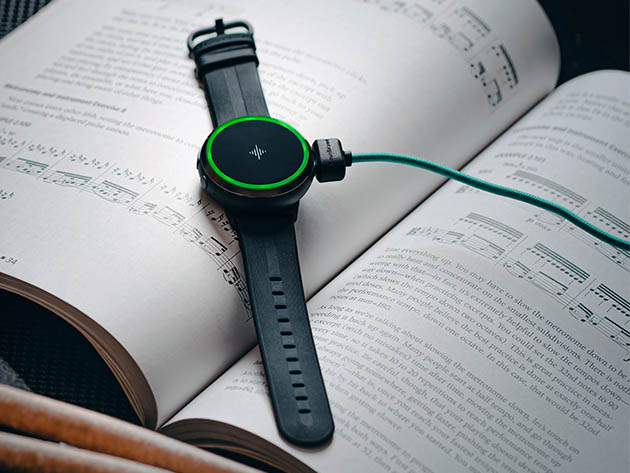 Get rid of that annoying click and actually feel the beat with powerful, distinct vibrations. With a vibrating metronome, users experience vibrations that are seven times stronger than the average smartphone. With a silent metronome, there are no more annoying audio clicks, which free your ears for what's most important: the music.
The watch is multifunctional, allowing you to set your BPM, time signatures, subdivisions, accents, and vibrations directly on the Core. Check the sound levels around you with its accurate dB meter. Load your set lists, change songs, and connect with other musicians with the Metronome app.
Its magnetic contact tuner allows you to tune your instrument to the highest level of accuracy. The OLED display, and eight-sector LED ring, will always guide you to the right note. An incredibly powerful hold ensures your Core stays put, thanks to the magnetic locking system.
By bringing modern technology and design to instrumentalists, manufacturer Soundbrenner aims to help every musician master their craft. "If Iron Man played a guitar, he'd use this watch to tune it," according to CNET. Practice is everything, and with this great tool that you'll actually want to use, you're going to practice a whole lot more.
Get the Soundbrenner Smart Watch for Musicians (Core) for just $199, a savings of $30, and use coupon code CORE40 at checkout to get an additional $40 off.
Prices subject to change.