For PC gamers, a quality mouse can be the difference between a good time and relentless frustration. If you rely on your mouse for gaming, what you're looking for is precision, comfort, and flexibility. If it looks cool, that's just a huge bonus. PC gamers who want those characteristics should try the HyperGear Chromium Wireless Gaming Mouse—on sale for $20.99 (Reg. $24). And yes, it has cool LED lights that can make you feel like a cyberpunk protagonist.
HyperGear has the gaming mouse look down, but it's about more than just aesthetics. The precision optical sensor is virtually lag-free, and the battery can last for up to 15 days of playtime on a single charge. That's just enough time to get through the first major boss in Elden Ring, lose a lot, then summon a friend to play with you online. The ergonomic grip sets you up for those long sessions when it will just take "one more try" to win. The extra built-in buttons also free up some room for customizing your own macros.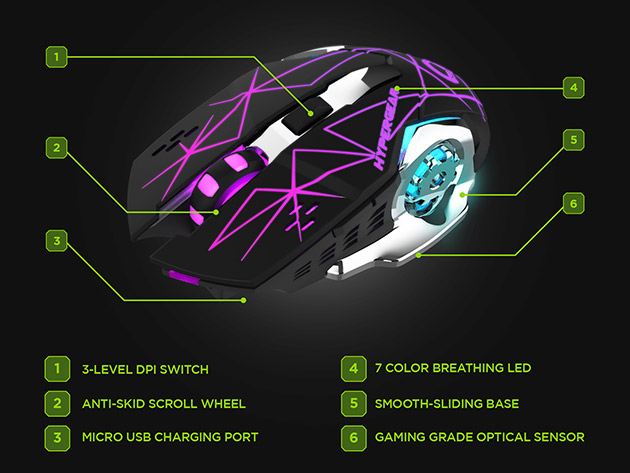 One of the most important features of any gaming hardware is response time. This mouse has a 2.4GHz wireless dongle that keeps your connection seamless, and the three-level DPI switch lets you adjust up to 1,600DPI. At 1,600DPI, your eye can barely even detect movement, which makes it perfect for those tiny, precise actions that get lost with other mice. That's also the DPI recommended for MMOs and RPGs. And all of this is wrapped in a beautiful package. The seven LED colors adjust to your play style and mood, so if you're seeing red, you can actually start seeing red.
Your mouse should look as good as it plays. Get the HyperGear Chromium Wireless Gaming Mouse on sale for only $20.99 (Reg. $24) for a limited time.
Prices subject to change.