StackCommerce
Robot animals are that perfect blend of cute and cool. The owl in Blade Runner, Rex the cyborg dog from Fallout: New Vegas, and Mechagodzilla are just a few of the beloved robot and robot-adjacent animals pop culture has given us. And now, joining the ranks of robot companions is Petoi Nybble, the Cutest Open-Source Bionic Robot Cat. Petoi Nybble is selling for $249 (Reg. $279).
Petoi Nybble is an open-source, highly-programmable robot cat. Nybble can walk, play, and emote. And because Nybble is programmable, it represents many cool things you can do on your own. Or with your favorite new STEM student. You can create new commands and experiments for your cat to follow. You can play with the design of your Nybble and change, improve, or adapt your cat to how you want it to act. Finally, you can make it follow you around like a cute little companion.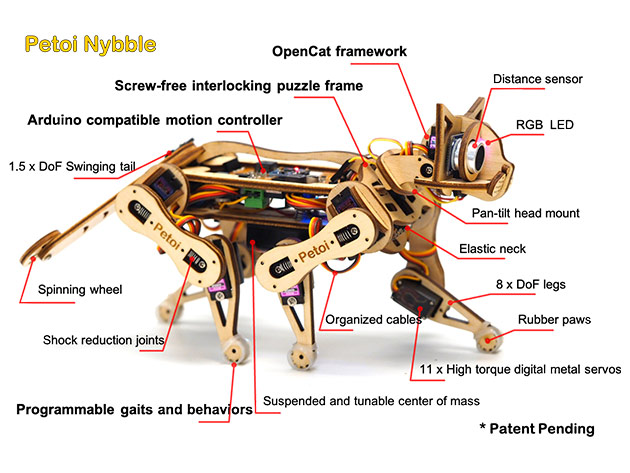 The 3D puzzle wooden frame is easy to assemble but still requires attention to detail and patience, perfect for learners young and old. And you assemble your cat, the possibilities are virtually endless. According to one TechCrunch reviewer, it even looks "surprisingly cute" and has life-like movements.
You can virtually find all sorts of new things for your cat to do on OpenCat. Browse the options for inspiration or something to plug and play. Nybble is recommended for kids 14 and up, but you can inspire a love of robotics in younger learners by letting them play with their first robot cat with adult supervision. The rechargeable battery pack offers about one hour of playtime. That's plenty of room to design and try a bunch of new things, and you can still do more research and coding while the batteries recharge.
Some robots are made to be heroes, and others are just made to be cute and intellectually stimulating. So why not add a cute robot cat to your family and watch how easy it is to teach it a new trick? Get the Petoi Nybble: Cutest Open-Source Bionic Robot Cat on sale for $249 or $30 off.
Prices subject to change
Featured image: StackCommerce