After weeks of waiting, and a little tease in She-Hulk episode five, we finally saw the long-awaited return of Daredevil to our TV screens, once again portrayed by Charlie Cox. Although Daredevil made his MCU debut last year in Spider-Man: Far From Home, we got a whole lot more of the Man Without Fear in She-Hulk: Attorney at Law episode eight. And we even got a new/old costume to go with his official MCU TV debut. But did episode eight answer whether the Netflix Daredevil series is canonical to the MCU? Interestingly enough, given what Matt Murdock and Jen Walters do for a living, they could almost litigate the answer in court.
Daredevil in She-Hulk
In episode eight of She-Hulk, Matt and Jen met as rivals in the courtroom. This happened when Matt represented superhero costume designer Luke Jacobson, and Jen represented the wannabe hero Leap-Frog, who was suing him. Jen lost the case to Matt (he told Spidey he's a really good lawyer, remember.) But they later became crime-fighting partners when they took down Leap-Frog together. Not to mention, Daredevil and She-Hulk have a little sexy encounter later as well.
The season finale brings Daredevil back into the mix at the personal request of Jen because, well, a girl has needs. He shows up from thin air after everything has gone down and later joins her family for dinner. It's a funny mix of embarrassing questions, stares from a hot and bothered old lady, and pure fun. According to Matt Murdock, he's only in town for a week. But Jennifer is certainly hoping he will stay around much longer. The She-Hulk finale heavily hints at another season, so maybe we will get more Daredevil and Jennifer.
So, Is the Netflix Daredevil the Same as the MCU Daredevil?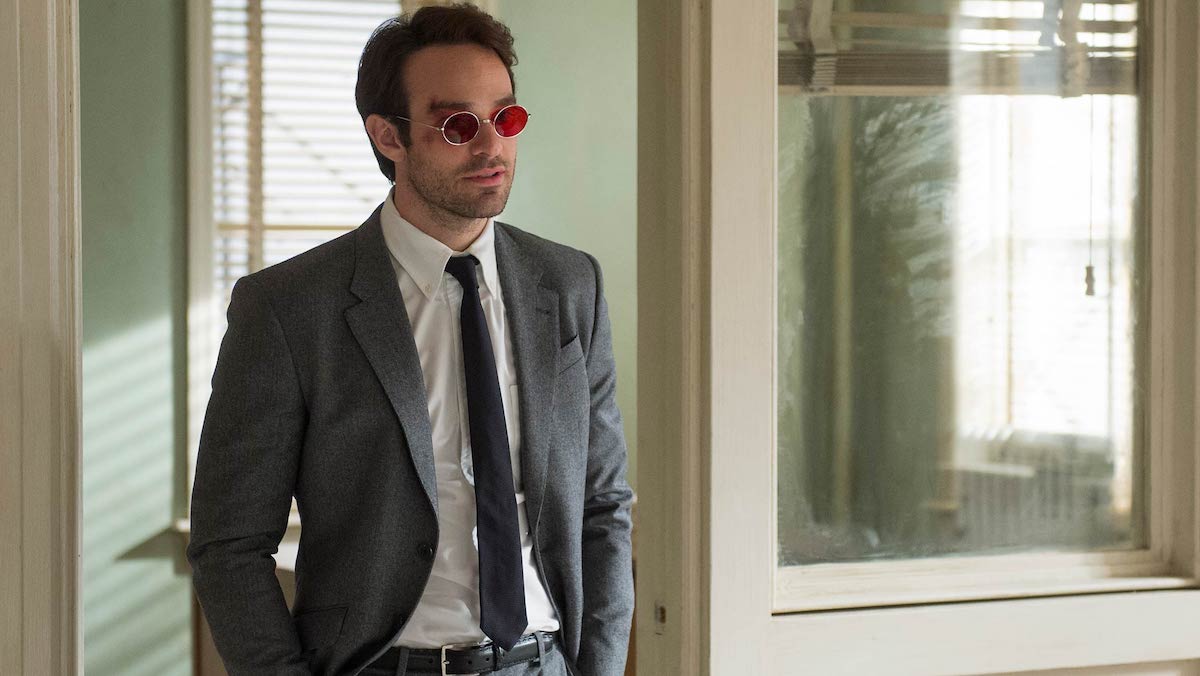 The question all of Marvel fandom has right now is this: Is this version of Matt Murdock the same Daredevil we know from the Netflix series, which ran from 2015 to 2018? Well, there is no solid answer yet, sadly. But so far, nothing with this version of Daredevil contradicted a single thing we saw in his own series. In fact, in a scene played for laughs on She-Hulk, they even played Daredevil's Netflix series theme song. Why do that unless you're telegraphing this is the same guy we knew?
This MCU version of Daredevil is also from Hell's Kitchen, only visiting Los Angeles as a special favor to a client, Luke Jacobson, who made his latest superhero suit. Daredevil mentions all the Pro Bono work they do at his firm on She-Hulk, which seems to suggest his Netflix partner Foggy Nelson as still in the picture. The Pro Bono work that he and Foggy did was a huge part of the Daredevil Netflix series narrative. So that's another similarity right there.
Daredevil's MCU Costume
Even Matt Murdock's new costume on She-Hulk, which has a different color scheme (just like Daredevil's original one from the comics), was pretty much the same design as the one from his own series. Nothing seemed like a radical reinvention of the character so far. And, of course, as we know from Hawkeye, his version of Kingpin/Wilson Fisk, as played by Vincent D'Onofrio, is also out there in the MCU. Another factor that lends to the Netflix show being canon.
Was Netflix Daredevil Always In the MCU?
Conversely, there's really nothing in the Netflix Daredevil series that contradicted the MCU as we know it. In the first episode, the events of the first Avengers film got referenced, and Thor and Cap got namedrops too. Clearly, the intent originally was that this show was set in the MCU. It's just that the events of Daredevil were more street-level, and didn't require the attention of the superpowered set. So there is no real need for them to throw away all those years of great TV. We suppose they might say that the Matt Murdock we meet in She-Hulk is a Daredevil variant from the Multiverse. But if he is, it sounds like his past and character traits 100% line up with the ones we knew before.
Daredevil's Future In the MCU After She-Hulk
Right now, we know Daredevil will appear next in the upcoming Disney+ series Echo, along with Kingpin. If those two characters refer to their past as adversaries and their final showdown in the Daredevil series finale, that will finally confirm one way or the other if the Netflix show remains canon. Given that the original Daredevil series is on Disney+ now, we just don't see a reason why it shouldn't be.
If we were to guess, we think it's likely that 2024's Daredevil: Born Again will be a soft reboot. New adventures that don't directly refer to the previous series but don't contradict them either. In fact, it will likely be similar to how the comics have operated for decades. Whenever a long-running character gets a new creative team, it's a "soft reboot." Especially if there's a new first issue. If you ask us, what's been good enough for Marvel Comics all these years should work fine for live-action.
Originally published October 6, 2022.