Charging all of your devices without letting cords monopolize your desk space is a modern luxury. A proper charging station can keep all your devices in one place, power all of them, and keep your area from getting cluttered. The 5-in-1 MagSafe Wireless and Wired Charging Station checks all the right boxes. It helps you organize your space and keep your batteries at 100%—plus, it's on sale for $54.95 (Reg. $79).
5-in-1 MagSafe Wireless and Wired Charging Station is a space saver that doesn't make you trade convenience for charging power. It comes with three wireless charging ports and one wired USB-A port. That means you can charge your iPhone, wireless earbuds, and any other Qi-compatible device. The Apple Watch Stand can power Apple Watches Series 1 to 6. The USB-A port lets you power a tablet, yet another phone, or any other device on hand. You could charge a reading light, but this charging station also has a night lamp function with theree dimmable brightness levels that are fully touch-controlled.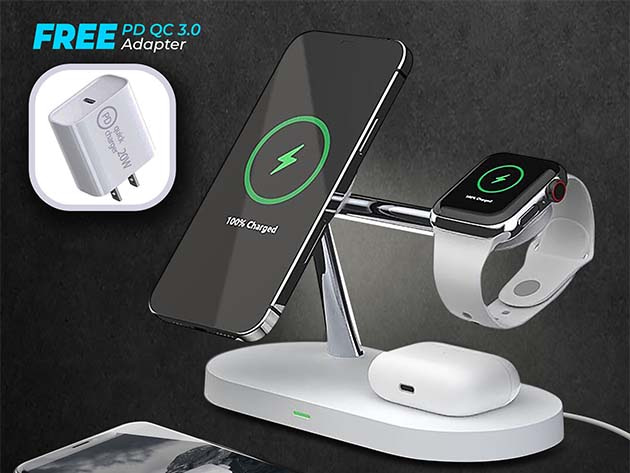 This all-in-one charging station is as much a convenience solution as it is a promise of safety. MagSafe compatible, you can wirelessly charge your iPhone 12 or 13 Series using the magnetic auto-alignment without worrying about overheating or power surges. One Redditor succinctly described the appeal of MagSafe chargers like the 5-in-1: "I like just being able to put it down in the dark and have my phone charge, rather than fiddling with a cable or nudging my phone until it aligns."
While it's charging, you can still unlock your phone using Face ID and browse or stream in landscape or portrait mode as well.
In the last few years, the number of smart devices in homes has roughly doubled. Equally scaling up how many devices you can charge just makes sense, and you'll almost definitely trip over significantly fewer cables. Get the 5-in-1 MagSafe Wireless and Wired Charging Station on sale for $54.95 (Reg. $79).
Prices subject to change.