If you love chess, nothing beats facing a real opponent. However, worthy competitors of similar skill levels can be hard to come by unless you resign yourself to playing online, which doesn't have the same charm as playing with a physical chessboard. But with the Square Off Pro, you can use AI to play against a computer, globally with a friend, or whoever is sitting across the tablet. For a limited time, the Square Off Pro is on sale for $225.
Square Off Pro might just be the smartest chessboard for a lot of reasons. First, the built-in AI offers a ton of features. It can adapt to the player's skill level (with 20 levels total), so beginners can train their skills and pros can enjoy challenging matches. It also lets you analyze your move history, identify mistakes, and build strategies to improve your ranking on sites like Chess.com.
If you need an extra guiding hand, the board's built-in lights tell you if you're making an error. Square Off Pro even recognizes if you're moving a Rook when your Queen needs attention. Magnetic sensors detect where each piece is, so you'll get accurate feedback as soon as you need it.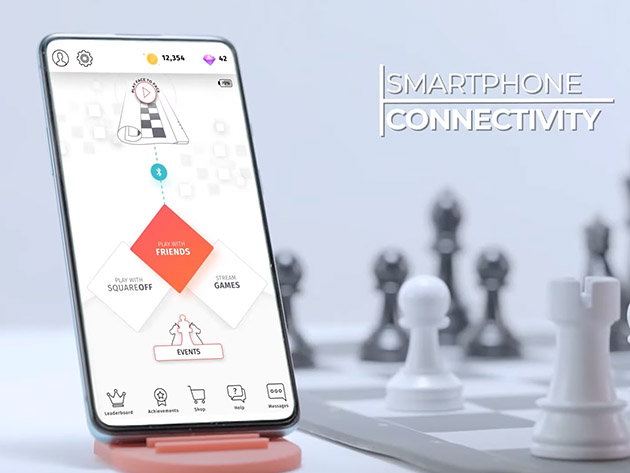 Square Off Pro is totally portable, so you can go to a park and play with anyone who comes along. Or you can go online and compete with 50 million other players. Either way, the game can keep your brain sharp and your strategies unbeatable. After each game, look through your move log and see what you could've done better. You can also use the companion app to sharpen your skills. One Chess.com user even said, "The Square Off Pro is now my favorite way to play chess."
The USB-C rechargeable battery lasts for five hours, just enough time to get in a few good games before you have to head home. In contrast to the high-tech board and AI, the pieces are intricately carved with a rosewood finish.
With this AI-powered chessboard, you can play one of the world's oldest games in a new way. Right now, the Square Off Pro: World's First Rollable Tournament e-Chessboard is on sale for $225, down from $249.
Prices subject to change.