Golfing is fun, but it can also be expensive— really expensive. One of the best ways around that sort of cost is an immersive virtual golf experience that still preserves the fun of the real thing. The PhiGolf: Mobile & Home Smart Golf Simulator is a fantastic virtual golf setup that gives you access to tons of courses with lifelike gameplay, and with coupon code GOLF10, you can get it for just $179 (Reg. $249).
There are a lot of reasons you might not make it out to the golf course. The weather is bad, the cost is high, or maybe your pajamas are just really comfortable. Whatever it is, you can still have an awesome time golfing in your own home with PhiGolf. Though you can't drive a cart around, you do get a ton of other lifelike golf features that make it feel like you're really out there.
You can play on beautiful photorealistic courses with breathtaking graphics on your smart TV. Play alone or with friends; either way, there's a lot that goes into every swing.
Just like your first instructor probably told you, you have a lot to consider every time you swing at the ball. PhiGolf has advanced sensors that make every swing react realistically, so you can point to the green and swing like you're going to get there. That means even if it's going to be a while before you make it out to the course, you can practice and do way better next time you're out there. One Amazon reviewer noticed that and said "The practice mode gives valuable swing feedback to help me improve my game."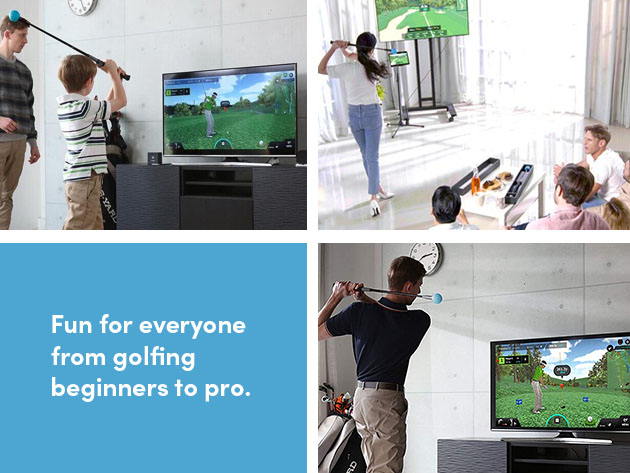 Improve your short game in your pajamas. Get PhiGolf: Mobile & Home Smart Golf Simulator with Swing Stick on sale for $179 with coupon code GOLF10—that's $70 off its usual cost. And for a different kind of blend between virtual and physical gaming, check out this electronic chessboard.
Prices subject to change.