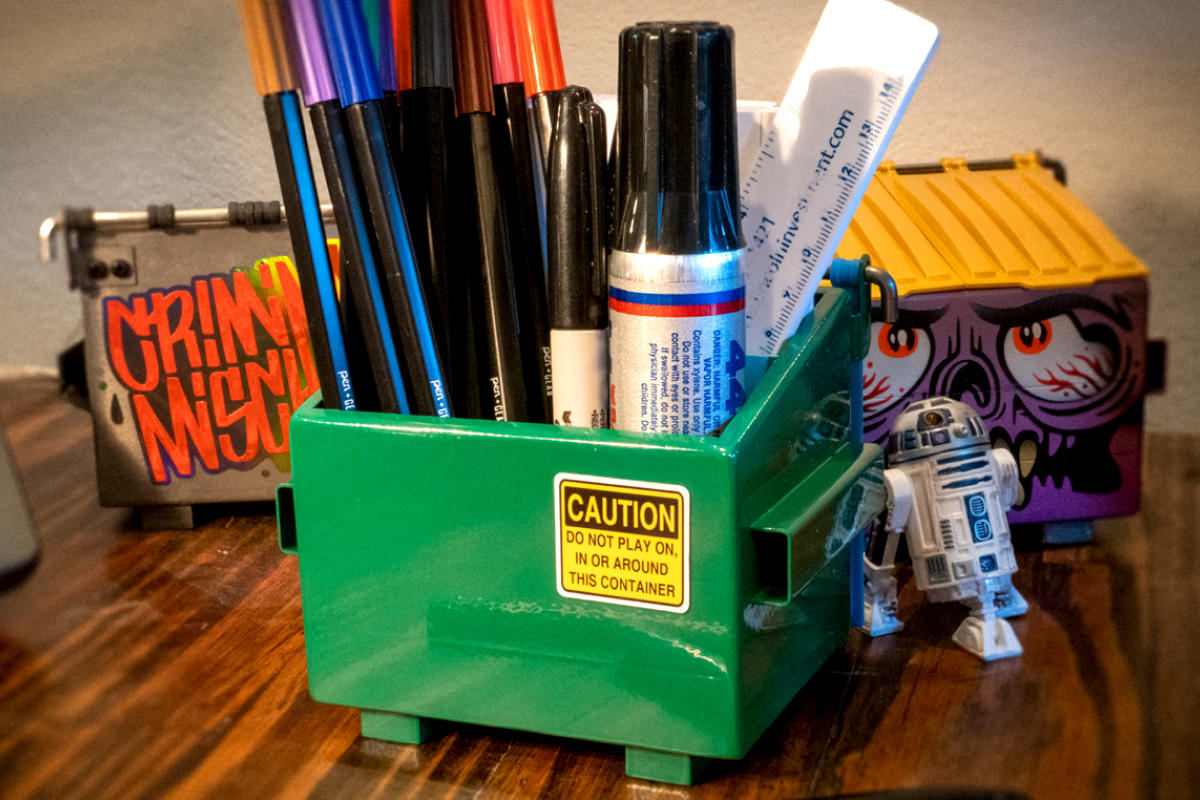 It's the New Year. That means it's time to chuck all the garbage from 2021 like it didn't hold you back for 365 days. For the New Year, give yourself the option to purge your trash at the comfort of your home or work desk with Dumpsty Jr: Mini Desktop Bin. For Cyber Week II, this compact trash not-compactor is on sale for $59.99 (Reg. $99) with coupon code CYBER20.
Dumpsty Jr. may be small (five inches wide, four inches tall), but it's the real deal. Made from solid steel with detailed hinges and welded corners, this little trash box is tough enough to take the discarded drafts of even your most passive aggressive work emails. Or you can use it to hold your pens, markers, rulers, and any other desk clutter that you want contained in a tidy, novelty steel box.
Each Dumpsty Jr. comes with three pairs of lids in black, baby blue, and yellow along with a pair of warning sign magnets. This makes it feel authentic, and it also serves as a useful warning in case one of your pens is leaking. Get your Dumpsty Jr. in one of six colors inspired by its real-world sibling, the common dumpster. Keep your pens in a familiar green box, or toss your discarded receipts in the comforting pale blue of many recycling bins.
Dumpsty Jr. is one of those rare novelty items that is fun while also being very useful. If you've been looking for a safe place to put that pile of thumbtacks you have from leftover cork boards, nothing is better than a steel container that has a sturdy plastic lid and thematic warning labels.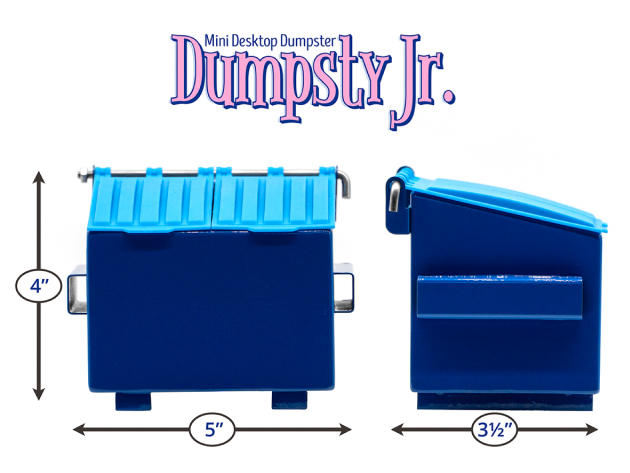 Finally have a place to put your pens, pencils, desktop trash, and the unsolicited opinions of co-workers with Dumpsty Jr: Mini Desktop Bin, now on sale for $59.99 (Reg. $99) with coupon code CYBER20. And if you're looking for news about trash that needs a home even bigger than Dumpsty Jr.'s big sibling, check out this article and get inspired to make change in the New Year.
Prices subject to change.