You AirPods are going to get dirty, even if you only listen to clean jams. It's nothing to be ashamed of, but it's definitely something you want to sanitize, and that includes the case. The problem is that actually doing the cleaning is hard considering everywhere you can't reach with a rag is either super narrow or fragile. The AirPod Cleaning Pen is designed to fit in those tight spaces and wipe out any of the buildup within—and for a limited time it's on sale for $14.99 (Reg. $24).
The AirPod Cleaning Pen has a 3-in-1 design that can reach into the little nooks crannies of your AirPods. It's also designed to do that without hurting them. The metal nib can gently scrape stubborn stains. The flocking sponge cleans the narrow charging compartment, so if a crumb or bit of dust got in there, you don't just have to cope knowing your case will forever be unclean. The bristle brush cleans the most important part of your AirPods. Just like picking a toothbrush, the bristle brush is designed to gently clean your soundhole. Considering how filthy the soundhole on AirPods can get, a dedicated AirPod cleaner can save you a real headache—literally—since bacteria that gathers in your Airpods can possibly cause an ear infection.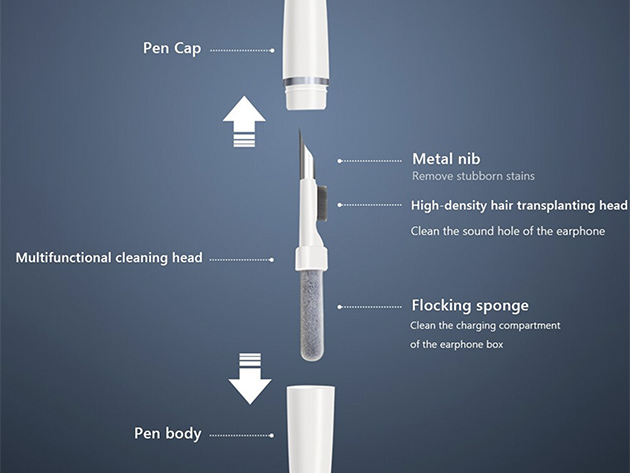 The AirPod Cleaning Pen is small, at a little over four inches in length. Carrying it in a spare pocket of your bag lets you tidy up whenever you want to use your AirPods, or at least when you want to share them with someone else. The Cleaning Pen is also multifunctional. Use it to clean your phone, tablet, or other wireless earbuds and delicate electronics. Most sources recommend cleaning your AirPods weekly, but you can be the judge. As long as you have the right tool to clean your AirPods, you're set.
Clean your AirPods, even if you have a silicone AirPod case and accessories on them. Get the AirPod Cleaning Pen on sale for $14.99 (Reg. $24).
Prices subject to change.