When your life gets busy, planning gets harder. You might have a tried and true system of writing your schedule on one hand and your notes on another, but you might want an organizational system that won't fail you if you take a shower. Agenda Premium 14 is one of the only note-taking apps which focuses entirely around your calendar. For a limited time it's on sale for $9.99 (reg. $34).
Agenda 14 is a unique, date-based organization system that can help you plan for life in advance. This awesome app helps you build a timeline for your notes, so you can plan out each project and visualize the progress you need to make. If you have a big assignment for school or a presentation for work, you can attach notes to your timeline, integrate pictures and videos, and a lot more. Your notes also aren't locked to one device, so your planner is basically always with you. Sync your notes between iCloud or Dropbox and connect them to your calendar or reminder apps. You can even organize your notes with tables, tags, links, and lists!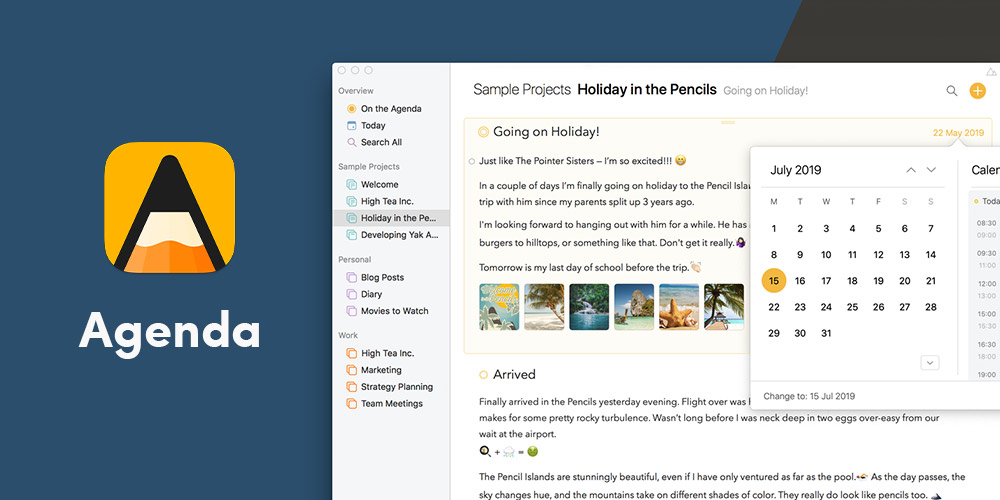 Agenda Premium 14 is one of those tools that's useful for almost anyone. Students can break down their syllabus and make a semester plan for each course. The only surprising assignments will be the ones the teacher forgot too.
Agenda Premium has a 4.6/5 star rating on the App Store from over 2,800 ratings. There it's also earned an Editors' Choice honor. One five-star reviewer wrote, "This app impressed me more out of the 'box' than anything I have tried in a while."
Professionals and business owners also have something to take from Agenda Premium 14. You can clearly organize when you need to meet milestones or pay invoices, and you can turn your business plan into an actionable calendar. Combine it with some other productivity software and nothing can stop you.
Plan for productivity with an agenda app that integrates with your calendar and makes taking notes easy. For a limited time, you can get Agenda Premium 14: Date-Focused Note-Taking on sale for $9.99 (reg. $34).
Prices subject to change.