Whether you're staying over, spending the weekend, or traveling the world, you need a bag that suits each occasion — unless you're smart enough to invest in a 3-in-1 bag that's tailored to all three sizes. You'll likely need a mask to go with it, and this navy blue one matches the A10 Adjustable Travel Bag nicely. What's also nice is the price, with a limited-time discount that brings the A10 Adjustable Travel Bag down to just $123.95.
This remarkable all-in-one bag works as great for the day or weekend as it does for extended trips. In just a few adjustments, it can expand or contract to fit exactly what you need, so you'll never have to go through the hassle of switching between different bags again.
Its versatility allows it to expand to small, medium, and large sizes — and 10 different configurations — to match your needs:
Small (31L): 12.25″ x 12.25″ x 16″

Medium (46.5L): 12.25″ x 12.25″ x 24″

Large (62L): 12.25″ x 12.25″ x 32″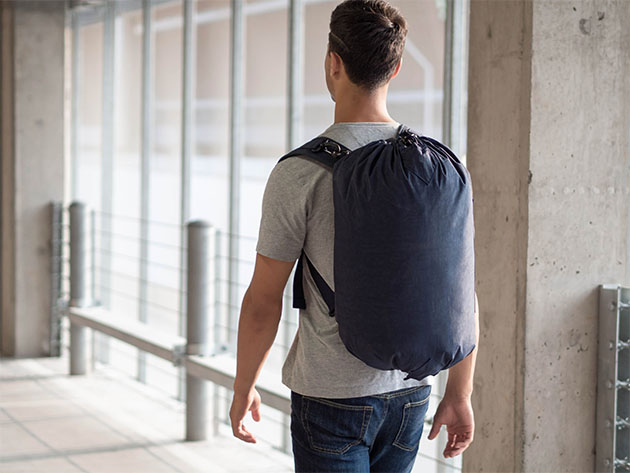 Carry it as a duffel, a sling, or a backpack. It comes with two padded backpack straps and one padded shoulder strap, both of which are removable. And then completely collapse it into a small ball, so you can easily store it or take it with you wherever you go.
While being extremely light, the A10 is durable too. It's water-resistant against short periods of light rain and splashing water. There's an exterior zip pocket for quick access and two interior hidden pockets. A lengthwise opening offers easy access, and a lockable main compartment zipper offers security. Made of PU-treated nylon canvas, it has 210D polyester lining with Duraflex ABS hardware and SBS zippers.
Get the A10 Adjustable Travel Bag (Navy Blue) for just $123.95 (reg. $149), a savings of over $25.
Prices subject to change.